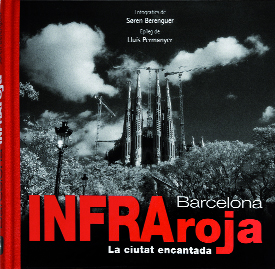 Barcelona infraroja. La ciutat encantada (Infrared Barcelona. The enchanted city)
Photographs by Søren Berenguer
Published by: Ajuntament de Barcelona and Søren Berenguer
180 pages
Barcelona, 2016
Barcelona City Council has just published a new book of photographs that gives a portrait of the city. As its title implies (Infrared Barcelona. The enchanted city), it is a compilation of 170 photographs taken with analogue film, which picks up infrared light that is invisible to the naked eye.
The author is Søren Berenguer, a young photographer from Barcelona who likes experimenting with traditional techniques – he already surprised us with his book, Barcelona vertical (Vertical Barcelona), published in 2014 and made up entirely of panoramic photos that are not horizontal, as we are accustomed to, but vertical.
Now, in a new experiment, he has picked up analogue photography and cameras again to work with infrared-sensitive film. This light, with a wavelength longer than that which is visible to the human eye, produces images that are different to those captured by traditional black and white photography. The skies become darker but the leaves and vegetation generally take on white hues that make them resemble snowy landscapes.
Based on these effects, Søren has imagined – dreamt up – a new Barcelona. Over a long period of time working on these pictures, he has rediscovered, for himself and for all of us, a series of cityscapes that, although they are perfectly identifiable, look very different: a phenomenon that's a bit like what happens when we look at night-time images, in which our everyday landscapes also seem to be reborn.
Generally speaking, these images have a starker contrast and something of a nocturnal look about them, or of places in the cold early morning light. This creates a certain air of enchantment, with the special magic of fairy tales. This sensation is probably helped by the fact that not a single person appears in the book. The statues are the only figures that give any anthropomorphic references to the story. Accustomed as we are to seeing these urban spaces absolutely teeming with tourists and other passers-by, this absence of people has a very strong impact. It also tells us something about the tough working hours of the photographer and the many early mornings he must have spent capturing these images of silence and solitude.
It's also worth saying that Søren has a special skill – a photographic eye, one might say – for finding different, unusual frames and angles. For creating images that both surprise and captivate us with their originality and power.
This is a book entirely dedicated to images. It has just a few lines of introduction by the author and a brief but incisive epilogue signed by the city's chronicler, Lluís Permanyer, who says: "On completing this journey – long, disturbing and highly personal – guided so effectively by the camera of Søren Berenguer, we cannot help feeling we have discovered a Barcelona that we recognise but that we had never seen from this angle." These words of praise accurately describe this photographic work that uses ingenuity and imagination to help us rediscover the city with great poetic force.