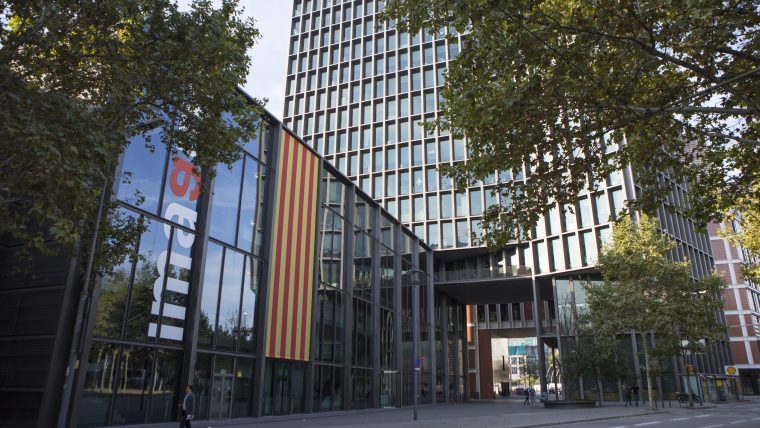 Now a reference centre for the communication sector, Parc Barcelona Media offers a whole series of facilities and services focused on the audiovisual world and communication, led by the Pompeu Fabra University (UPF), and a centre devoted to audiovisual production and industry services, led by Grup Mediapro, a communication giant, with 22@Barcelona.
Audiovisual training and production
Parc Barcelona Media is a large urban complex that combines various centres focused on audiovisual production. Aside from office space for companies in the sector, there are other spaces for different uses. The production centre, covering 12,000 square metres, includes a film set of 2,000 square metres, smaller sets, production and post-production rooms, and a teleport for satellite reception and transmission. The innovation centre, driven by the Universitat Pompeu Fabra (UPF) and companies in this sector in Catalonia, carries out R&D and promotes training in the audiovisual sector with the participation of the whole Catalan academic system The Parc also includes the UPF's Communication Campus, which is housed in Ca l'Aranyó, a remodelled factory. It also has an important business nursery, where start-ups linked to the sector can develop their innovative projects.
Strengthening the media sector's global presence
The Parc is one of the most emblematic and far-reaching projects in the 22@ district. Collaboration between the UPF, Grup Mediapro and Barcelona City Council has meant it has managed to improve the international positioning of the Catalan audiovisual sector and increase the weight of research carried out in Barcelona and Catalonia.
Traductor de
:
Address:

Av Diagonal, 177

District:

Sant Martí

Neighborhood:

el Parc i la Llacuna del Poblenou

City:

Barcelona
Titularitat:

Public center
District:

Sant Martí

Neighborhood:

el Parc i la Llacuna del Poblenou

Category:

Study and research centres
Address

Av Diagonal, 177
Phone number
Tel.:

932381400
Website
E-mail
E-mail:

innovacio@barcelonamedia.org