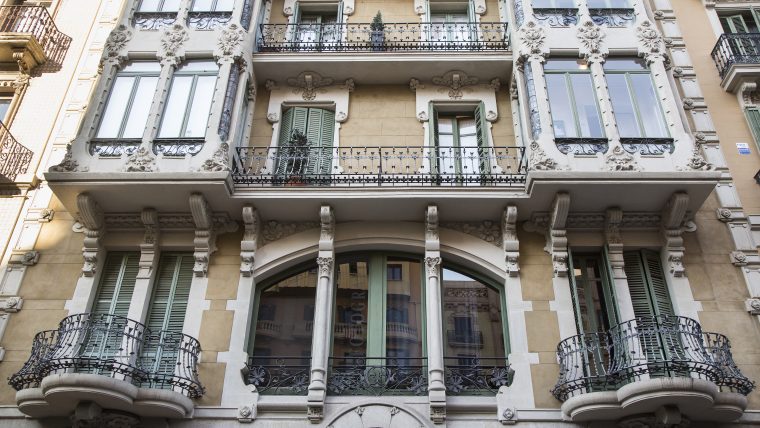 Domènech i Estapà was atypical in the Modernista movement. His taste for eclecticism and the surprising solutions he adopted for his buildings make him a unique architect. Casa Antoni Costa is notable for the circular forms, the bay windows on the upper floors but not the main floor, and the interior decoration inspired by Central European Art Nouveau.
Modernista but with a style of its own
What strikes you first of all about the Casa Antoni Costa is the original finish of the top part, with its round shapes. The two lines of bay windows that run down either side emphasise the building's verticality and, in contrast to other Modernista houses, do not include the main floor, which is the only one with trefoil balconies instead of bay windows. Other outstanding details include the sculpted stone tympanum over the entrance, with a coat of arms and the year when the building work was finished, 1904.
Modernista pearl
Casa Antoni Costa, now protected as a Cultural Asset of Local Interest, is in the " Quadrat d'Or", or Golden Square, and included on the various Modernista routes. It was built around the same time as Hospital Clínic and the Model prison which, together with this building, represent the most significant works by this architect.
Traductor de
:
Address:

Rbla Catalunya, 122

District:

Eixample

Neighborhood:

la Dreta de l'Eixample

City:

Barcelona
També coneguda com a Casa Domènech i Estapà
District:

Eixample

Neighborhood:

la Dreta de l'Eixample

Category:

Cultural heritage
Address

Rbla Catalunya, 122