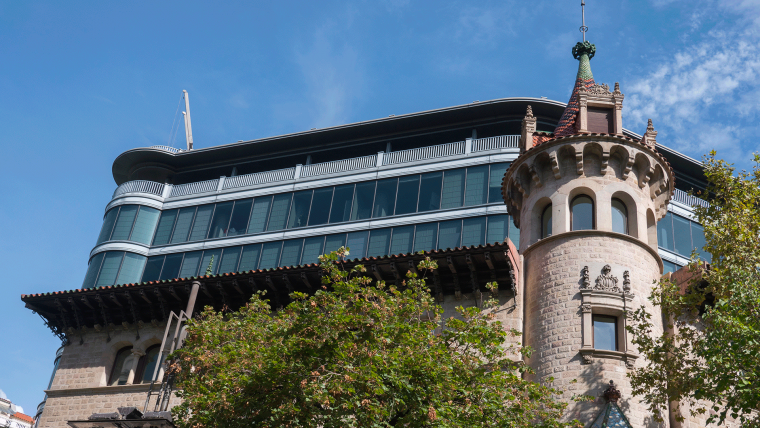 A tribute to Casa Gralla, a house on Carrer de la Portaferrissa that has since been demolished, Casa Serra dates from 1908 and was inspired by the medieval Plateresque style. This can be seen in the facade and decoration of the windows, where there are busts of figures from the art world, such as Cervantes and Wagner. These sculptures are by Eusebi Arnau and Alfons Juyol, regular collaborators of Puig i Cadafalch.
Inspired by the past
Casa Serra, which stands at the heart of the Eixample, was declared a Cultural Asset of National Interest in 2001. It is a Modernista building with Plateresque features designed by the architect Puig i Cadafalch between 1904 and 1908.
A building of tributes
The medievalistic features were introduced with the idea of reproducing the main door and window decoration of an old house on Carrer de la Portaferrissa, Casa Gralla, which was demolished in the 19th century. The two men commissioned for the sculptural part of the facade were Puig i Cadafalch's trusted collaborators, Eusebi Arnau and Alfons Juyol, who placed busts of famous figures, such as the painter Marià Fortuny, on each window.
Over the years, Casa Serra has had lots of owner and uses. It housed a nun's college in 1908 and during the Civil War it was the headquarters of the Ministry of Health. Then, in the 1980s, it was refurbished to accommodate the offices of Barcelona Provincial Council.
Traductor de
:
Address:

Rbla Catalunya, 126

District:

Eixample

Neighborhood:

la Dreta de l'Eixample

City:

Barcelona
District:

Eixample

Neighborhood:

la Dreta de l'Eixample

Category:

Cultural heritage
Address

Rbla Catalunya, 126