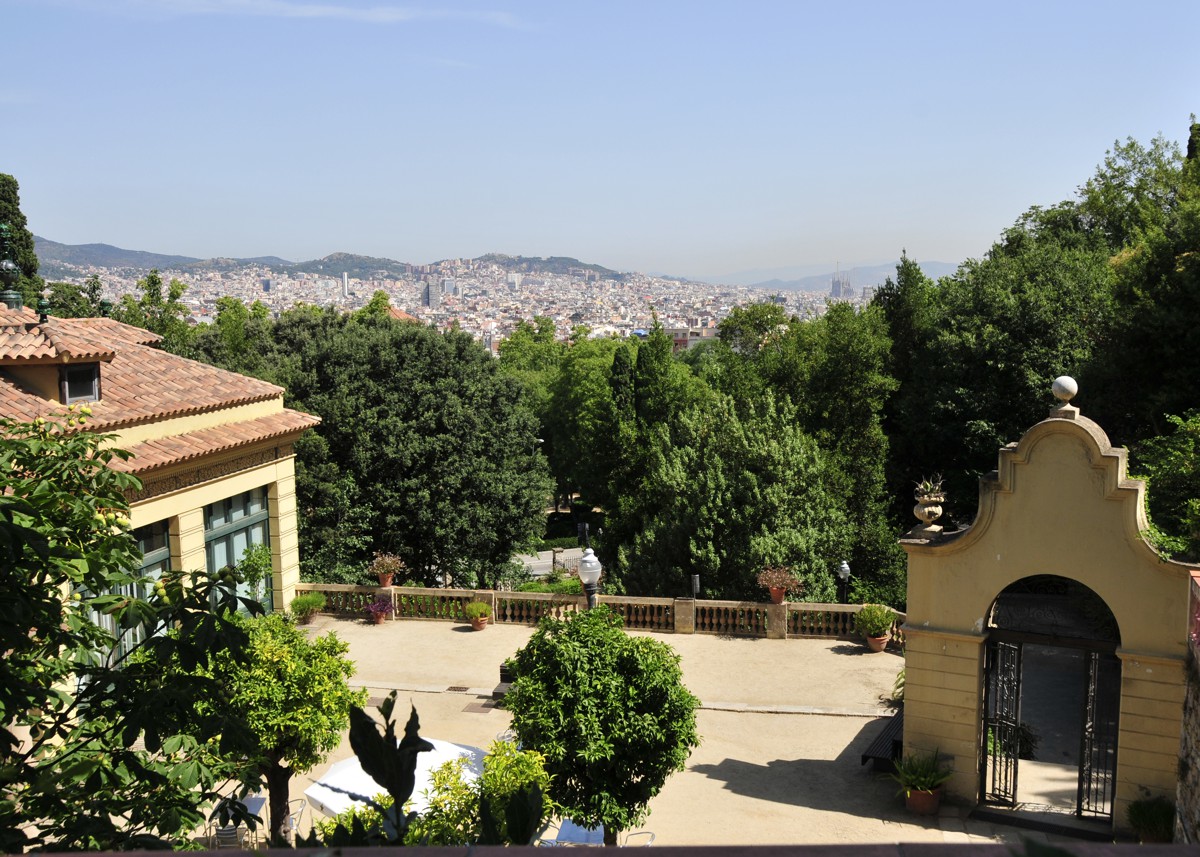 There are some places that are truly idyllic and the Laribal Gardens are a great example of such a place. Arabesque in style and inspired, among others, by the Generalife gardens in Granada, the Laribal Gardens climb Montjuïc from Passeig de Santa Madrona up stairways, paths, terraces and corners filled with exotic trees, romantic pergolas and fountains all around. They are also home to the popular Font del Gat (Cat Fountain).
Mediterranean roots
Considered to be the pearls of Montjuïc, the Laribal gardens extend across a number of different spaces, together creating a unique place of great historical value where it is a real pleasure to take a stroll. The silence of the vegetation and the gentle bubbling sound of the water, the main protagonist, create a haven of peace, not far from the hustle and bustle of the city.
Associated with the International Exposition of 1929, the Laribal gardens were completed in 1922 and were among the most important installations created for this event. Their designers, Jean-Claude-Nicolas Forestier and Nicolau M. Rubió i Tudurí, wanted to create a new style of Mediterranean landscape, inspired by the ancient Arabian gardens and the 'Cármenes' of Granada, featuring decorative tiles, ornamental water features and flowering plants in pots on railings.
Nature and water
Architecturally, they are comprised of a series of terraces joined together by small paths and shortcuts, stairways and enormous pergolas, stones, pillars and fountains offering up jets of cooling water. Sculptures include Estival by Jaume Otero, a female nude in marble, La Noia de la trena by Josep Viladomat, another female nude, this time in bronze, and an enamelled ceramic fountain, the work of ceramicist Llorenç Artigas.
The Generalife stands out for its sheer beauty and historical importance. It connects the Laribal gardens to the Grec Theatre and is inspired by the Generalife gardens of Granada, with water cascading down the handrails, stone ponds and benches for resting on, next to a 19th century building which, in the past, was home to the former owner of the estate, Josep Laribal, and which has now been converted into a restaurant. All together, the Laribal gardens are an exquisite architectural, historical and natural space within Montjuïc park where it is a real pleasure to spend time relaxing and enjoying the tranquility.
Translator of
:
Address:

Pg Santa Madrona, 2

District:

Sants-Montjuïc

Neighborhood:

el Poble-sec

City:

Barcelona
Titularitat:

Public center
Schedule
Period
Days
Hours
Observations

de l'1 de novembre
al 31 de març

Tots els dies

de 10:00 h a 19:00 h

Hora de tancament
aproximada, en funció de
l'horari solar (tanquen
quan es fa fosc, al capvespre)

de l'1 d'abril
al 31 d'octubre

Tots els dies

de 10:00 h a 21:00 h