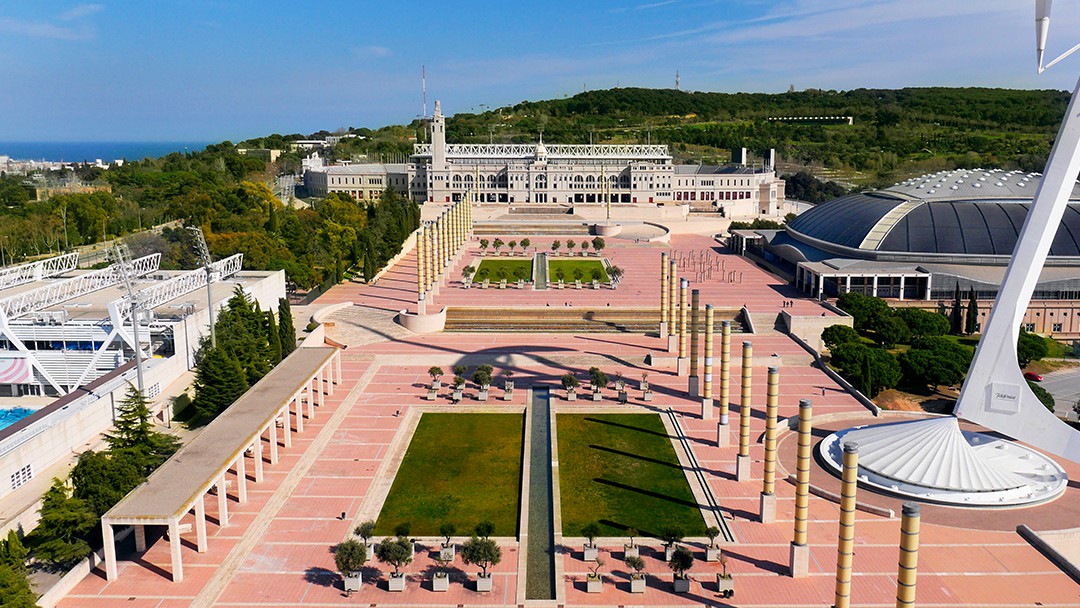 Barcelona's Olympic Ring, associated with that glorious summer back in 1992, comprises a set of sports facilities used daily by its residents and admired by its visitors. Besides having Barcelona's best sports facilities, the Olympic Ring recalls a watershed in the life of the city.
The Olympic Temple
Situated in Parc de Montjuïc and making the most of the enormous space afforded by the mountain, the facilities that make up the Anella Olímpica, or Olympic Ring, were created or remodelled from existing ones for the Barcelona Olympic Games in 1992.
These include the Palau Sant Jordi and the Estadi Olímpic Lluís Companys, designed by the architect Lluís Abellán Aynès. Today they are used to hold concerts and major cultural and sports events.
Tall facilities
Another outstanding feature of the Olympic Ring is the Telecommunications Tower built by the Valencia architect Santiago Calatrava. This 136 m high tower with a leaning trunk in the image of a sportsperson is covered with a mosaic, a clear tribute to the architect Antoni Gaudí.
The Piscines Bernat Picornell, built by Antoni Lozoya and Antoni Ricard, also form part of the ring and now these swimming pools are used daily by Barcelona people who want to enjoy them. This shows the importance of the Olympic Ring, both in terms of its architectural value and the everyday use it offers city residents.
Translator of
:
Address:

Av Estadi, 44

District:

Sants-Montjuïc

Neighborhood:

el Poble-sec

City:

Barcelona