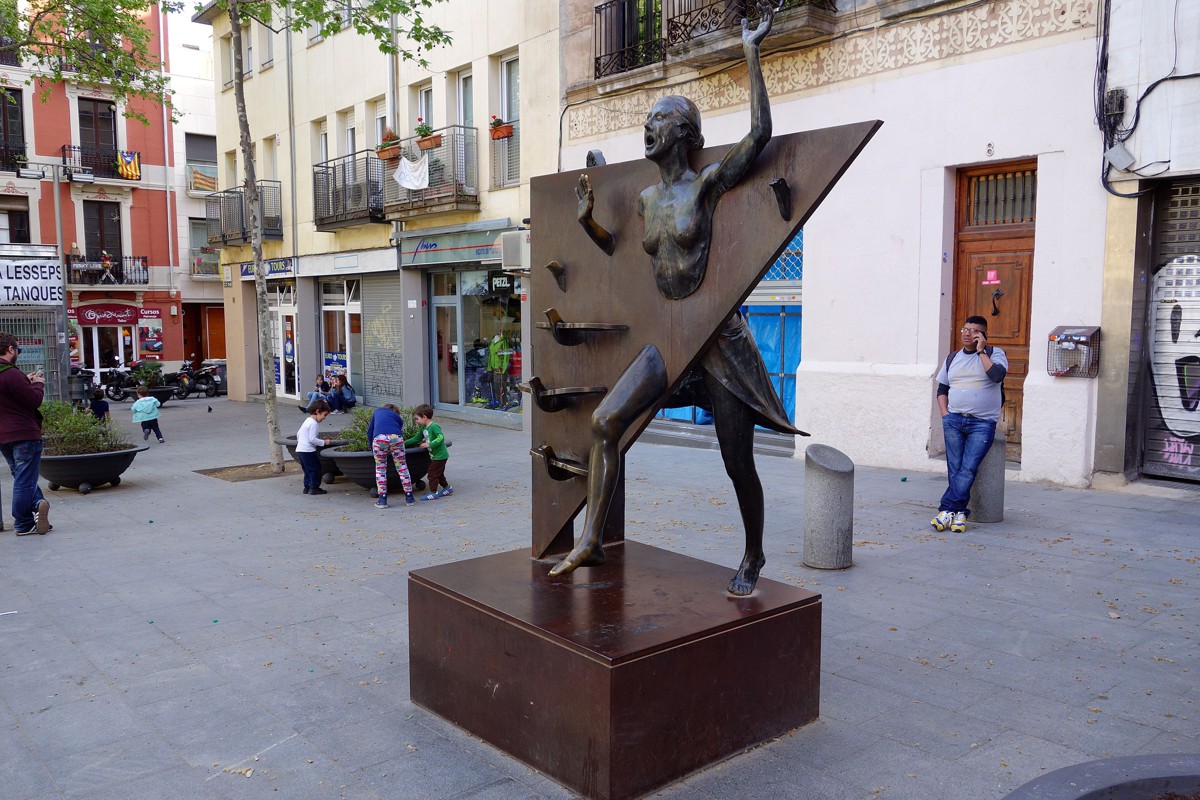 Full of life, with children playing and neighbours passing through it at all times of day, Plaça del Diamant emanates the relaxed energy of the old town of Gràcia. For this reason it is surprising to find the entrance to the underground air-raid shelter built by the locals during the Spanish Civil War, which can be visited in the company of a guide.
A square with the name of a jewel
Gràcia is a neighbourhood filled with tiny streets and squares, and Plaça del Diamant is one of its oldest and most emblematic ones. Located in what was formerly known as the jewellers neighbourhood, Plaça del Diamant owes its name to the Gràcia town councillor, Josep Rosell i Imbert, who engaged in the trade of precious stones. When he designed this plot in 1850, he came up with the idea of giving the streets and squares that still exist the names of precious stones: Carrer de la Perla (Pearl), Or (Gold) and Topaci (Topaz).
Literature and memory
Engraved in the popular memory by the famous novel La plaça del Diamant by Mercè Rodoreda, and its subsequent adaptation as a film by Francesc Betriu in 1980, in this delightful nook in the city one can still sit on a bench and listen to the birds singing and the children playing in the square. As a tribute to the novel, a sculpture of La Colometa by the artist Xavier Medina-Campeny was installed in 1984, depicting the main character with her doves.
The symbology of the square took an unexpected turn in 1992, when the air-raid shelter beneath the square was discovered during the execution of road works. Built twelve metres below ground level by the residents of the neighbourhood during the Spanish Civil War, it gave shelter to more than two hundred people during the many air-raid attacks launched on the industrial district of Gràcia of that time, with its many factories that were the main target of the attacking aircraft. This shelter was one of the more than 90 in the neighbourhood, and it is one of the largest of the 1,300 that were built in Barcelona, one of the first cities bombarded systematically from the air in a war. Today, with the objective of recovering the area's historical memory, the History Workshop of Gràcia arranges guided tours to explore the site and it is well worth visiting the shelter and seeing its tunnels which saved the lives of so many people.
Translator of
:
Address:

Pl Diamant, 2

District:

Gràcia

Neighborhood:

la Vila de Gràcia

City:

Barcelona