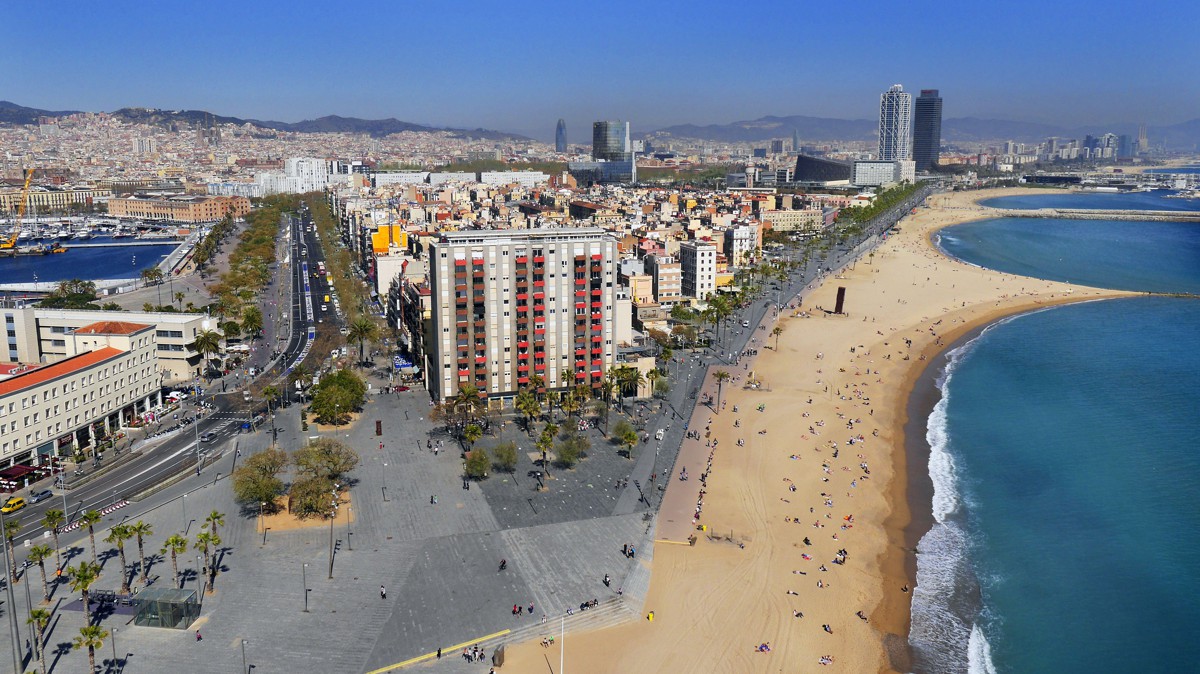 Almost one kilometre long, Barceloneta is one of the oldest beaches in Barcelona and witnessed the changes and transformations the city underwent in the course of the 20th century. Initially it was considered indecent to bathe in public and bathing spots were reserved for the upper classes, but soon afterwards the beach was opened to everyone.
City emblem
Barceloneta Beach is a good place to take a stroll or a dip, or do a bit of sport outdoors, any day of the year. It is a favourite beach of the locals, although a lot of tourists go there as well. It is only five minutes from the metro, has two showers, a games area, beach volleyball courts, advice and information points for people with disabilities, deckchairs, loungers, Bicing bike-hire stations, and more. The Espai de Mar, a centre for sporting, therapeutic and educational activities related to the sea, is worthy of a special mention. You can also get a bite to eat and something to drink at one of the many beach bars, cafes and restaurants.
As well as all this, Barceloneta has another important feature: standing right in the middle of the beach is Rebecca Horn's rusty sculpture, L'estel ferit, or The Wounded Star, known locally as "els cubs" (the cubes). It cuts a solitary figure against the blue background of the sea and the sky, and turns this space into a symbol of the city.
From Don Quijote to the Olympics
At the start of the 17th century, when the Barceloneta neighbourhood was not yet in existence, much of this area was flooded by the sea. Over time, as a result of a build up of sand and construction in the port, the city reclaimed the land from the sea and was able to expand on this side too. Around 1600, though, the future Barceloneta beach was still quite a long way out and probably very inhospitable.
It was on that primitive beach that Cervantes set the famous, final duel between Quijote and Knight of the White Moon. So it was here on the Mediterranean coast that the poor Quijote had the last of his delirious adventures.
Nearly four centuries later, the beach at Barceloneta had been totally transformed and was ready to show itself to the world during the 1992 Olympics.
Translator of
:
Address:

Passeig Marítim de la Barceloneta - Oriol Bohigas, 14

District:

Ciutat Vella

Neighborhood:

la Barceloneta

City:

Barcelona
Accessible for people with physical disabilities
Titularitat:

Public center
Consulteu sobre el mapa el nivell d'ocupació de cada platja.
Des del 30 de juliol de 2022 queda prohibit fumar a les platges de Barcelona. S'exceptua d'aquesta prohibició l'espai ocupat per les "guinguetes-bar" de temporada instal·lades a la sorra.