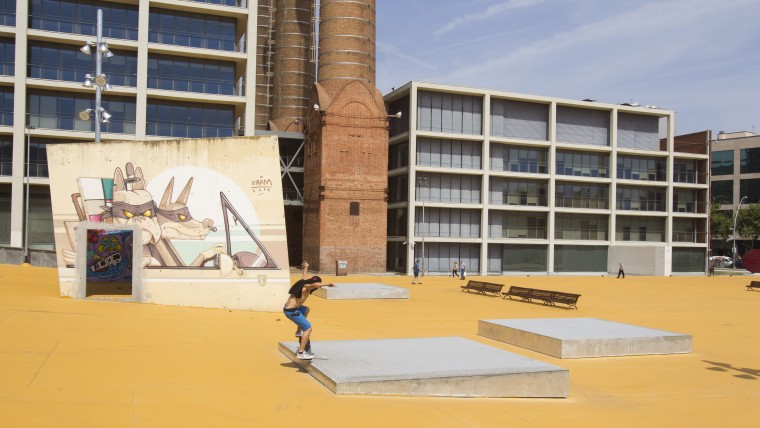 These gardens are named after the three imposing chimneys of the old La Canadenca power plant.
These gardens are named after one of the most representative features of the Poble-sec neighbourhood: the three imposing chimneys of the old La Canadenca power plant that rise up on one side. This very urban space has been preserved for local residents to rest and enjoy their leisure time in.
History
The gardens occupy part of the site of an old power plant owned by Barcelona Traction, Light and Power, and popularly known as La Canadenca due to the role Canadian capital played in the company. It was one of the pioneers of electricity production in Catalonia at the start of the 20th century and is remembered for the strike that took place there from February to March 1919, which represented an enormous landmark in the Catalan workers' movement. The landscape on one side of the gardens, which connects Avinguda del Paral·lel to Carrer de Vila i Vilà, recalls and pays tribute to that historical event. The Three Chimneys are now part of a twin office-building complex belonging to the Spanish Electricity Grid.
Biodiversity
Grey poplars, the predominant feature of the gardens, are spread geometrically around the gravelled space. The park's original grey poplars are not typical of the Mediterranean and are being gradually replaced with tipu trees, which are better adapted to the climate. Specimens from several species bringing colour and diversity to the space have been planted in a corner next to the pétanque area.
Landscaping and Design
The Jardins de les Tres Xemeneies open up from one side of Avinguda del Paral·lel to the other in a large concrete esplanade with benches and trees planted in tree pits, a highly typical feature of Barcelona's urban planning in the 1990s. This first area in the gardens is bounded on the upper part by walls which have become an ideal backdrop for graffiti artists. A large cube in the background provides a venue for celebrations and shows, while beyond the walls the wide esplanade climbs up towards a multipurpose sports court. There is a large soft area next to Carrer de Palaudàries paved with gravel, where a children's play area has been set up, along with pétanque courts and table-tennis tables.
Art and Architecture
The three chimneys in these gardens, built with hollow bricks, allow visitors to admire an excellent example of industrial architecture from the late 19th and early 20th centuries. You will find other things from that period throughout the park: fragments of the machinery used in the old La Canadenca power plant which have now been turned into sculptural works.
Traductor de
:
Address:

Av Paral.lel, 49

District:

Sants-Montjuïc

Neighborhood:

el Poble-sec

City:

Barcelona
Titularitat:

Public center
Sections of this equipment