Sant Miquel beach
Current state of the beach

Water qualityGood
Latest update: 28/09/2023 17:05 - SMC Spanish State's Ports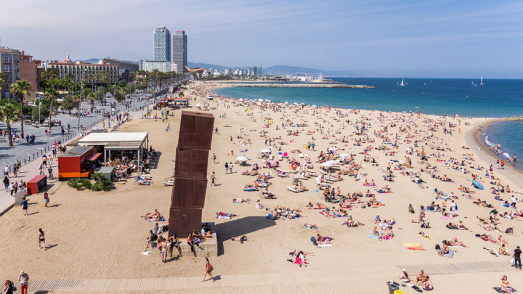 District:

Ciutat Vella

Length:

420m

Average width:

48m

Limits:

From plaça del Mar until Almirall Cervera street
Smoke-free beach
Adapted parking
Parking for bicycles
Blue Flag
Located between the Sant Sebastià and Barceloneta beaches, Sant Miquel beach takes its name from the Church of Sant Miquel del Port, built in 1755.
Sant Miquel beach is one of the oldest in the city and is about 420 metres long. Located just near the Plaça del Mar, it is one of the busiest on the Barcelona seafront.
Sant Miquel beach provides easy access and enjoyment for everyone, with special attention paid to those whose mobility is limited in some way: it features parking areas from which it is easy to reach the dry beach, visual and tactile signage and information, adapted toilets, wooden footbridges that reach the water as close as possible (although, under no circumstances will they ever touch the water, as its currents could detach the module) and adapted showers with chairs. The public transport has also been adapted to provide easier access.
The Ecoplayas flag is flying on the beach as recognition of its quality and services.
Area for people with disabilities
A lack of sand on La Barceloneta beach made it necessary to move the assistance point that had long been located there to Sant Miquel beach. This point will have a larger unit and a double walkway, that makes it possible to provide a more flexible service when the yellow flag is flying.
Facilities
Adapted public toilets
Adapted showers
Area for disabled people with assisted bathing service
Buoy-marked breakwaters and bathing areas
Embarcation point
Footbridges
Lifeguard towers
Public address system
Public fountains
Public telephones
Public toilets
Rubbish bins and recycling bins
Showers
Tourist Help and Information Points
First Aid and Rescue
Information point
Services
Bicycle hire
Deckchair hire
Parasol hire
Restaurants
Sport installations