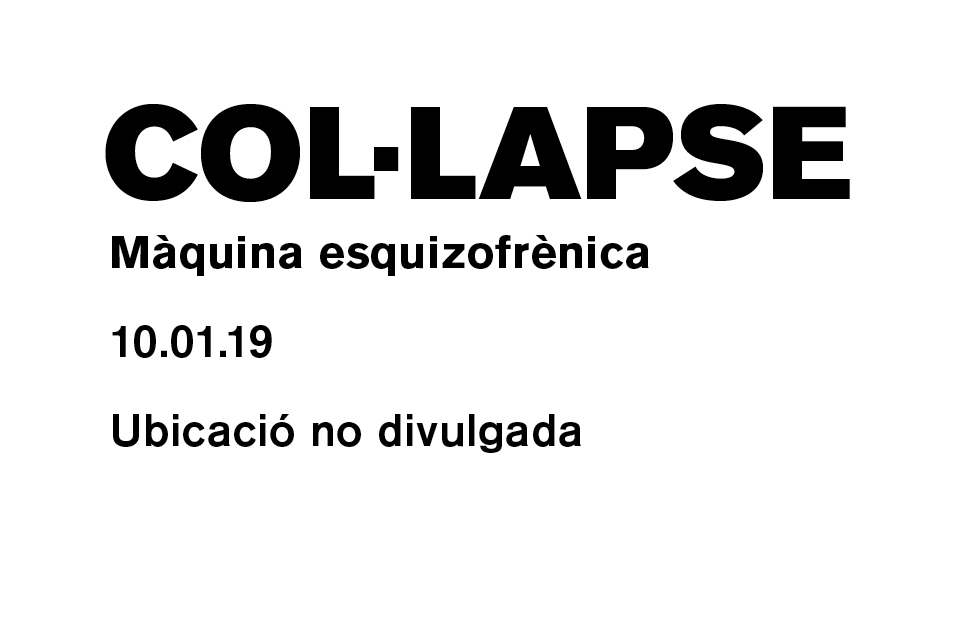 ​
Schizophrenic Machine—the third part of COLLAPSE, a project by Joan Morey curated by Latitudes—is an original performance that will take place on 10 January 2019, at 7 pm, in a relevant location in the city of Barcelona, which will be kept secret. The live action is related to the long narrative of the physical and discursive past of this particular space.
Morey's work both critiques and embodies one of the most thorny and far-reaching aspects of human consciousness and behaviour: how we relate ourselves to others, as the oppressed or the oppressor. This central preoccupation with the exercise of power and authority seemingly accounts for the dark and ominous tenor of his art. We might simply say that it holds a mirror to a world history that has been shaped by dominance and exploitation, as well as the numerous inequalities of the present. Yet it also suggests that it is precisely through the 'perverse' collapsing of severity with sensuality, reality with the imagination, degradation with desire, that—under exceptional circumstances—light can emerge from so much darkness.
Observations
Closed-door performance with restricted access. Limited space available. The performance is exclusively for an adult public, and due the nature of the architectural setting, is not apt for people with limited mobility or sight. Access to the performance is subject to protocols, including a dress code and written acceptance of the conditions for attendance. Even after receiving confirmation and correctly fulfilling conditions for attendance, the artist, the Contemporary Art Centre of Barcelona – Fabra i Coats and the Tecla Sala Art Centre reserve the right to refuse admission. All details relevant to the organisation of the event will be included with the corresponding confirmation of attendance.
REGISTRATION CLOSED.