"Barcelona on the move" procession
Day and time
See all schedules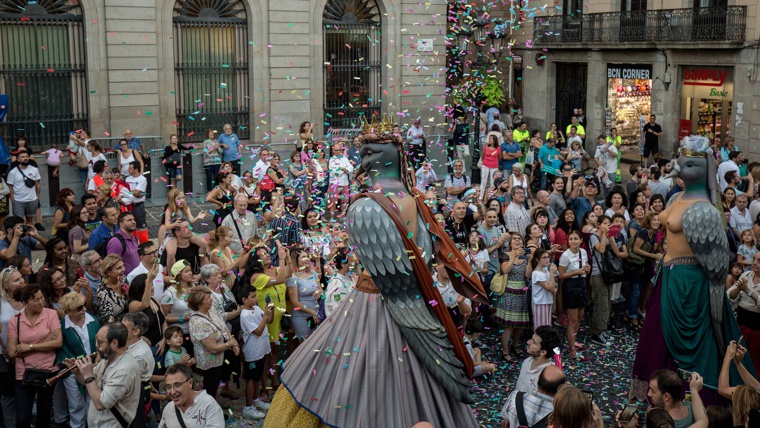 Route: C/ Pelai-Gravina, Plaça de Catalunya, La Rambla, C/ Ferran and Plaça de Sant Jaume (7 pm).
The La Mercè procession, held on the eve of the annual festival, serves as a showcase for Barcelona's popular culture. Almost all of the city's giants participate and take the lead. They are accompanied by beasts, capgrossos (children wearing "big heads") , entertainment groups, music bands and festive elements related to this year's theme. There will also be specially adapted giants that will be carried by people with disabilities.
This year, the procession celebrates transport, to commemorate the 100th anniversary of the city's buses. With this in mind, the procession is being organised with the title "Barcelona on the move" in collaboration with the public transport company TMB, and features a number of historical vehicles. The city's festival groups will be spread around five fictitious bus lines: one along the seafront, another through the hillside neighbourhoods and three that vertically traverse Barcelona. All this will be rounded off by Guàrdia Urbana (city police) officers on horseback, various vehicles and the Barcelona Seguici Popular (People's Procession).
As if that weren't enough, the Albesa aviator giants will take us on a trip to Rome, this year's guest city. That way we will discover giants and capgrossos that look as if have just stepped out of ancient Bàrcino, but which are actually from Plaça Nova, Caldes de Malavella, Tarragona and Borges Blanques. The spectacular procession will be rounded off with a very unusual bus.
The event will end in Plaça de Sant Jaume with all the participants at the City Hall and the dances of the City "Big Heads", Macers, Eagle and Giants.
List of points shown on the map
Carrer de Pelai, 12
Ciutat Vella
el Barri Gòtic
08002 Barcelona