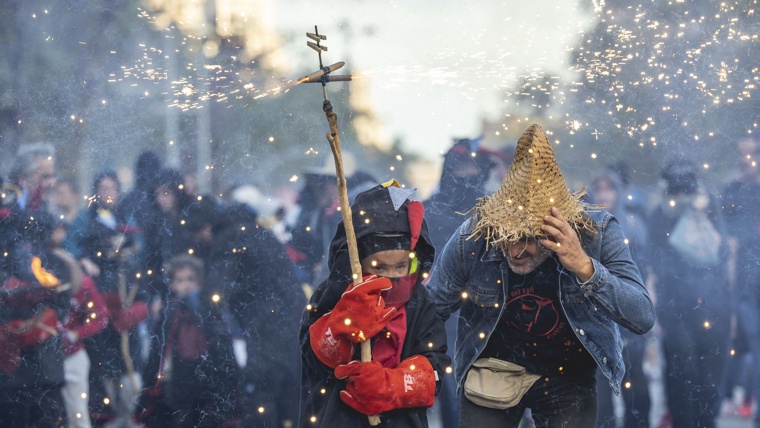 Pg. de Gràcia / Consell de Cent to Pg. de Gràcia / Mallorca - Provença
Children's Fire Run
Sparks, explosions, dragons and devils... The fire run is one of the most intense parts of the festival. And it is not surprising that it fascinates children, although it's always better not to expose them to the dangers of a festival with fire. Still, the popularity of devil groups for children spurred the design of a specific fire run just for them.
This year, the Little Devils' Fire Run will welcome many of the groups that participate in La Mercè and other festivities in the city, almost 30 groups from Barcelona neighbourhoods like Trinitat Nova, Sarrià, Sant Antoni, La Sagrera, Sant Martí and Montbau. Groups like the Colla de Diables Infantils del Casc Antic, the Escuats de la Malèfica del Coll, the Banyetes d'Horta, the Fills de Satan del Poble-sec, the Fures de Can Baró and the Diables Infantils del Poblenou are just some of the groups that will parade down Passeig de Gràcia, and the Dragon Trajana, the Estarrufadet, the Bímbia and the Sprite Nébula are just some of the fire beasts that will throw sparks along the way.  
The organisers recommend watching the end of the Children's Fire Run on Carrer Mallorca to stay as safe as possible. And by doing so, you'll also get better views of Hell's Gate (on Carrer de Provença) and the activity that will be about to begin there.
Passeig de Gràcia, 58
Eixample
la Dreta de l'Eixample
08008 Barcelona