Close of MercèDansa. Cobla Sabadell and Galop de la Mercè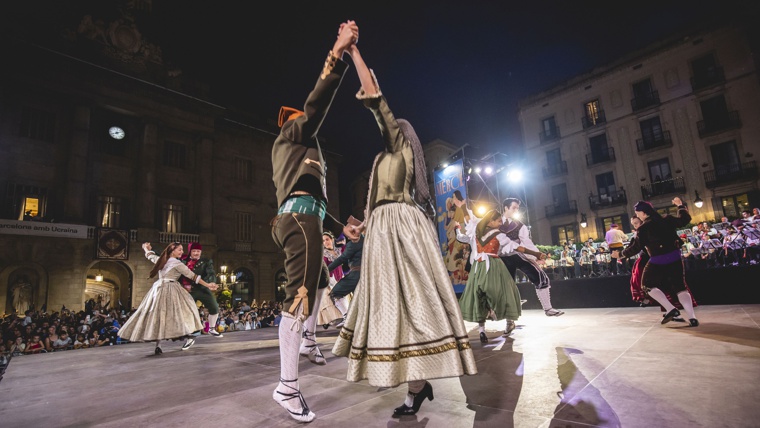 Close of MercèDansa. Cobla Sabadell and Galop de la Mercè
In the afternoon, MercèDansa, the display of living dances from Catalonia, Catalunya Nord and the Franja de Ponent which will occupy the Cathedral esplanade in the morning, will move to Plaça de Sant Jaume for the close. And obviously, it will be accompanied by the Cobla Sabadell conducted by maestro Joan Gómez, always with the goal of getting everyone to dance.
Galop de la Mercè is the final act of MercèDansa, the time when we'll stop being passive spectators of the show and start participating actively in the festivities. This is because in the Galop, the dancers who will have performed in the morning will invite the audience to do this galop dance with music composed by the much-loved maestro Jesús Ventura. It will be a great chance to immerse ourselves in this rich, extensive and yet unknown part of our heritage - a real treat.
The Esbart Català de Dansaires is the organiser of MercèDansa and the Galop de la Mercè, two activities that aim to share traditional Catalan dances outdoors in a community setting. And to make it even more festive, the organiser will distribute handkerchiefs to the audience, regardless of whether or not they dance. It's a great chance to learn, enjoy and experience the festival as yet another dancer.
Pl Sant Jaume, 1
Ciutat Vella
el Barri Gòtic
08002 Barcelona