Concert "Vozes + José María Vitier + Maria del Mar Bonet: Habana Concerto" dins de "La Mercè és Música"
Address
Pl Major de Nou Barris, 1
Day and time
See all schedules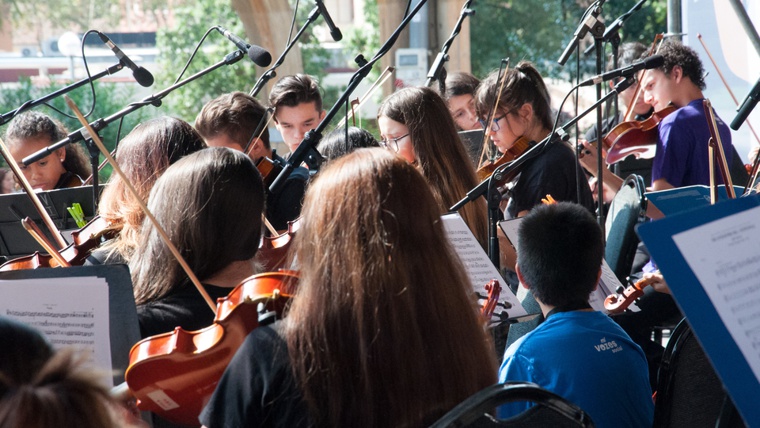 Vozes + José María Vitier + Maria del Mar Bonet: Habana Concerto (Barcelona; symphonic).
In 2019, Havana celebrated the 500th anniversary of the founding of a city where the streets have been filled with music right from the very beginning. So it's hardly surprising that the SGAE should want to celebrate by commissioning a work by Cuban musician and pianist José Maria Vitier. It is conceived as a kind of stroll through the sounds of the Cuban capital over the course of the centuries. Written in three movements, this is a symphonic work with three soloists (flute, violin and piano), Habana Concerto was premièred in 2020, but coinciding with the presence of Havana as guest city at Barcelona's biggest festival, the Festa de la Mercè, it will ring out in Barcelona, performed by the composer himself and the young musicians of the Vozes project. This is an initiative that since 2004 has been using music as a tool for inclusion, integration and social cohesion, organising free musical activities aimed at many different groups of people (children, young people, families with socio-economic problems, the disabled, elderly people, etc.) who for different reasons have no access to the arts, and who are also at risk of social exclusion. Today, the Vozes family brings together around 600 children and young people who share the joy of making music together. This year, the symphony orchestra that has grown out of the Vozes project will have more than one guest, José María Vitier will be joined by Mallorcan singer Maria del Mar Bonet, one of the great voices of the Mediterranean, who will be performing some of the songs featured in the concert.
List of points shown on the map
Pl Major de Nou Barris, 1
Nou Barris
la Guineueta
08042 Barcelona