Human-tower day for the La Mercè festivities
Day and time
See all schedules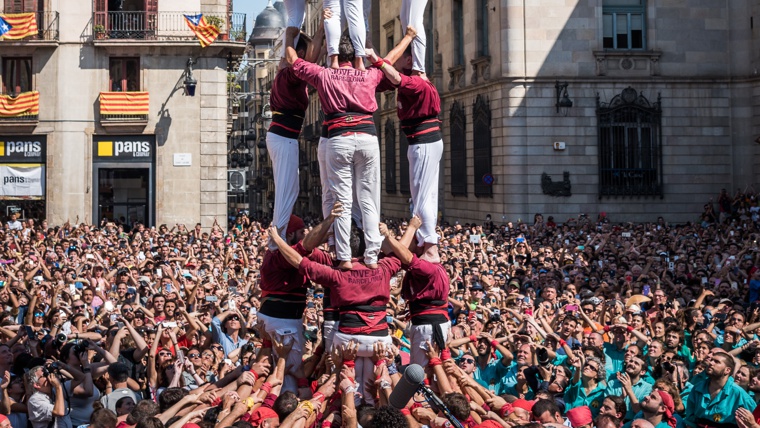 Plaça de Sant Jaume is chock-a-block full. The human tower performance of local groups is about to begin. To the sound of grallas, the walking pillars of eight city human-tower groups enter the square: Barcelona, Sants, Vila de Gràcia, Poble Sec, Sagrada Família, Jove de Barcelona, Sarrià and Esquerdats de l'Esquerra de l'Eixample.
The eight groups will build their towers simultaneously over the course of three rounds, which will without a doubt provide us with some of the most spectacular towers in the city calendar. Because this is a living tradition, where those making up the base of structure and the child crowning the tower, raising their arm to the sky, are just as important. As tradition stipulates, the day will come to an end with the farewell towers built by the different groups.
Did you know that human towers in Barcelona go back more than 200 years? The archives at Santa Maria del Pi parish church assert that the beatification of Sant Josep Oriol, in 1807 featured the "dance of the Valencians or towers", strong evidence of the human-tower tradition in the city. In fact, a number of today's groups date back over 100 years, such as the Barcelona, Poble Sec and Gràcia groups.
List of points shown on the map
Pl Sant Jaume, 1
Ciutat Vella
el Barri Gòtic
08002 Barcelona