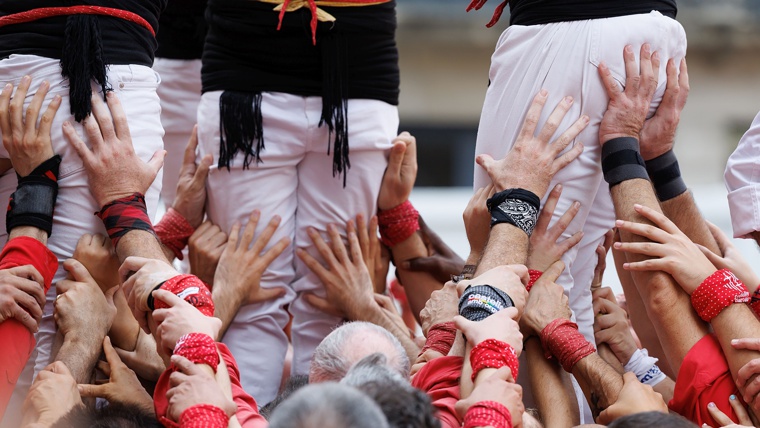 Start: Palau de la Virreina Route: La Rambla, Boqueria, Avinyó, Ferran and Pl. Sant Jaume.
Human towers procession
Plaça de Sant Jaume is hosting the Diada Històrica Castellera on 23 September, a historical top-class human towers display by the Castellers de Barcelona and two other guest groups, the Minyons de Terrassa and the Colla Jove Xiquets de Valls. Before any towers are erected, the order of the rounds and the location of each group in the square will need to be established.
To do this, the three participating groups will meet early in the morning at the Palau de la Virreina, behind closed doors, with the heads of each group taking part in a draw to decide the running order and the space for each display. Once these details are established, it's off to Pl. Sant Jaume in a parade known as the Cercavila Castellera, where members of the groups embark on a festive march to the sound of music from their gralla pipes and percussion groups.
There are sure to be nerves, perhaps even a rethink of the towers to be built, but most of all this is a moment of unity between the groups that will then be competing to erect the most extraordinary tower. This is also a chance for young and old to salute them on level ground.
la Rambla, 99
Ciutat Vella
el Raval
08002 Barcelona