Opening Procession in Barcelona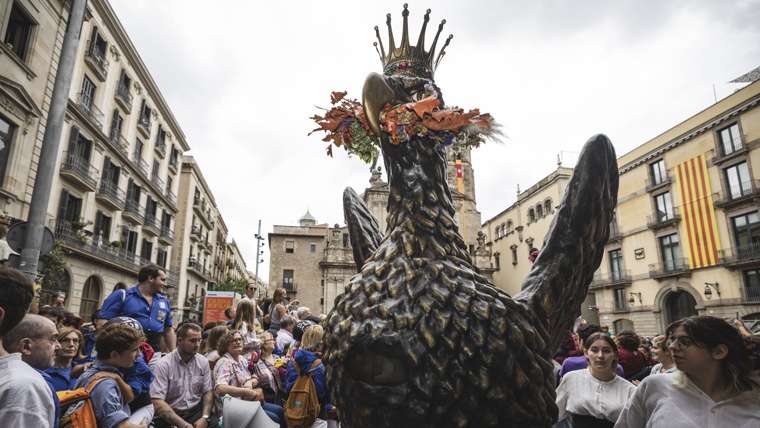 Start: Palau de la Virreina. Route: La Rambla, Ferran and Pl. Sant Miquel
Opening Procession in Barcelona
Barcelona's local festival gets under way as ever with the opening speech in the Saló de Cent at the City Hall and the solemn parade by the entourage of festival figures known as the Seguici Popular de Barcelona: this is the inaugural activity, the Seguici Inaugural, signalling the start of the traditional Mercè and representing the first procession of the festivities, the most diverse of them all.
The Seguici Inaugural features all sorts of figures: the City Eagle, the Lion, the Mule, the Ox, the Wyvern, the Dragon, the Tarasca, the Pi Giants, the Capgrossos Macers, the Cavallets Cotoners, the Santa Maria del Mar Giants, the Falcons de Barcelona and the stick dancers known as the Ball de Bastons del Seguici, accompanied by the Trabucaires d'en Perot Rocaguinarda, the city's devils' groups and the Ministrils del Camí Ral, the latter providing the music for this festive procession. This year's Seguici Inaugural also features Olga and Volodymyr, the pair of giants gifted to Barcelona by the city of Kyiv.
These figures and the rest of the participants in the Seguici Inaugural will be gathering in the foyer of the Palau de la Virreina with the doors closed to the public. At 7 pm exactly the doors of the building will open and the ceremony begins, with a parade of the different groups, the devils' groups bringing up the rear. Fire, fun, colour and solemnity to get the city's big annual festival under way.
la Rambla, 99
Ciutat Vella
el Raval
08002 Barcelona