Avinguda de la Reina Maria Cristina, 1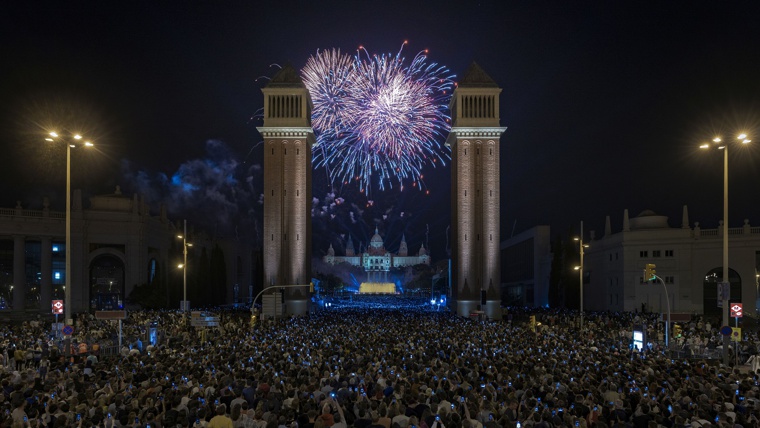 Pyromusical
Pirotècnia Igual
Catalonia
The closing event of Barcelona's Festa Major (Street Festival) brings together all the Mercès that have occupied the city since September 22: musical, scenic and traditional, innovative and popular. And above all, community, because this is undoubtedly the most multitudinous event on the program.
The Pyromusical is a public festival and a complete spectacle. Fire and music —perfectly synchronised— are the protagonists of a night in which the people of Barcelona look towards Montjuïc to be surprised once more by the drawings and pirouettes of the fireworks. This year the event will also feature a very special soundtrack: Sónar will provide the music for the Pyromusical to celebrate the festival's thirty years of existence. Three decades of history condensed into 25 minutes, for Barcelona to bid farewell to Mercè 2023 while paying tribute to a great musical event that attracts thousands of visitors from half the world with each new edition.
Pirotècnia Igual will be in charge of lighting up Barcelona's night sky with a spectacular and innovative show. Recognised with numerous international awards, this Catalan company has been manufacturing and setting off fireworks in a variety of locations for over a hundred years. Its brand has been associated with milestones such as the 1992 Barcelona Olympic Games; and it will be featured at this Mercè, where it will join with Sónar to create an unforgettable Pyromusical.
Duration: 25 minutes.
Avinguda de la Reina Maria Cristina, 1
Sants-Montjuïc
el Poble-sec
08004 Barcelona