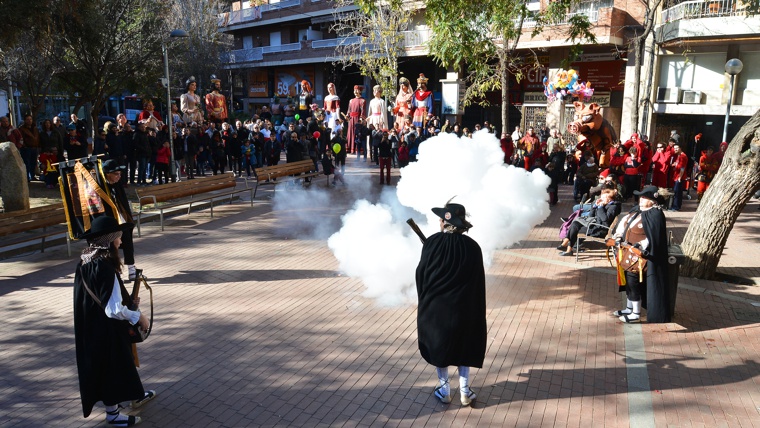 Starts at Font de Canaletes. Route: La Rambla, Ferran and Plaça de Sant Jaume.
Salvo by Trabucaires
The Galejada de trabucaires sees the city's trabucaire groups offer a salvo of blank rounds from their traditional blunderbusses known as trabucs. All six city groups will be taking part: the Perot Rocaguinarda group, along with those from Sant Andreu del Palomar, Gràcia, Sant Antoni and Sant Martí de Provençals, plus the Escamot Trabucaire de la Santíssima Trinitat. The activity starts in Canaletes with an opening salvo, with the groups then making their way along La Rambla and ending up in Pl. Sant Jaume, firing their guns as they go.
Another salvo then follows in the square. The unwritten tradition is for the arriving volley of shots by the trabucaires to coincide with the officials starting their journey towards Pl. Mercè, known as the Anada a ofici.
These groups take part in the same way at opening ceremonies, processions and tributes. Their activity consists of firing blank rounds into the air to announce a festive occasion. The origins of this activity are to be found in the time of highwaymen in the 17th century, with the first known reference to them in a festive role also dating back to this same period. The tradition didn't reach Barcelona until 1982, in an effervescent recovery of a festive act which has been with us ever since.
la Rambla, 131
Ciutat Vella
el Raval
08002 Barcelona