Sardana dancing. Federation of Barcelona Sardana Dance Groups. Cobla La Principal del Llobregat
Avinguda de la Catedral, 1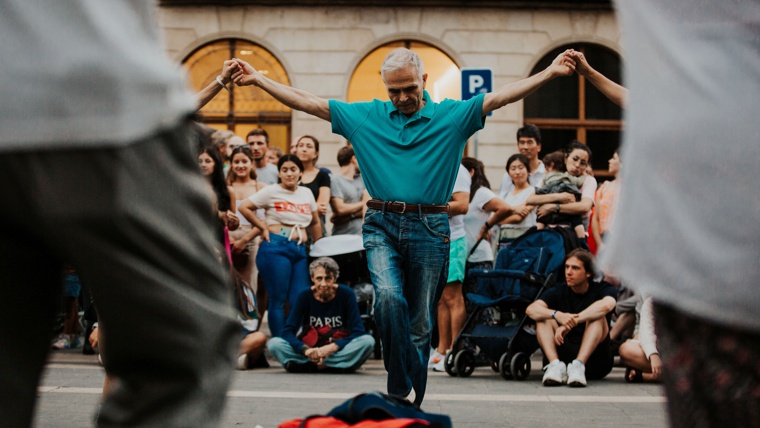 Sardana dancing. Federation of Barcelona Sardana Dance Groups. Cobla La Principal del Llobregat
To round off the event, right after the Colles de Sardana Esportiva competition the Federation of Barcelona Sardana Dance Groups will be organising another classic, the sardana dancing that will bring a morning of popular dance in Av. Catedral to an end.
The groups that competed in the competition will be dancing together, in a spirit of harmony, celebration and fellowship, attributes that are an essential part of this most universal of Catalan traditional dances. And of course they'll be accompanied by the Cobla La Principal del Llobregat sardana orchestra, who'll be performing a selection of very well-known sardanas to add to the fun.
La Principal del Llobregat is one of Catalonia's most distinguished sardana orchestras. Antoni Ros-Marbà, Salvador Brotons, Jordi León, Alfred Cañamero and other eminent orchestra conductors and sardana composers have led the ensemble at different times in its history, and the Cobla Sant Jordi - Ciutat de Barcelona, the Cor Lieder Cámara and the Orfeó Català are some of the groups with which it has collaborated.
Sardana dancing on the esplanade at Barcelona Cathedral will mark the end of the 'jornada sardanística' celebrating this popular traditional Catalan dance. Not to be missed!
Avinguda de la Catedral, 1
Ciutat Vella
el Barri Gòtic
08002 Barcelona