Show "Street Concept" dins del "MAC Festival"
Day and time
Sat 25 · 12:00
Sat 25 · 17:00
Sun 26 · 12:00
Sun 26 · 17:00
See all schedules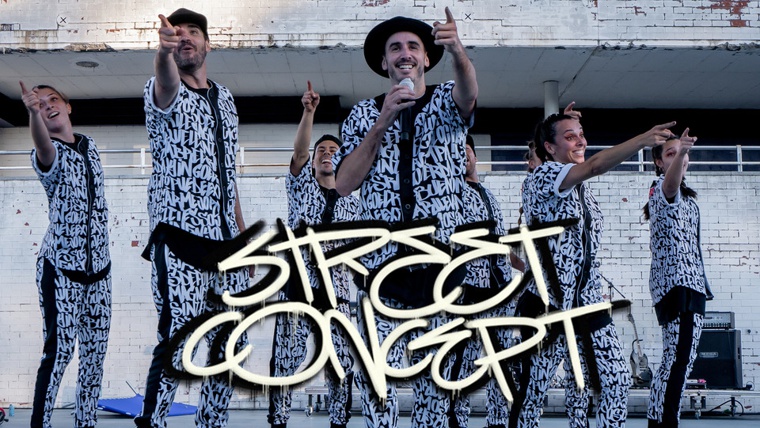 Grades Stage
Brodas Bros (Catalonia; dance; for all ages). This international company devoted to hip-hop, dance in general and the newest urban cultures started life in Barcelona in 2006. They will be presenting the Escenari Llac, with a programme offering something of a music and dance cabaret displaying the most diverse styles of urban dance. Hip-hop, locking... You'll find all this in a selection of fine artists from home and abroad, brought to us by Brodas Bros and offering short pieces and large-format shows alike.
Darren et Willis (Association Jazz Gold Feet); (France; dance; for all ages). These two siblings (she is Darren, aged 18, and he is Willis, aged 10) are causing a sensation around the world with their jazz rock dance style, laced with Afro, house dance and hip-hop. They are being touted as a real breath of fresh air on the urban dance scene, and much of this is down to their father, the choreographer and dancer Robert Modestine, who taught them everything they know, which is a lot.
Robert Modestine (Association Jazz Gold Feet); (France; dance; for all ages). Robert Modestine and his wife Delphine are the creators of Jazz Gold Feet, an association offering lessons in dance styles ranging from Afro to Afro house, modern jazz and locking. This family is completely devoted to urban dance, a speciality in which the father is a renowned figure. You can see this in a performance where he dances jazz rock, his speciality, offering a short piece and rounding off the performance with his children Darren and Willis. The family who dance united...
Zekka (Region of Madrid; beatboxing; for all ages). This artist's real name is Donato Alférez Marín, but in the world of urban culture everybody knows him as Zekka. Anybody who has heard this beatbox artist won't forget him easily. With ten years of experience behind him, his ability to produce music with only his mouth is quite spectacular. Creator of some experimental pieces which are among the finest on the Spanish beatbox scene, the artist has won the world championship in this speciality five times and is regarded as one of the best eight beatboxers in the world today.
Dey-Dey: "Entre deux" (France /Holland; dance; for all ages). Solo performance from Delphine "Deydey" Nguyen, France's popping world champion and choreography assistant with the dance company The Ruggeds, who you can also see perform at the Parc de la Trinitat. Moving through different popping techniques and intensities, the artist explores the spaces between two opposites, the place where different energies flow, sometimes clashing and sometimes creating a unique vibe which is the start of a new journey.
Zyko & Pocahonstyle (France; dance; for all ages). As a boy, Nicolas Monlouis, better known in hip-hop circles as Zyko, imitated Michael Jackson. Now he's grown up he has become one of the best-known hip-hop dancers in France, specialising in the creation of movements which produce curious optical illusions. Now you can see him perform in a duet with the dancer Pocahonstyle, the artistic name of the Marseille-born member of the urban dance groups Soul Crew and Compagnie Voltaïk Maëva Pocah.
Colectivo Kampai: Mirage (Catalonia; dance; over-4s). This group of dancers from Andalusia and Catalonia have made a name for themselves with their own multi-disciplinary language, using a hybrid version of urban dance combined with various disciplines ranging from music to visual and contemporary dance. In Mirage, they imagine the end of everything and conceive it as a new beginning, a chance for rebirth which must enable us to reinvent our existence and finally grasp that we are part of the same large organism. Pau Arnal, Irene Baeza, Manel Cabeza, Guillem Ripoll and Kenya Sauer dance to original music created by Toti Arimany and Alex Serra "Gato Suave".
Premoh's Cru: Anónimas raíces [Anonymous Roots] (Andalusia; dance; for all ages). Four Andalusian dancers, who took part in an urban-dance event in the USA in 2016, decided to use the everyday life and spontaneity of their native land and the urban movement as inspiration for a project that combines the most Andalusian artistic expression with the essence of African rhythms. The four dancers combine flamenco and the latest urban dances while posing the question "Who are we?". The result is the creation of projects such as Anónimas raíces, a fifteen-minute production they prepared during two residencies at the Barceloneta Civic Centre and the HOP Festival, and which they are now bringing to La Mercè. With Marta Reguera, Paloma Ramos, Isaac Suárez and Antonio León.
Indhhia & Kham: Collage (Barcelona /Argentina / Venezuela; dance; all ages). Have you ever been told a story through the language of dance? Well, that's the speciality of this company who take us, during this roughly ten-minute-long choreography, to a fashion parade where you will come across compositional elements such as points, lines, planes and volume. All in a choreographic creation that combines the bases of urban dancing with contemporary dancing, forever in search of its own movement.
List of points shown on the map
Pg Santa Coloma, 60
Sant Andreu
Sant Andreu
08030 Barcelona