Tabalada Infernal (fire and drumming), Ceptrotada (burning sceptre), the lighting of Hell's Gate and the start of the Fire Run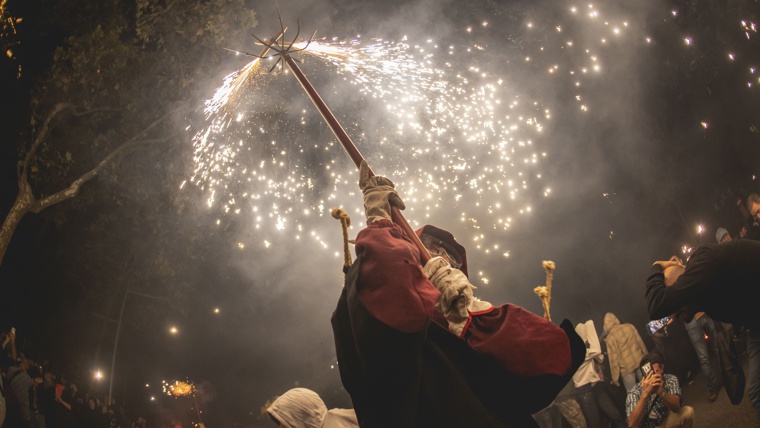 Pg. de Gràcia-Provença to Pg. de Gràcia-Consell de Cent
Tabalada Infernal (fire and drumming), Ceptrotada (burning sceptre), the lighting of Hell's Gate and the start of the Fire Run
The success of La Mercè is in large part the success of the correfoc, or fire run, the most anticipated celebration of the day. It is when the devils from groups all over the city and the host of fire beasts emerge from the underworld and make their way along Passeig de Gràcia, turning it into a sea of sparks.
La Mercè Fire Run will begin with the Ceptrotada, when each group's most spectacular ceptrots or sceptres, pitchforks and banners are lit, with Llucifer (Lucifer), the Diablessa (She-devil), the Diable Gros (Big Devil) and other unique characters from the participating groups.
The lighting of the Ceptrotada will be the prelude to another pyrotechnic display, the Lighting of Hell's Gate by La Satànica of Sant Andreu, a true celebration. Hell's Gate is a structure built specifically for the La Mercè Fire Run; when the pyrotechnics burn out, the Gate opens and devils, dragons and fire beasts begin to pour out. The Fire Run has begun!
To enjoy it to the utmost, the organisers recommend scattering out along the entire route to catch better views of the diabolical creatures that will be dancing down the street. This will improve not only visibility but also safety.
La Mercè Fire Run was started in 1979 as the Display of Fantastical Beasts as part of the project to revive and expand participation in the city's annual festival. It soon was attended by throngs of people and spread all over Catalonia, making the fire run an essential part of any festival. 
Passeig de Gràcia, 101
Eixample
la Dreta de l'Eixample
08008 Barcelona