The Xambanga Dancing Giants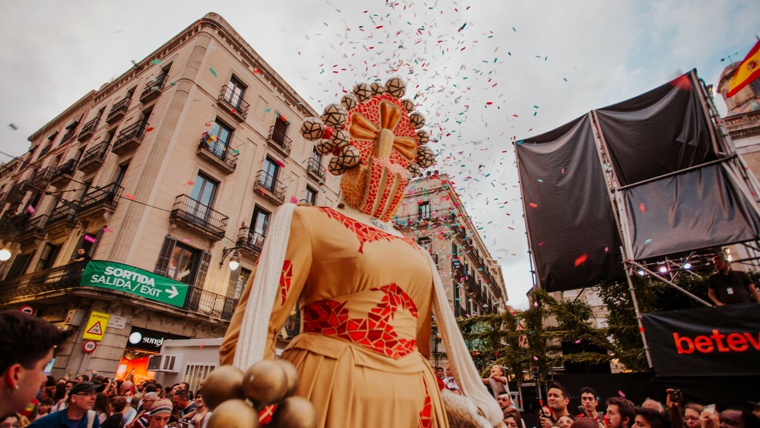 Start: Pla de l'Os. Route: Rambla, Sant Pau, Pl. Joaquim Xirau, Ptge. de la Pau, Josep Anselm Clavé, Pl. del Duc de Medinaceli, Ample, Pl. de la Mercè, Ample, Avinyó, Cervantes, Gegants, Pl. de Sant Miquel and Pl. de Sant Jaume.
The Xambanga Dancing Giants
Once they are properly dressed up (see'The Gathering of the Dancing Giants'), the giants who have stopped briefly in the Pati Manning will head to Pla de l'Os on the Rambla to start the Xambanga, an incredibly lively parade. The mosaic that Joan Miró gave Barcelona in front of the old gateway to the Boqueria market will be the starting point of the parade, which will end in Plaça de Sant Jaume, where the figures will spend the night.
Along the route, they will all festively dance, accompanied by the their bands. It should be noted that every year some of them truly outdo themselves: the imagination and quality grow Xambanga after Xambanga!
This parade is an initiative of the Barcelona Giants Coordinating Committee, which turned the groups' way to Sant Jaume into one of the most original and fun routes in La Mercè. 
Pla de la Boqueria, 1
Ciutat Vella
el Barri Gòtic
08002 Barcelona