The singularity of 'Common Objects'
The singularity of 'Common Objects'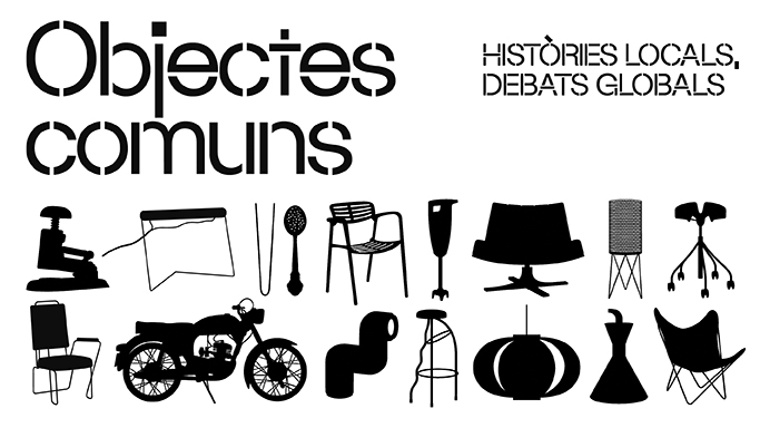 Exhibitions. Common objects. Local stories, global discussions.
Design is present in unique and peculiar things, as well as in our everyday life. The exhibition 'Common Objects' offers a list of common elements whose purpose takes on a new meaning through design, through a new appearance, through innovative changes to them or through what they convey or the emotions they arouse. Common objects which form part of popular culture and which represent society.
A peculiar display showing fragments of collective memory. Elements which are common because some of them are shared by society and others, because they have a social purpose. The uniqueness of these objects is brought together in four different sections on Floor B at the Museu del Disseny de Barcelona.
Translator of
:
Schedule
Days
Hours
Preus

Dimarts, dimecres, dijous, divendres, dissabte i diumenge i festius excepte 1 gener, 1 maig, 24 juny, 24 desembre, 25 desembre i 31 desembre

de 10.00 h a 20.00 h

Entrada general: 6 €

El preu inclou la visita a les exposicions permanents

Entrada reduïda: 4 €

Entrada gratuïta:

· Diumenge a la tarda, de 15 a 20 h

.Cada primer diumenge de mes

. 12 de febrer (Santa Eulàlia)

. 24 de setembre (Mare de Déu de la Mercè)

.Menors de 16 anys

.Posseïdors de la Targeta Rosa gratuïta

.Membres de l'ICOM (International Council of Museums)

.Membres de l'Associació de Museòlegs de Catalunya

.Guies turístics professionals

.Professors d'ensenyament reglat acreditats per la direcció del centre educatiu Professors d'ensenyament reglat quan acompanyin un grup d'estudiants

Persones que disposin del passi metropolità d'acompanyant de persones amb discapacitat

.Periodistes degudament acreditats

.Posseïdors de la targeta Barcelona Card

.Persones inscrites al Gaudir Més

24 desembre i
31 desembre

de 10.00 h a 15.30 h
La singularitat dels objectes comuns es manifesta de diverses maneres que aquesta nova exposició de disseny de producte recull en quatre apartats: Itinerari. Històries locals, 1930-2020; Parlament. Debat globals; Exposicions variables i #DISSENY_BARCELONA. El disseny de la ciutat.
Address:

Plaça de les Glòries Catalanes, 37*38

District:

Sant Martí

Neighborhood:

el Parc i la Llacuna del Poblenou

City:

Barcelona
The newsletter
Subscribe to our newsletter to keep up to date with Barcelona Metròpolis' new developments