As a complement to the dossier "Digital City", photographer Gunnar Knetchel has produced the photographic series More than data, which explores the relationship between technology and information in the city.
The digital revolution goes hand in hand with the datification of the world and cities as major producers, managers and analysers of information. Data is the necessary raw material to understand an increasingly complex world.
In the photo series More than data, Gunnar Knechtel draws our gaze to an apparently mute city that questions us about why and how data should be gathered and stored, who should own data and the infrastructures that contain it, and who should benefit from the added value it provides. These and other questions form part of the construction of the social covenant on the limits of private action and the defence of what should be public.
Text and photo footers by Olga Subirós.
Barcelona's internet connections include two submarine cables: the BARSAV, which links the city with Savona, and the PENBAL-5, with Majorca. The city has one of the largest free Wi-Fi networks in Europe. Could it become an internet hub, like Marseilles, which has nine cables connecting it to Singapore, Hong Kong and South Africa? Should a submarine cable be a public infrastructure like transport infrastructures? - Olga Subirós
In Barcelona, a thousand telephone aerials transmit email data, phone calls, internet searches and other services. Data that are hosted in private, delocalised centres and that generate a lot of value and grant power to third parties. How can we recover ownership of our data and what role should the public administration play? Projects like DECODE work in favour of digital sovereignty. - Olga Subirós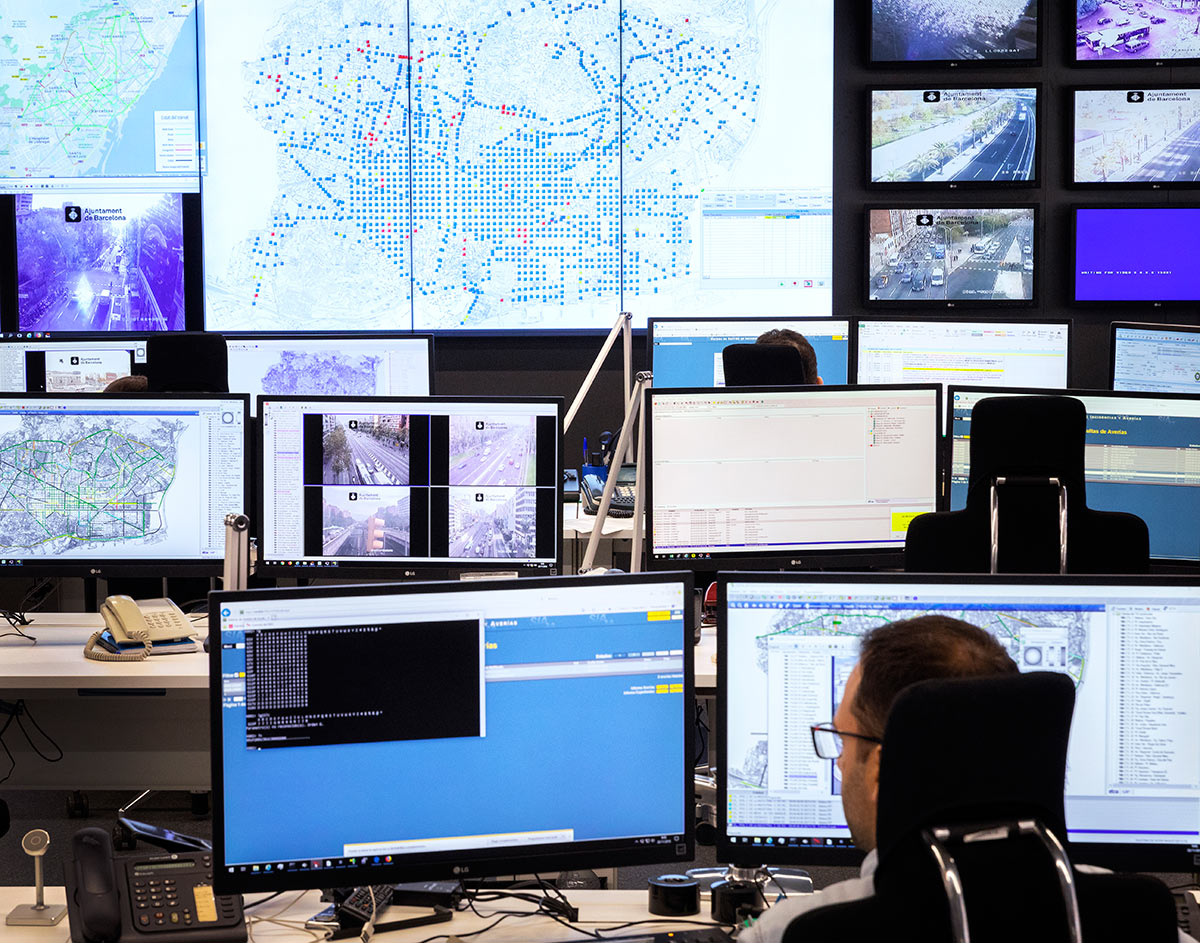 The city has 36,492 digitally controlled traffic lights. The superilles, the orthogonal bus network and regulations for bicycles and e-scooters have helped pacify the traffic. These and other initiatives for mobility have been key for the European Institute of Innovation and Technology's (EIT) nomination of Barcelona as European capital of urban mobility. - Olga Subirós
Fifteen thousand municipal sensors transmit data in real time on energy, noise or rubbish. They are part of what is known as the internet of things and are controlled with Sentilo, open-source software developed by the city of Barcelona. Waste management is based on the use of sensors, pneumatic refuse collection and the development of a citizen's recycling culture. - Olga Subirós
In Beijing and London there are half a million public surveillance cameras, while Barcelona's metro network has 8,000 surveillance cameras installed. Technology needs to be controlled with laws that protect basic rights such as privacy. Cities must opt for ethical and responsible technology; in this respect, Barcelona has just presented the Ethical Digital Standards, common guidelines for open and ethical digital services. - Olga Subirós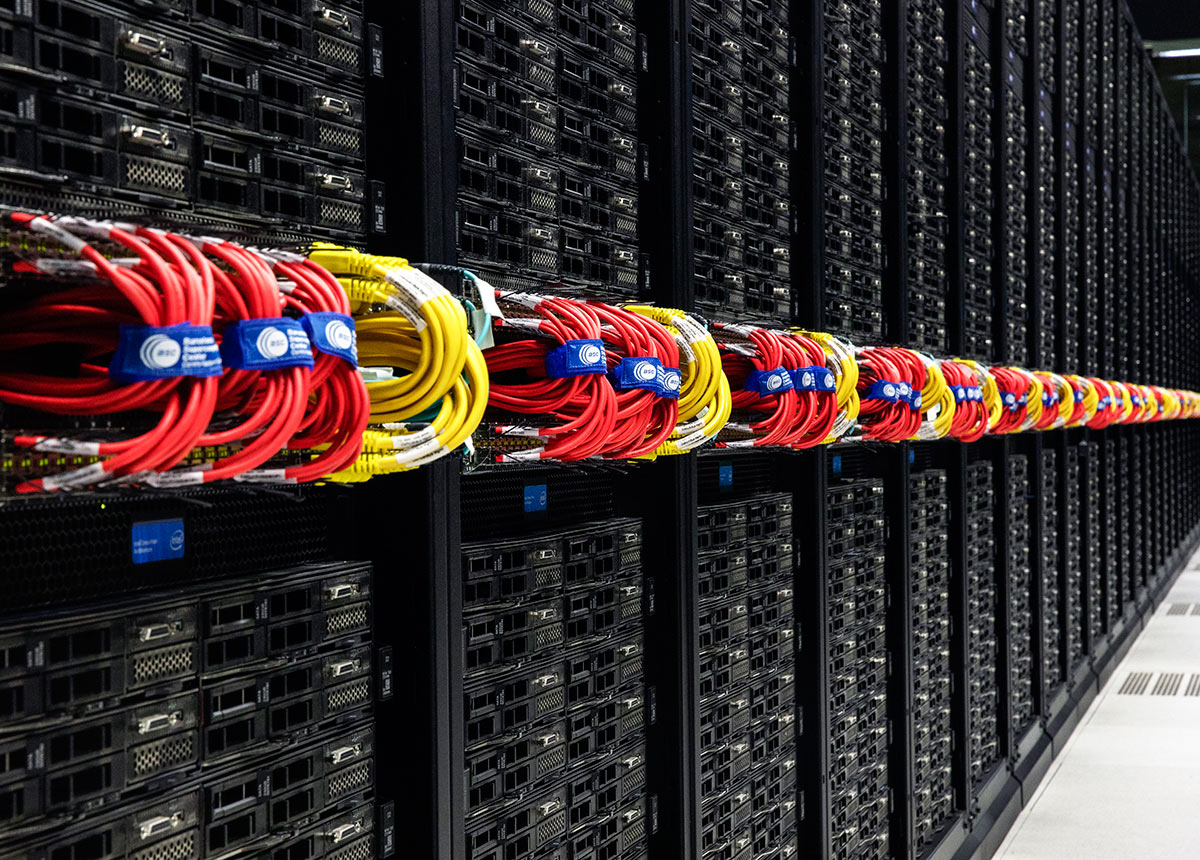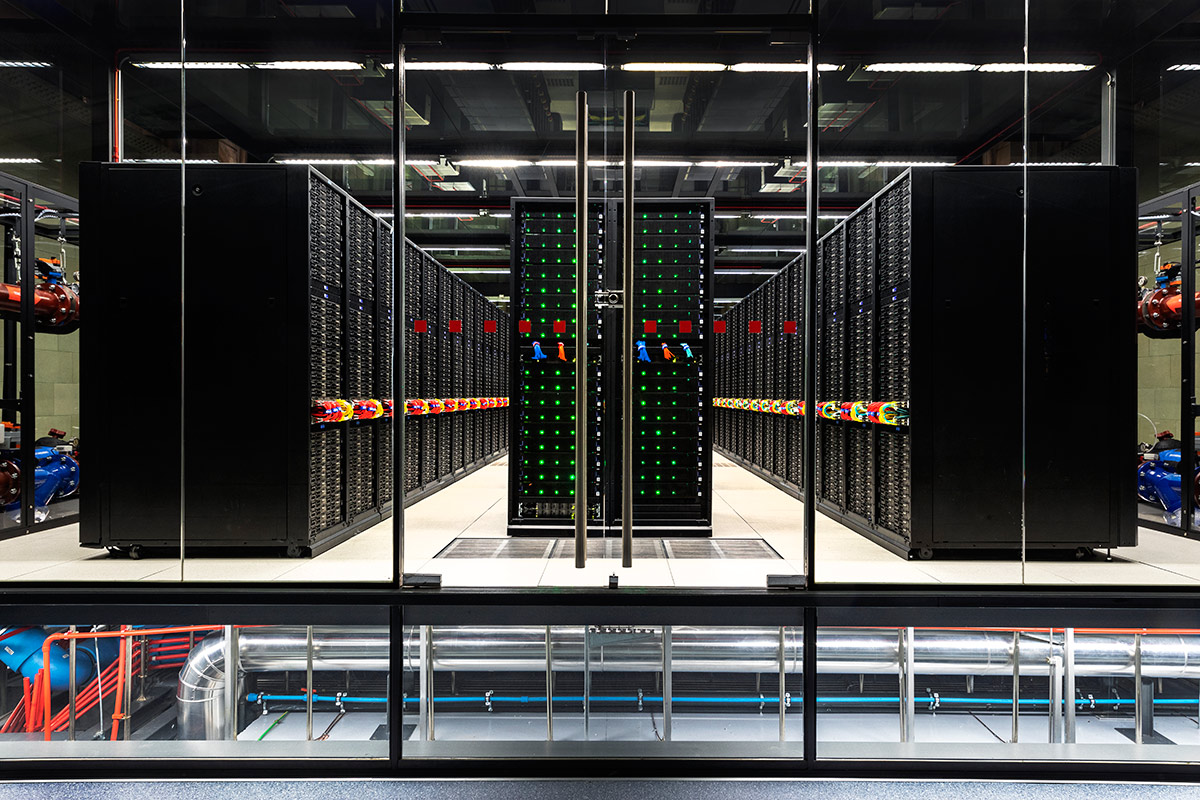 Barcelona Supercomputing Center's (BSC) MareNostrum 4 supercomputer has incorporated three POWER9 racks that make this machine the first in Europe and the ninth in the world in terms of energy efficiency. With this supercomputer capable of executing 11,865 billion operations (Gigaflops/Watt), the BSC hopes to speed up research based on artificial intelligence (AI). - Olga Subirós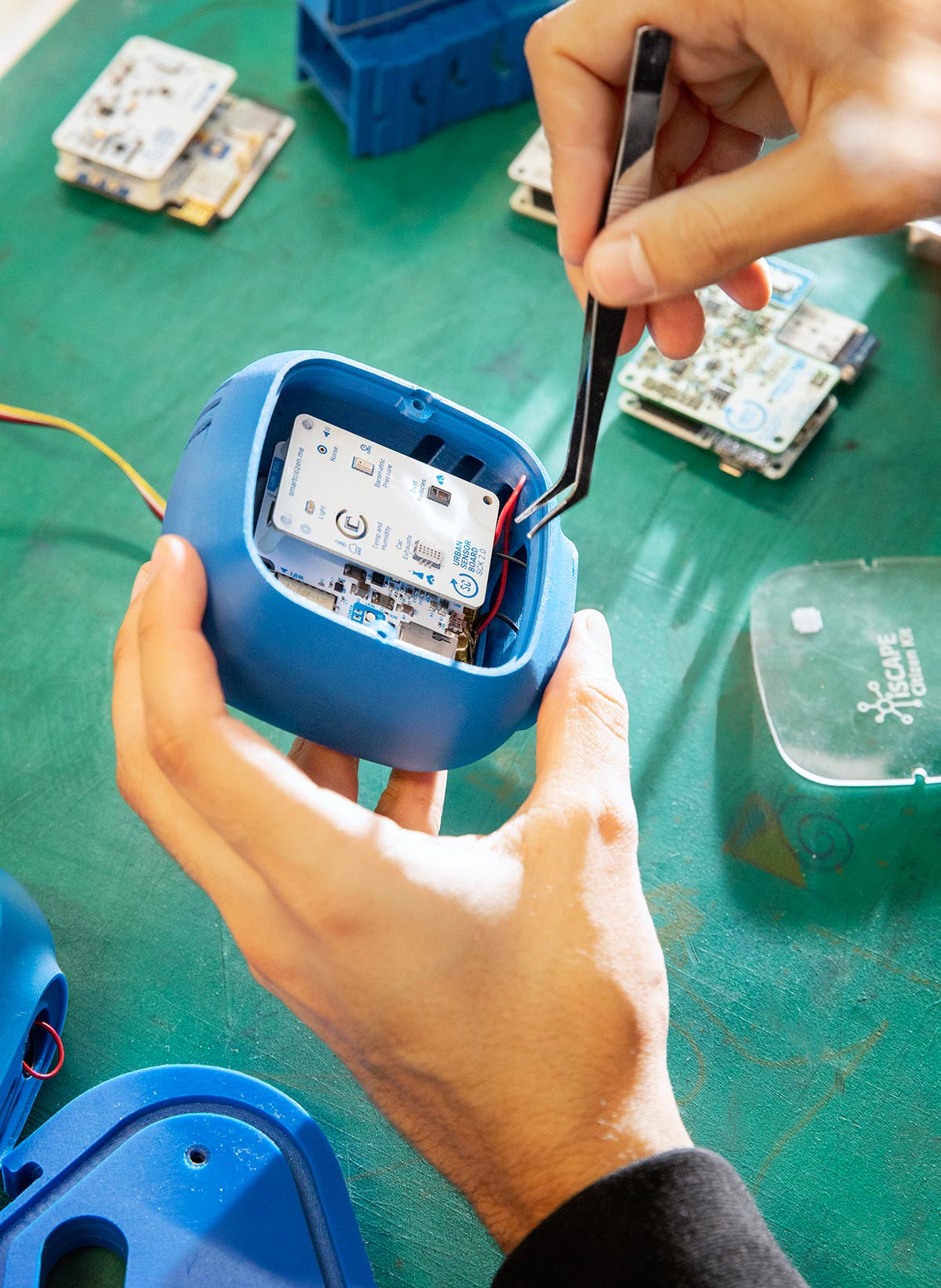 The Fab Lab Barcelona is one of the main laboratories in the world network of 1,600 'fab labs', digital manufacturing workshops for sustainable local production of almost anything needed to make a city self-sufficient. It develops smart devices that are open to data gathering, like the Smart Citizen Kit, an Arduino board equipped with sensors measuring air quality, temperature, noise, humidity and light. - Olga Subirós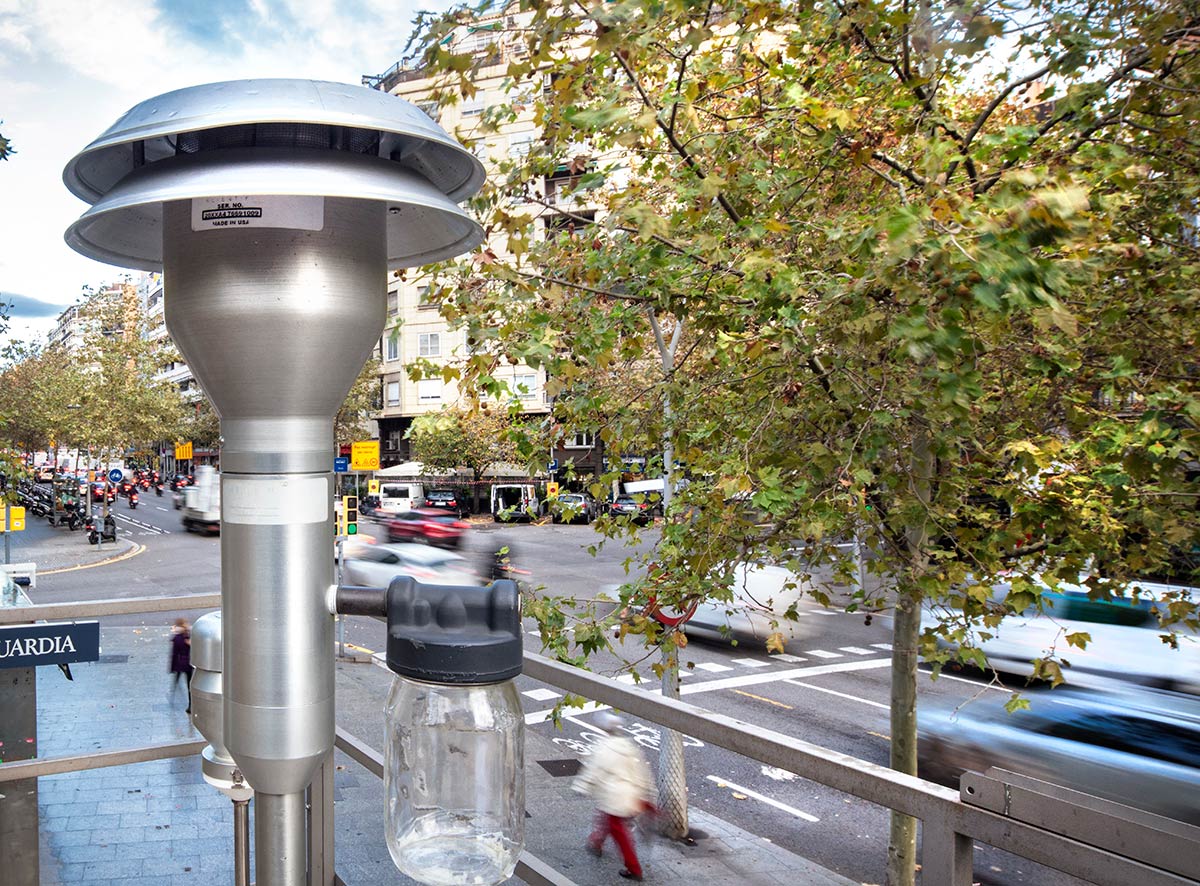 Barcelona's network for monitoring air quality is made up of eleven fixed stations. Campaigns like xAire, which mobilised some 20 schools to install 800 sensors to monitor air pollution, show how the public can take part in the production and control of big data for the common good. - Olga Subirós
The newsletter
Subscribe to our newsletter to keep up to date with Barcelona Metròpolis' new developments