Women who break down barriers
Maria Contreras Coll feels she needs to tell people's stories from an intimate perspective. She is particularly interested in women's rights and how women are redefining social structures in different countries and religions. When she finished her studies, she spent a year documenting the refugee and migrant crisis in Europe, travelling and living in the Spanish enclave of Melilla, in Greece, in France, in Germany and in Morocco. 
She also lived in Nepal in 2017 and 2018, investigating how women there were fighting against menstrual restrictions implemented in the country. The snapshots presented here with the title Women who break down barriers is a journey through many of the projects she has completed all over the world in order to give more visibility to women and their rights.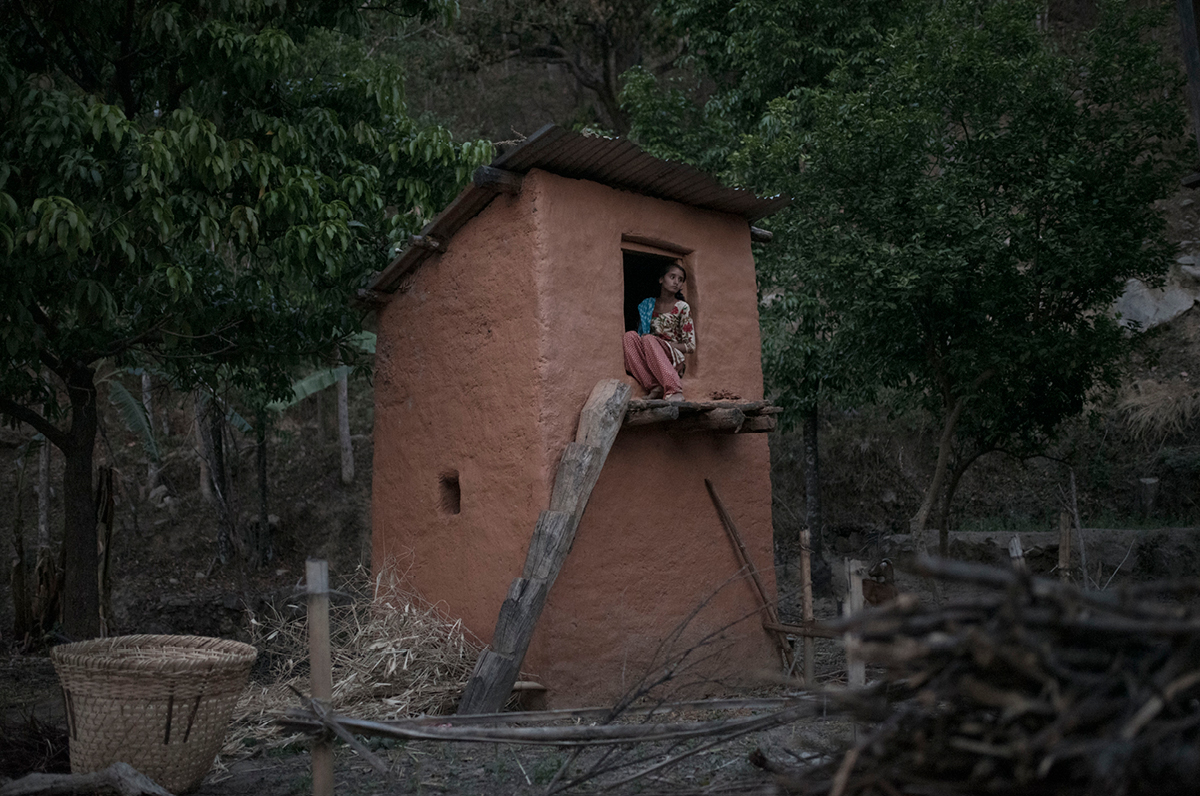 Since my teenage years, I have always felt a sense of conflict and strangeness around my periods and the silence I had to maintain in society. In 2015, when I read that not only did women in Nepal share this taboo, but they also had to isolate themselves when they were menstruating in accordance with a practice called chaupadi Partha, I decided to investigate the subject. That is how I met Surekha Kunwar, aged 14, when she was having her first period in a remote village in the Achham District, in May 2017. 'I can't believe I have to do this every month of my life. I don't feel impure'.
© Maria Contreras Coll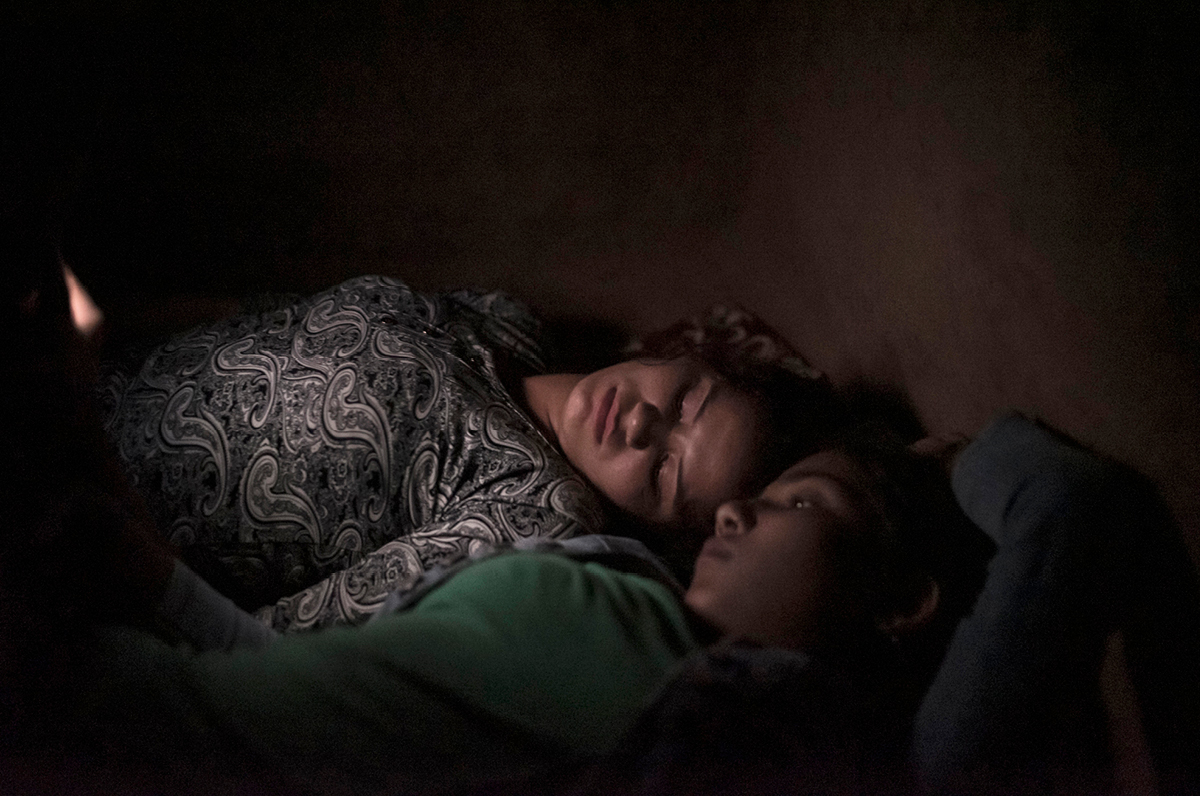 Two girls in Nepal in the cabin where they have to be isolated when they have their period.
© Maria Contreras Coll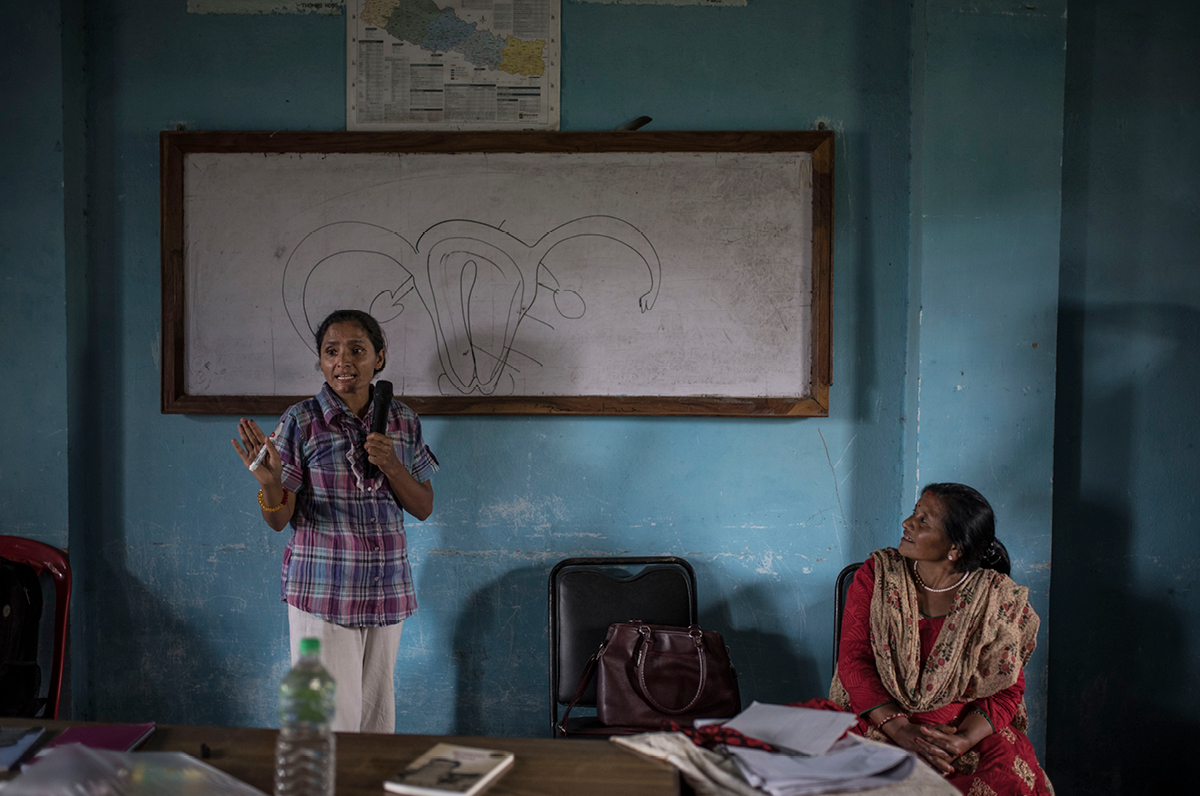 'We have this practice here, but things are changing': this is what Radha Paudel, an author and activist, shared with me when I met her in Kathmandu. Paudel has been fighting against menstrual restrictions across the country through education for ten years now and has even set up the Radha Paudel Foundation for this purpose.
© Maria Contreras Coll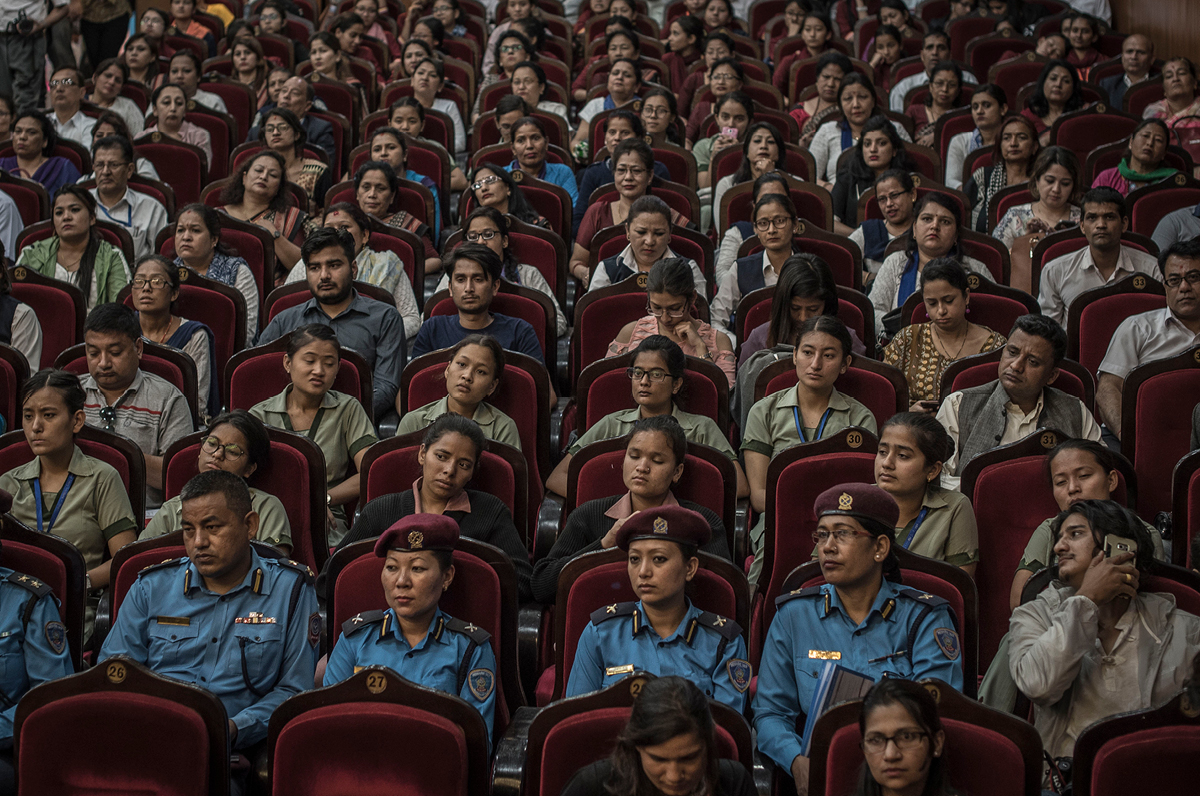 In May 2018, Menstrual Hygiene Day was celebrated for the first time. The attendees – from activists to nurses – shared strategies for eradicating these restrictions and for offering women better hygienic solutions during menstruation.
© Maria Contreras Coll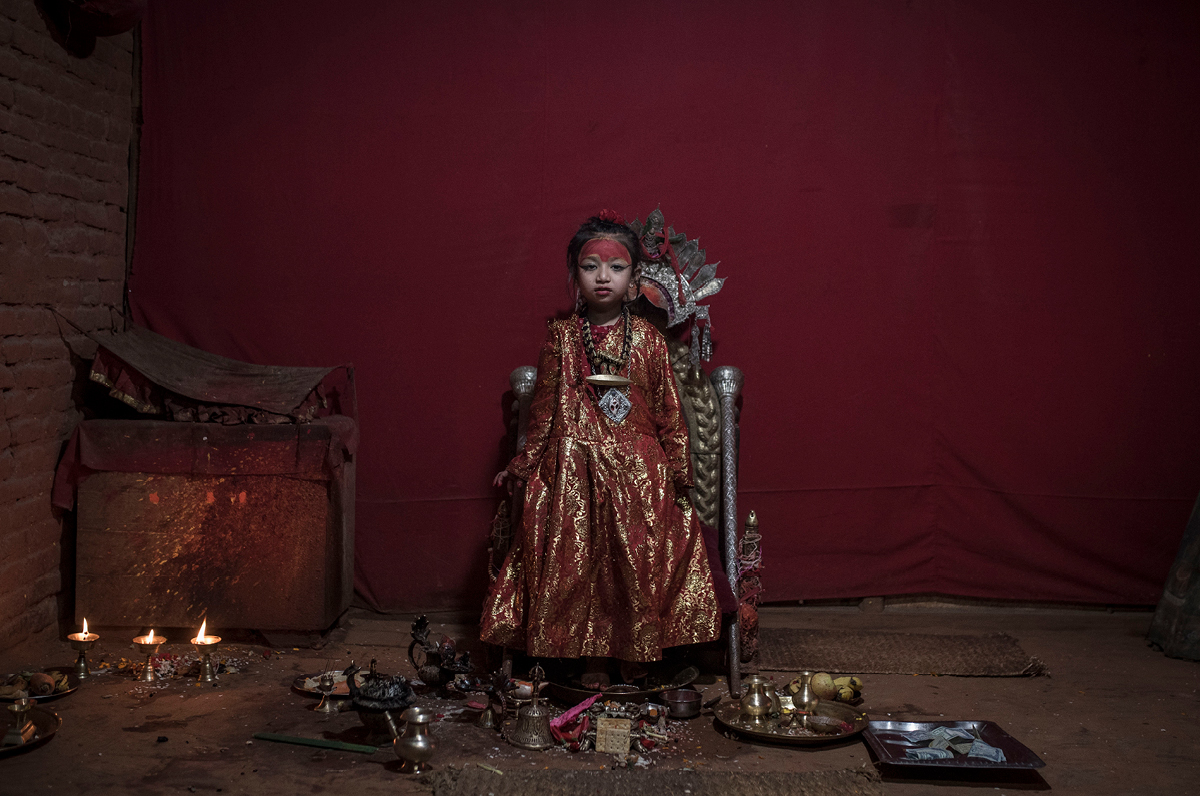 My investigation and fascination for religion and the anthropological concepts of purity and impurity led me to the story of the living goddesses of Nepal. The kumari are selected when they are aged between 3 and 6 and they are confined to a temple. There, they are worshipped like goddesses, just like Nihira Bajracharya (above), who was selected just a few months ago. They are not allowed to leave the temple or talk to strangers.
© Maria Contreras Coll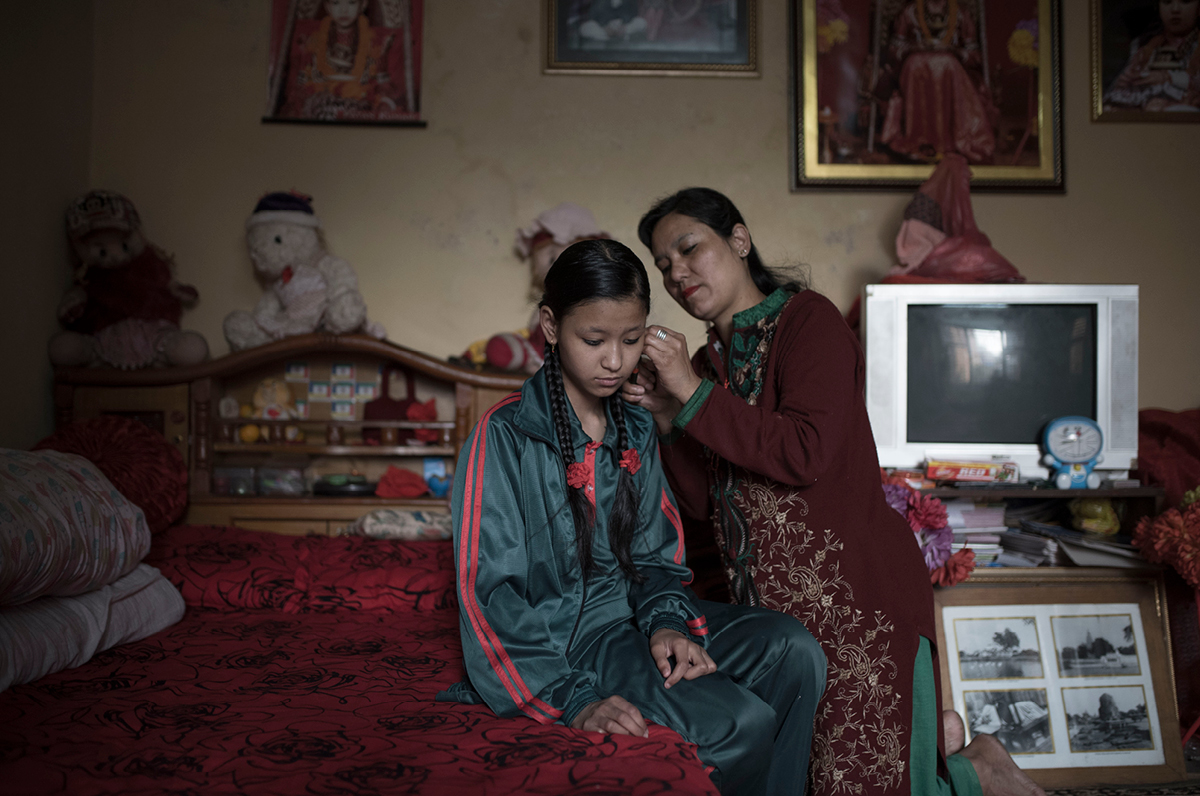 My investigation and fascination for religion and the anthropological concepts of purity and impurity led me to the story of the living goddesses of Nepal. When their first menstruation begins, they are replaced and have to learn to live in society again. This was the case for Yumika Bajracharya, who had barely ever taken a bus or walked in the street.© Maria Contreras Coll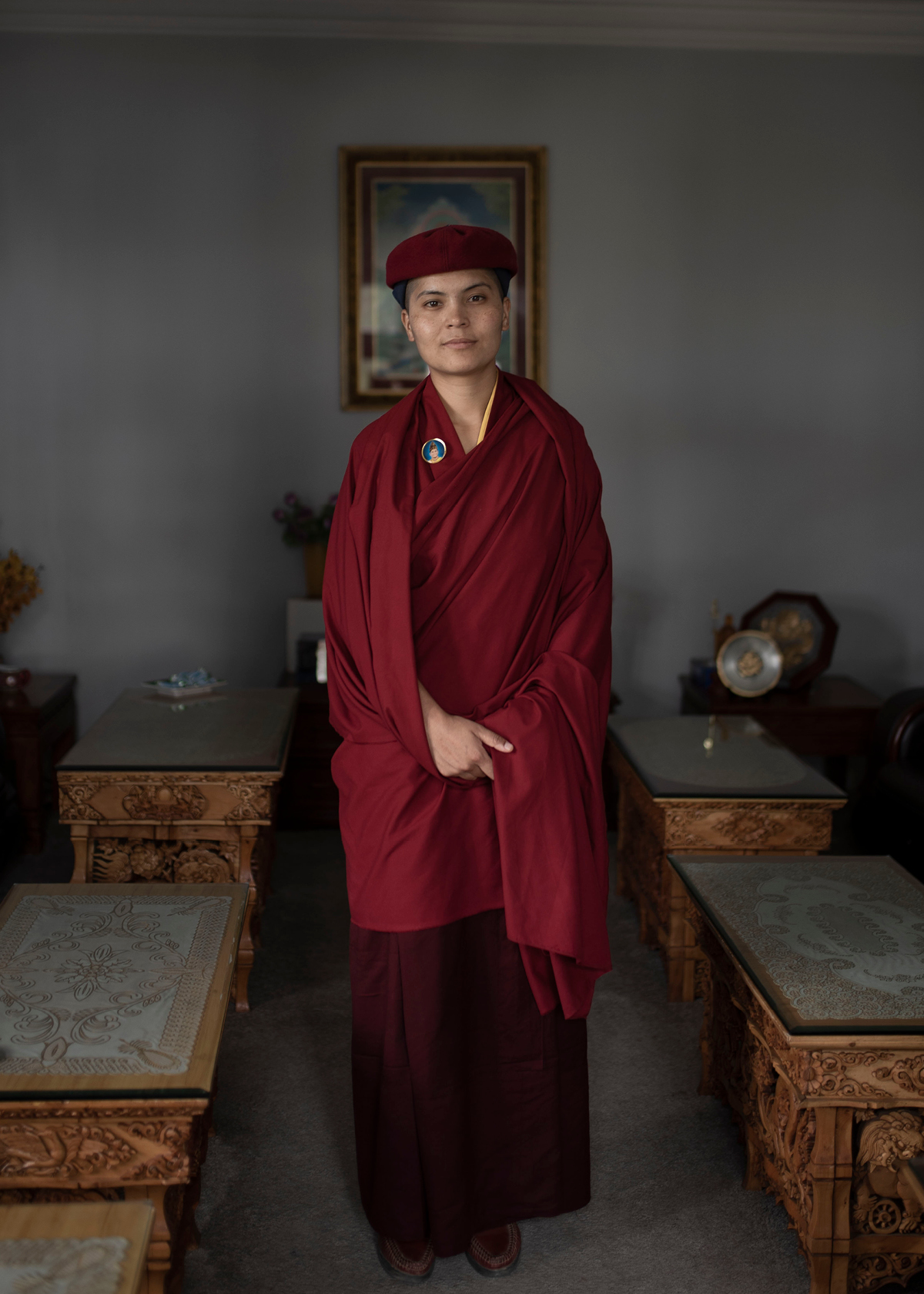 Jigme Yeshe Lhamo decided to become a nun when she was little and a group of nuns visited her village, in the north of India, to give a talk. The Drukpa lineage is the only Buddhist order in which nuns have the same rights as monks and martial arts are practised. In 2008, the leader of the centuries-old Drukpa order, His Holiness Gyalwang Drukpa, encouraged nuns to practise kung fu and assigned them leadership roles. Inspired by his mother, he made it his mission to empower nuns, who mainly come from poor areas of India, Nepal and Bhutan.
© Maria Contreras Coll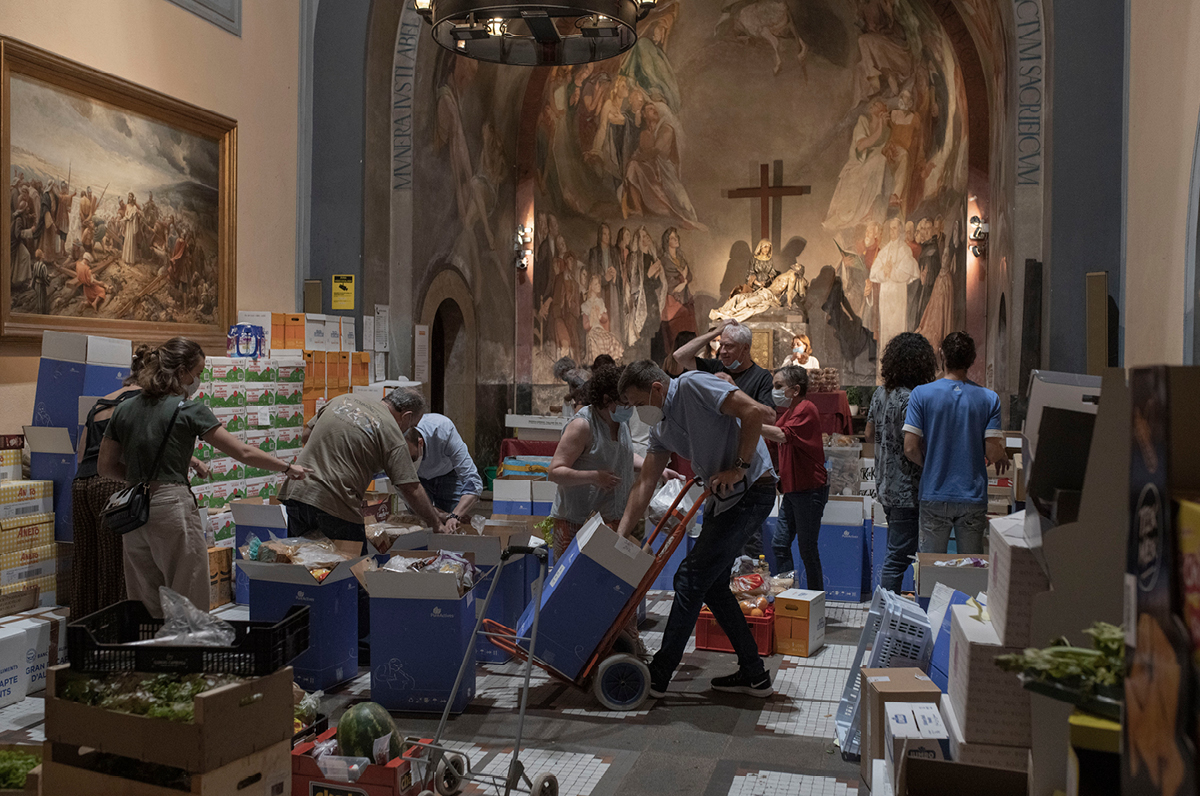 The tragedy of the pandemic in 2020 led me to look inside and, consequently, focus on my own local area. The images broadcast on TV3 of Carrer de Santa Anna, in the centre of Barcelona, left me astonished. Who were those people waiting to receive food? That is how I met Meritxell Galindo, who had lost her job at a bakery and been forced to leave the rented flat where she lived with her husband, in the neighbourhood of Gràcia. They had no savings, and the makeshift Santa Anna hospital acted as a place for community and hope, both for her and her husband.
© Maria Contreras Coll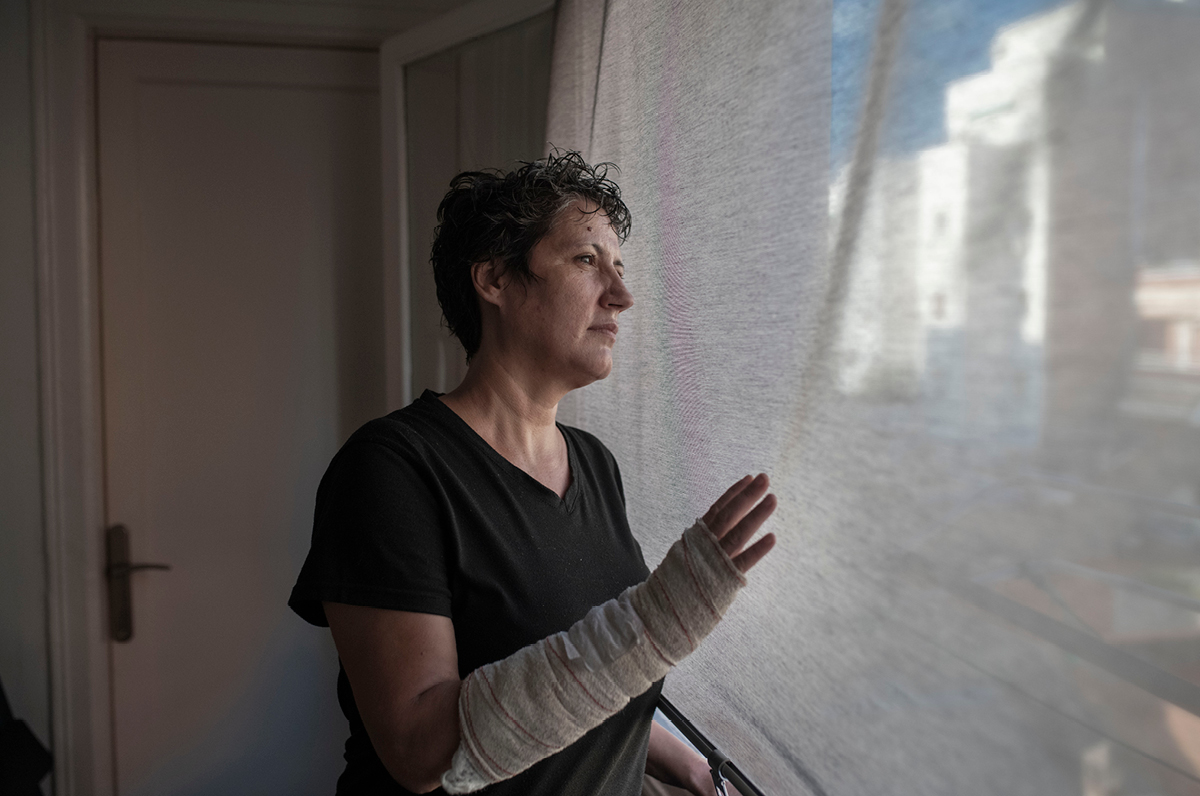 Portrait of Meritxell Galindo in her current home. The makeshift Santa Anna hospital acted as a place for community and hope, both for her and her husband, during the pandemic in 2020.
© Maria Contreras Coll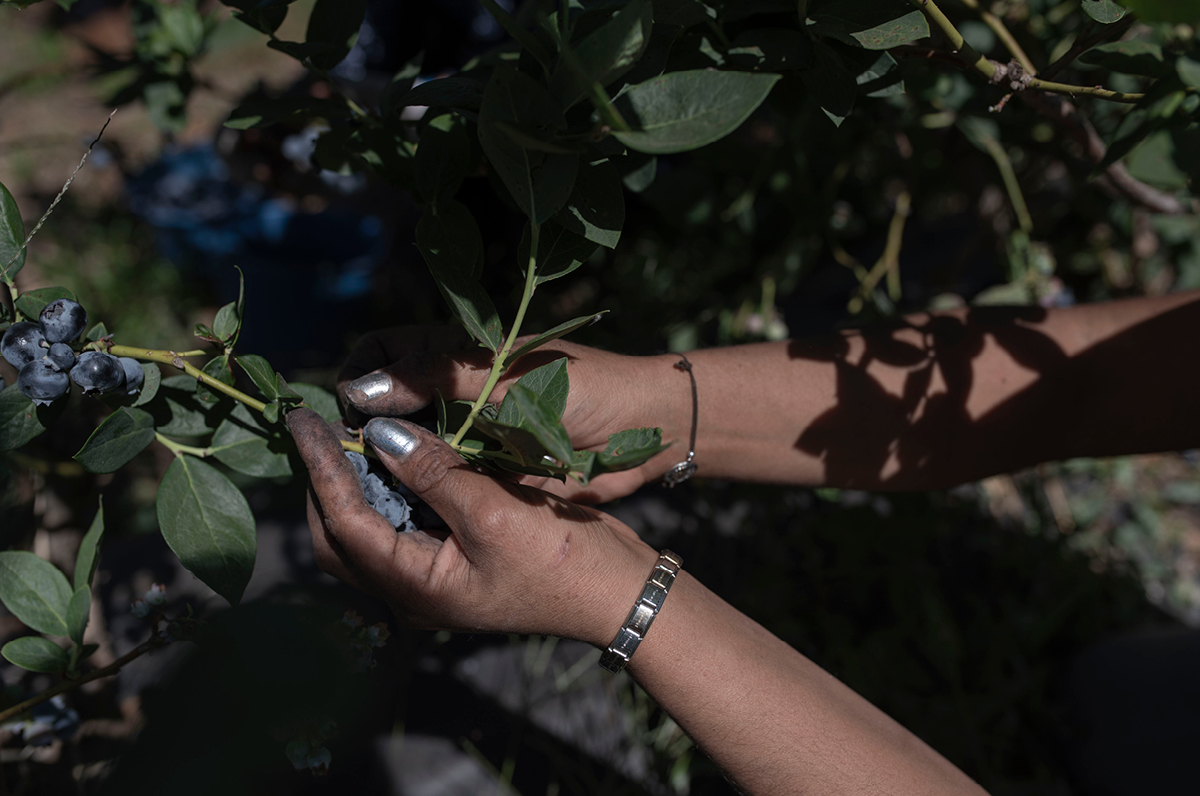 The system of hiring on the fly and per season selects women from poor, rural areas of Morocco to work in Spain from April to June to collect strawberries. This situation leaves them without legal options and at the mercy of the landowners who run the farms.
© Maria Contreras Coll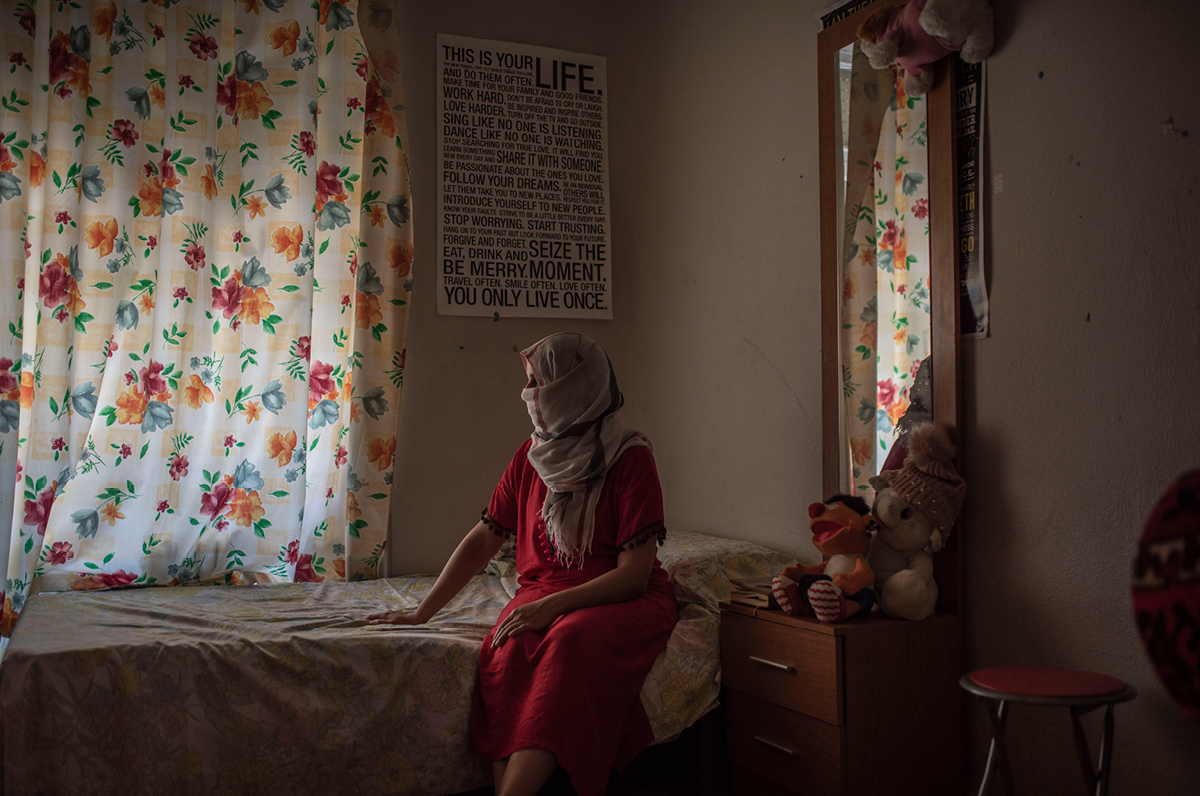 In July 2019, for the first time, a group of ten Moroccan women working in the fields in Huelva reported the abuse thousands of women face every year in southern Spain, even though they knew they risked losing at all, including the respect and support of their conservative families. I was commissioned to work on this story by The New York Times.
© Maria Contreras Coll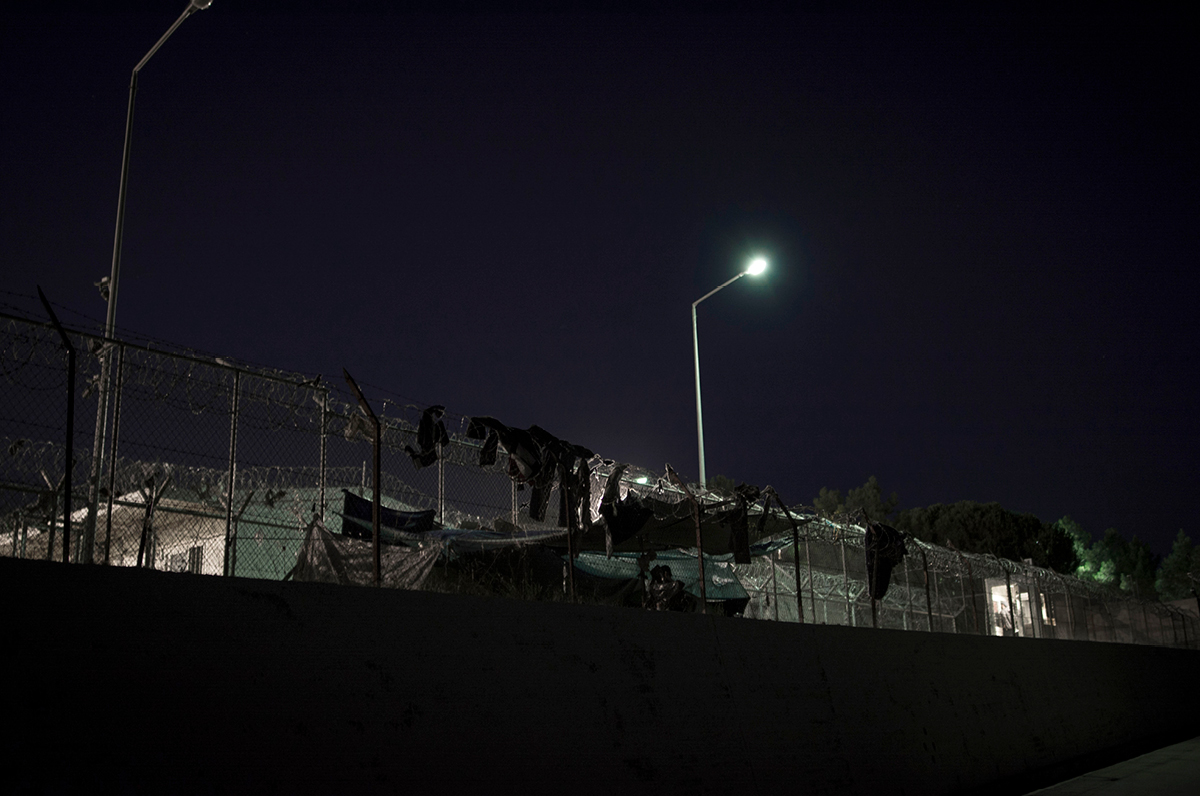 Night-time image of the fence surrounding a refugee camp in Greece.
© Maria Contreras Coll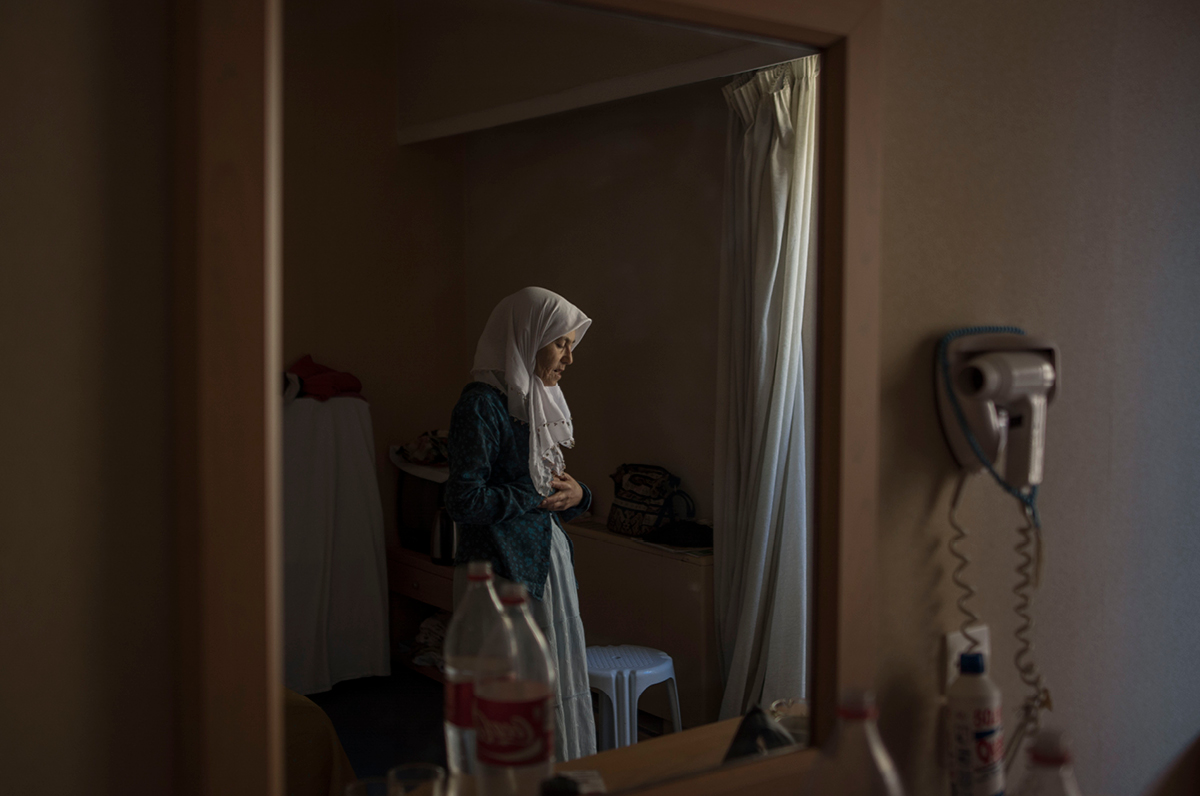 In 2016, while I was covering the migrant and refugee crisis in Europe, I met Fatima Afrin in a self-managed hotel in Athens, Greece. Aged over sixty, Afrin had left her home country to go in search of a better future. 'My dream is to see my family back together again', she told me. One day, I gave her a basil plant, which reminded her of the courtyards of Syria. After a long struggle to get her asylum papers, she died in Greece in May 2017 due to health complications. Sometimes, when I see basil, I think of her.
© Maria Contreras Coll
The newsletter
Subscribe to our newsletter to keep up to date with Barcelona Metròpolis' new developments