Desiring Machine, Working Machine
20 September, 2018

to

13 January, 2019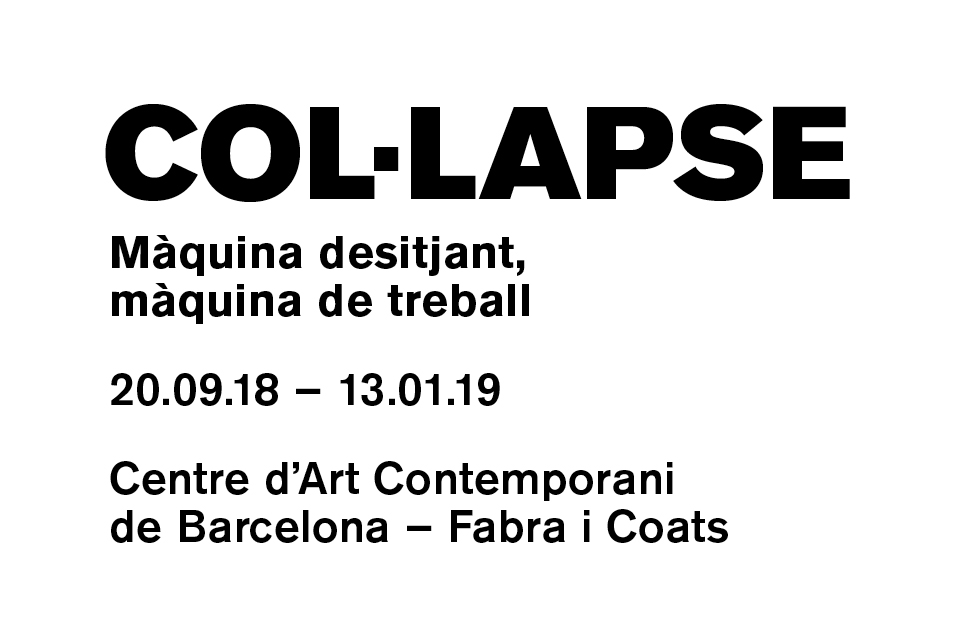 Opening: 19.9.2018, 7 pm
The first part of COLLAPSE is presented over two floors of the Contemporary Art Centre of Barcelona – Fabra i Coats. Desiring Machine, Working Machine is a survey of 10 major projects from the last 15 years of the artist's  work. An exhibition display based on vitrines and video screens, arranged like sarcophagi or reliquaries, is presented alongside a continuous programme of audio works and a schedule of live performance extracts.
FLOOR 2 – OVERVIEW OF PROJECTS
Three common features tie together the projects of the exhibition: performance (through scenarios that take place over time, usually with the implication of human bodies and the audience itself); appropriation (using and reformulating existing texts, forms and styles, either from literary, classical sources or from subculture); and institutional critique (examining and addressing the ideologies and power of our social, cultural and political institutions).
FLOOR 3 – AUDIO AND PERFORMANCE PROGRAMME
This programme is formed through a selection of pure audio works and performance excerpts and operates alongside the exhibition display to survey almost 15 years of Joan Morey's career. The extraction, fragmentation and readaptation of material have always been important to Morey's work.
The audio programme runs continuously. It comprises both recordings of readings made live during performances and others that have been used as soundtracks of previous exhibitions. Walking through the apparently empty room, disembodied voices speak to you, or perhaps just to themselves—chanting, theorising, jabbering, or directing distorted narratives.
The performances are extracted from their original context as studies or scenes from earlier projects and given an independent life, these live-action fragments encompass ritualistic exercises following the artist's rules, tableaux vivants, and dramatic orations based on texts by the artist or by playwrights such as Samuel Beckett. Whenever possible the performances maintain their original interpreters, yet inevitably they are reinforced or degraded through their repetition, adding another layer to the artist's exploration of control.
Every Saturday at 18.00 and Sundays 12.30 guided tour of the exhibition.
Guided Tour by Joan Morey: 1st December, 13.00 (World AIDS Day).​
​