​
Espai Zero is a meeting area at Fabra i Coats - Art Factory and Contemporary Art Centre of Barcelona, which aims to bring different cultural and social agents and communities together in dialogue.
It is where the creative work of resident artists and groups at the Factory come into contact with other collectives and networks in the city, develop activities relating to contemporary artistic and cultural practices, connect with their immediate surroundings, gather and share knowledge on the historic memory of the factory and its regional context and, in short, become a dynamic and live space, open to society.
Residencies FiC-ProdArt'19
From 28 JUne to 21 July, 2019 (Exhibition Opening: Thursday 27 June, 19.00)
The exhibition presents the results of the work carried out by post-graduate students on the Master's in Production and Artistic Research at the University of Barcelona, as part of the Art and Intermedia Contexts specialisation. The intermediary nature is especially underscored through multidisciplinary experimental lines, artistic practices in continuous expansion and research processes that regenerate the arts.
The projects by this year's artists reveal the plurality of expressions and relations with the world and thought. From different positions, inquiries and registers, we will find cross-border migratory poetics (Catalina Piedrahita), alterations of urban spheres (Valeria Castillo), deconstructions of the Handbook for Good Artists (Sara Lorite), art-work occupational confrontations (Joshua Perkin) and perturbed perceptions of materiality (Domingo Portela). Also, vindication of a decontaminated childhood (Cai Saiyin), research on the hidden divine (Joan Villaplana), cartography of connections (Fèlix Pons), recreation of a garden of emotional relationships (Daniela Vargas), the media questioning of suffering (Mònica Porta) and the ritual of ecological healing (Maria Marvila). 
Some of the artists have held residencies at the Art Factory of Barcelona - Fabra i Coats, sharing the last stage of their studies and the artistic production of their Final Masters Projects. The purpose of the collaboration between ICUB (Culture Institute of Barcelona) and UB (University of Barcelona) is to make the transfer of artistic research effective and to open up the necessary channels of cultural permeability for the results, within the contemporary intricacies of the city.
More information about the Master's in Production and Artistic Research of the University of Barcelona, here.​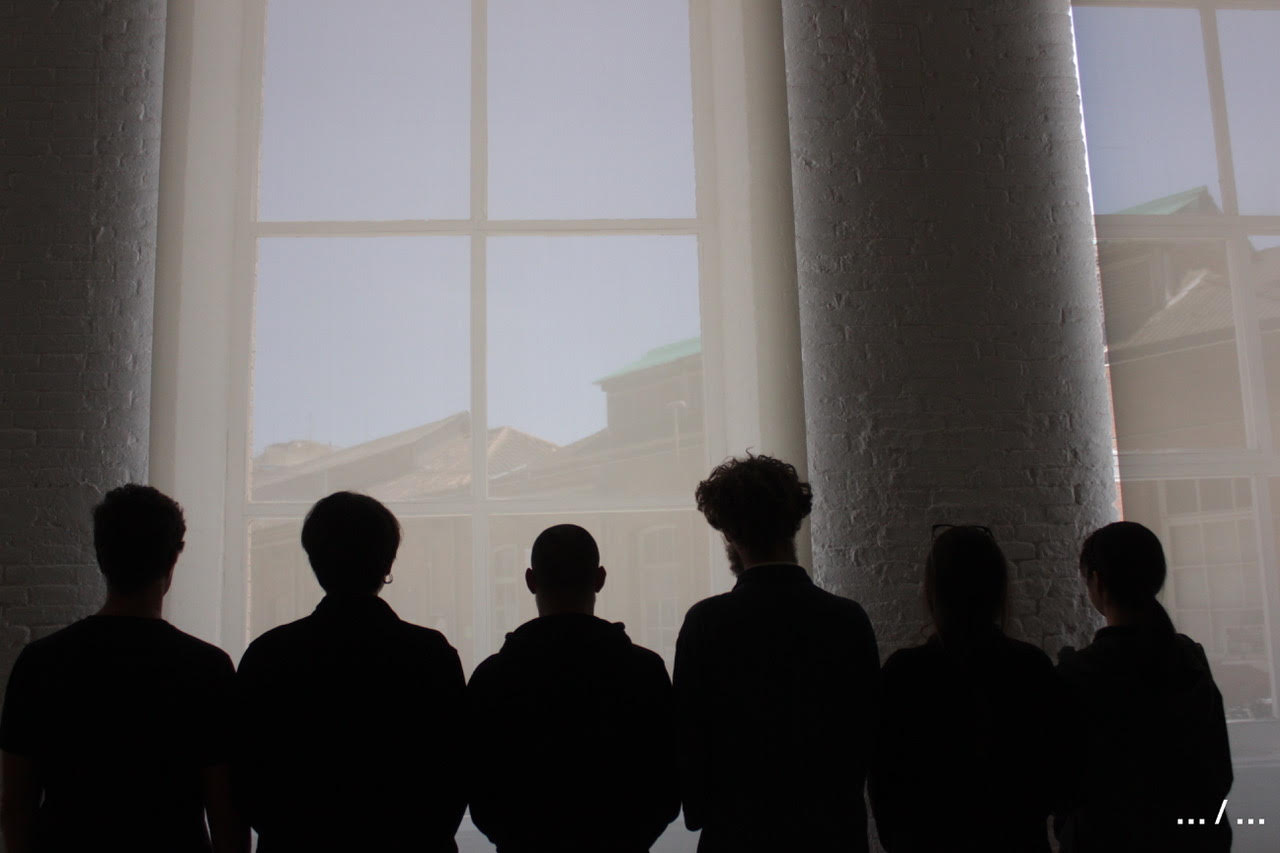 ​
Reminiscent of an August Sky
From 18 May to 16 June, 2019 (Exhibition Opening: Friday 17 May)
Friday, 17 May
19.00 Guided visit with the finalists and resident artists
20.00 Award ceremony
Where: Espai Zero
On Friday, 17 May, in Espai Zero of the Contemporary Art Centre of Barcelona - Fabra i Coats, Sant Andreu Contemporani will announce the winners of the Miquel Casablancas Award Visual Arts Competition 2019, officially opening the Reminiscent of an August Sky exhibition, which includes all the projects by finalists in the Work category, as well as the finalist dossiers of the other categories: Project, Publication and Graphic Communication.
In this edition, the Miquel Casablancas Award has received 255 applications, which have been reviewed by a jury formed by Beatriz Alonso (curator and researcher), Pablo Martínez (Head of Programmes at MACBA) and Alessia Locatelli (winner of the International Curatorial Residency Program 2019), each with the right to vote, and also by the Sant Andreu Contemporani team, each with the right to speak but with no vote.
The finalists are:
Work Category
Irene de Andrés
Gerard Ballester
Juan Baraja
Adélaïde Feriot
Cristina Garrido
Abel Jaramillo
Xim Llompart
Antonio Menchen
Pablo del Pozo
Eulàlia Rovira & Adrian Schindler
Mario Santamaría
Rosa Vallori
Project Category
Edgar Díaz
Paula García-Masedo
Antonio Menchen
Carla Souto
Publication Category
Joan Bennassar
Alán Carrasco
Andrea González + Iñigo de Barrón
Francisco Navarrete Sitja
Graphic Communication Category
Robin Cabrera Touman
Helena + Anna Fradera
Toni Llargués
The exhibition will also present the work of the artists who participated in the SAC-FiC Residencies Programme 2018: Alán Carrasco, Cayetano Truyols and Bising Sisters.
​
The names of the winners of the Miquel Casablancas Award Visual Arts Competition 2019 will be announced during the ceremony, which will be held in Espai Zero of the Contemporary Art Centre of Barcelona - Fabra i Coats.
​​
Art and Classroom. Processes and Connections
From 15 to 31 March, 2019 (Exhibition Opening: Thursday 14 at 19.00)
Art is life and life, transformation, said Fregoli. What's more, art is freedom, a necessity, it is a NO-limit that throws up uncomfortable questions and generates thought, attitude: a stance. Art is an internal and cultural dialogue that refers to much larger contextual settings, such as personal and cultural identity, family, community, politics and nationality. It is, to a large extent, an obligation in society because it challenges, it obliges us to question ourselves and, in short, it makes us better people.
Contemporary art is distinguished by its lack of a uniform, organising and ideological principle and these characteristics give it an undeniable ability to decode plastic methodologies, enrich cultural strata, question rigid dynamics and reveal favourable environments for new thought.
This exhibition presents the work carried out through two education programmes developed with seven schools in Barcelona during the 2017-2018 school year. For both, art is the great catalyst.
The first programme is Espai C, designed for primary schools. The proposal is based on the experience of one or several resident artists who share space and work with the school students. Contemporary artists work in a globally influenced, culturally diverse and technologically advanced world. Their art is a dynamic combination of materials, methods, concepts and subjects that continually defies boundaries. This knowledge exchange generates a connection among the participants where the personality, reality and environment of the artist become confused with the walls of the education centre and inspire the children in other ways.
The schools involved in this edition were Escola dels Encants, Escola Miralletes and Escola Sagarra.
The second programme is Reflexionart. This is designed for secondary schools (ESO) and aims to encourage a cross-disciplinary reflection of an important subject; a reflection that searches for a new language, through artistic processes, that helps the young people understand the environment and the reality that are alien to them, based on a global and interdisciplinary project. The idea of Reflexionart is to encourage a critical spirit, inspire experimentation with forms of cooperation and teamwork, and to initiate reflection in the schools through the world of art.
For the last edition, the proposal was IDENTITY and four schools from the city participated: Institut Lluís Domènech i Montaner, Institut Martí Pous, Institut Menéndez y Pelayo and Institut Poeta Maragall.
These two programmes stem from the Barcelona's Education Consortium and, in the case of Espai C, in cooperation with ICUB (Culture Institute of Barcelona) and UAB (Universitat Autònoma de Barcelona).
When art and creative processes cross the established boundaries, reflection and, therefore, mutation is — undeniably — generated. The main audience is the children between the ages of 3 and 12 and teenagers between 13 and 16 years of age. But, also their school or centre, the education community, their families, their neighbourhood and their city.
Art is, ultimately, an opportunity to change our world! 
ACTIVITIES
"Espai Cs. Creativity Spaces for Schools" (round table)
Wednesday 20 March, at 18.00
Moderated by: Lluís Vallvé
Participants: Urgell Farran (resident artist at Escola Miralletes), Irene Font (coordinating teacher for Espai C at Escola Sagarra), Agnès Barba (director of Escola dels Encants) and Mar Morón (UAB).
"Reflexionart. Accompanying Research and Creation Processes" (round table)
Monday 25 March, at 18.00
Moderated by: Lluís Vallvé
Participants: Eulàlia Vidal (Institut Lluís Domènech i Montaner), Glòria Mèlich (Institut Poeta Maragall), Montserrat Bigas (Institut Martí Pous) and Esther Fuertes (MNAC).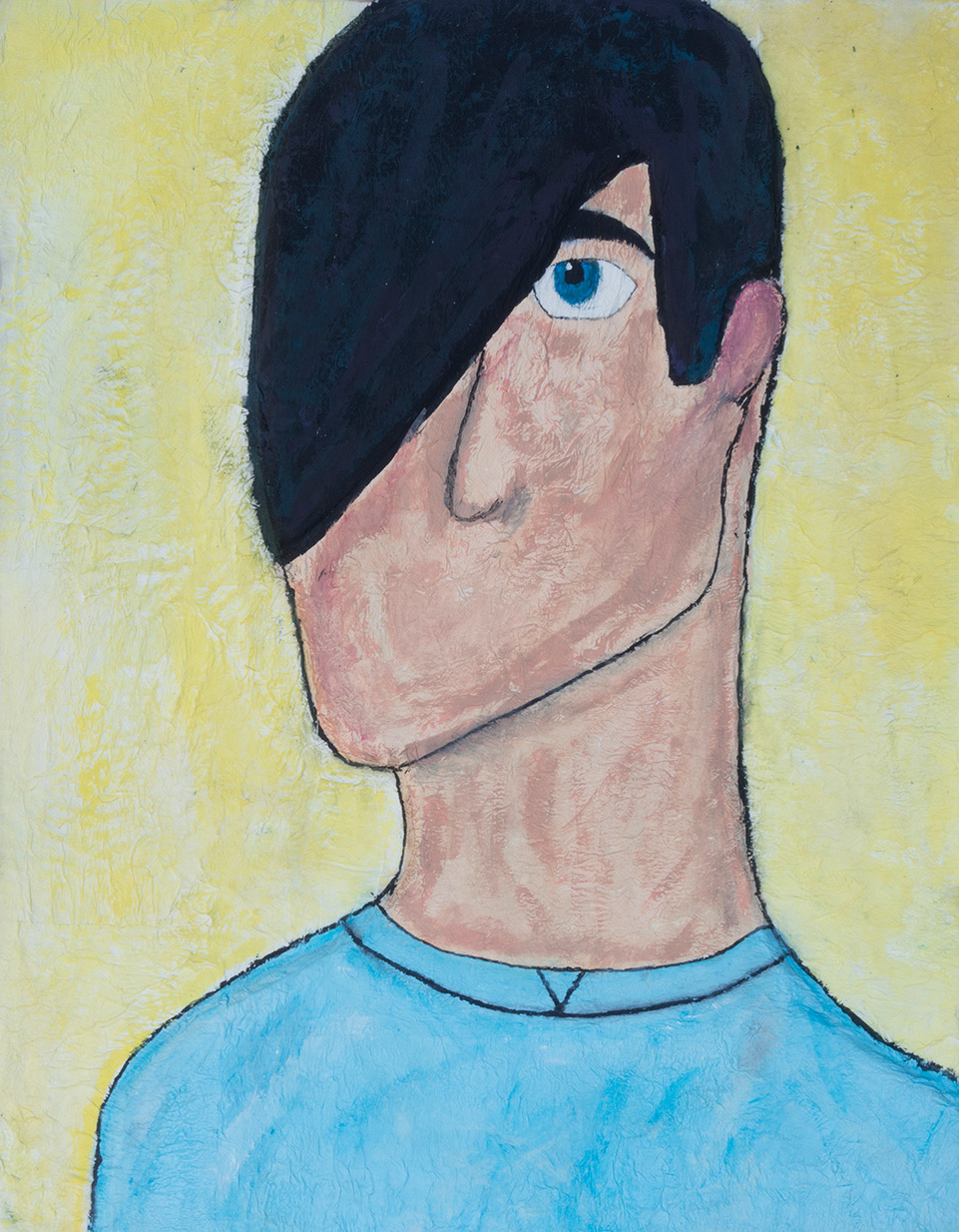 ​
Besòs: A Noble Ecosystem (Duae Collective)
From 24 January to 3 March, 2019 (Exhibition Opening: Wednesday 23 at 19.00)
'Ecosystem' is one of those well-known words we learn at school, referring to an interconnected network where biological elements share a balanced living environment; an interdependent community in which all components interact and influence each other. 
Duae Collective (Silvia Campidelli / Luna Coppola) has been exploring and studying the river Besòs and its surroundings for two years, investigating its natural, urban and social ecosystem: an ongoing artistic research that has created a vast archive of aspects of the river that refer to its history, its biology and its existence within the city environment. 
A river running through a city can reveal the secrets of nature's laws to its inhabitants and create a link to the biological and organic flow of life that can be profoundly affected by humankind's behaviour. 
The Besòs river was one of the most polluted in Europe during the 1970s and 1980s due to the intensive industrialisation of the Barcelona area. It has been the object of improvement projects and various city planning efforts but still needs to be experienced and become a more familiar component of the urban ecosystem it belongs to. 
The artistic investigation that Duae Collective has conducted is meant to discover, interpret and show the river and its resources, and bring it closer to the people of the neighbourhood and the city. The immersive aspect of the exhibition, the multidisciplinary approach and the diversified layers of analysis and information are intended to reach a wide audience. 
Drawing on diverse sources and working in collaboration with various institutions and experts, the artistic team strives to offer the broadest vision of the noble ecosystem that the river Besòs constitutes. 
The initial concept, the study of the environmental sustainability of such an important watercourse, led the artists to delve into the scientific aspects of its components and the incredible discovery of a site-specific bacterium, which contributes to the elimination of its own polluting elements. This rare "immune system" that the Besòs river holds could become a useful tool for other contaminated waterways. 
Among the fieldwork that characterises its artistic methodology, Duae collects natural objects and data. Silvia and Luna record and draw, they photograph and listen. They transcribe and interpret all the languages and expertise that speak of the Besòs. Academic scientific research and local urban planning are just two of the main fields of knowledge they draw on; two of the many codes they study and translate to explore the complex urban bio-sociology of this river in their creative endeavour. 
By exposing the artistic process that continuously evolves from the discoveries on land and in the lab, through diversified fieldwork and participatory events, Duae Collective attempts to erase the idea of the river as a border, as "other" from the social and urban environment. This goal is reached by integrating its elements with the anthropological and political framework of a city river and narrating a symbolic microcosm that reveals the need and necessity to resist, create and self-regenerate. 
A most timely message that a simple river can so nobly offer to those who are able to listen. As the river water flows, its sound is often muted by the hustle and bustle of the city, the noise of cars on the motorway, the hum of a nearby power station… but, this water carries ancient wisdom and the secrets of resilience and survival.
The sensorial experience and the creative tools offered in this exhibition are an invitation to come closer to a reality that is not far from and is part of our world, in order to envision the strength of nature and reflect on the deep responsibility that we have, as humans, to make our surroundings hospitable, sustainable, harmonious and integrated.
​
EL INGENIO: the contribution by Lluís Sabadell. The Giants of Sant Andreu de Palomar 
Del 30 de noviembre al 9 de diciembre de 2018
Consult opening hours in the "Contact" section. Thursday 6, Saturday 8 and Sunday 9, special opening hours from 12 a.m. to 8 p.m.
Lluís Sabadell was a sculptor who worked for the El Ingenio workshop in Barcelona for just over 5 years but the mark he left on the world of popular culture is undeniable and indelible. This comprehensively compiled exhibition on his life and his work creating festival imagery, takes a look at the beginnings of the history of this magical workshop and how its successful trajectory intertwines with the history of the Giants of Sant Andreu de Palomar.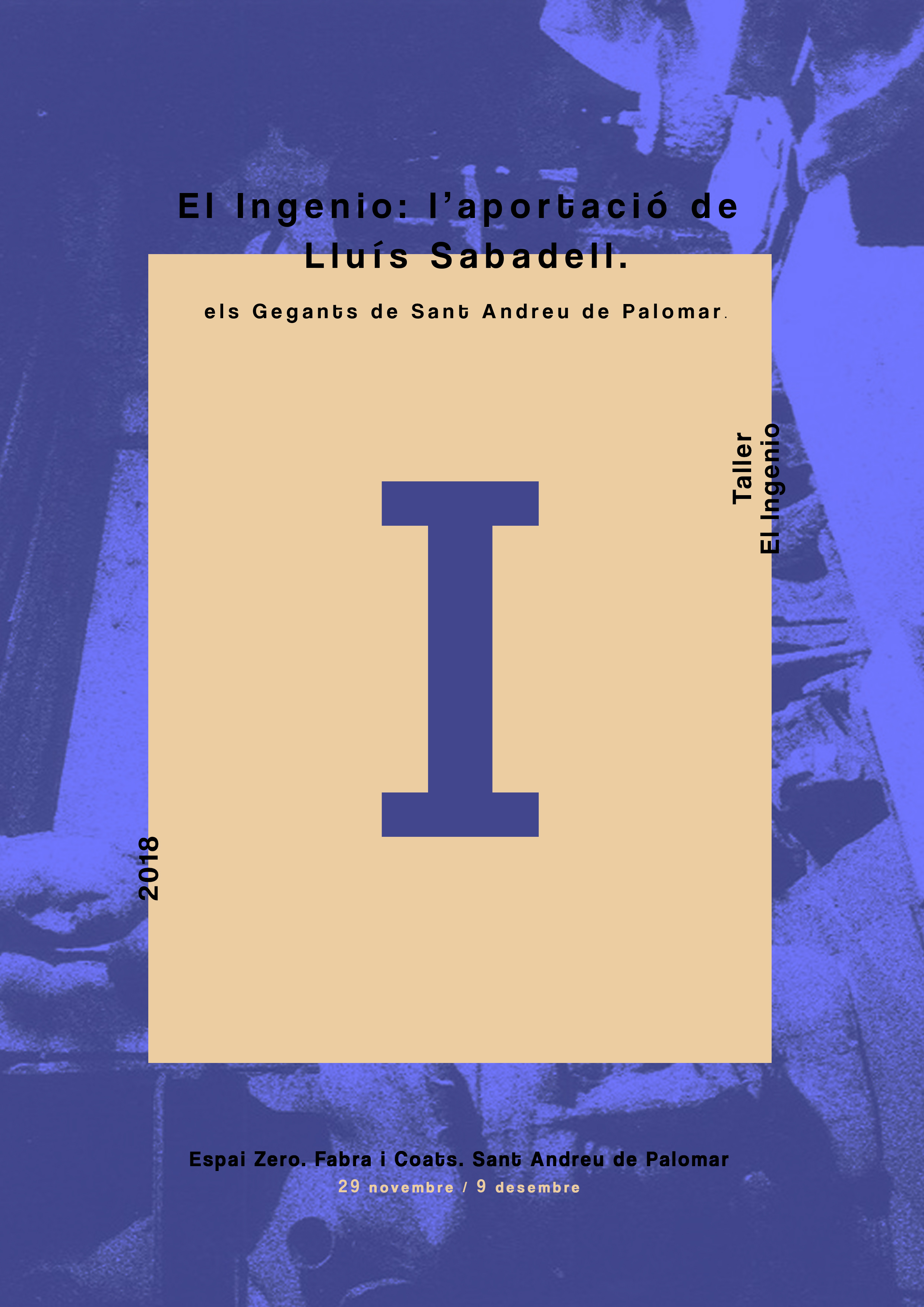 ​
REHOGAR Open Design & Reuse 
September 21 to October 28, 2018 
REHOGAR is a collective exhibition and annual gathering about open design and reuse/upcycling as tools for social transformation.
The tenth edition of REHOGAR, organized by Makea Tu Vida collective, continues its commitment to build and strengthen an ecosystem of transformation and collaboration that encourages a social change in our ways of living.
The exhibition presents a selection of practices and tools that can influence the social transformation of daily life. A selection of interdisciplinary experiences aims to serve as a map for exploring spaces, methods, resources and communities that provide evidence, reasons, attitudes, policies, practices, implications and effects to sustain the development of projects, which are collaborative, open source and focus on social and environmental responsibility and the optimization of resources. Existing projects that move us away from the mercantilist culture of throwaway, and bring us closer to a collective consciousness based on using, transforming and caring.
​
In parallel with the exhibition a series of activities will be held, with the aim of disseminating and exploring the theoretical framework; experiencing first-hand and putting into practice some of the exhibited solutions and ideas; and creating spaces for remixing and entertainment that favour the generation and strengthening of collaborative networks.
This tenth edition of REHOGAR will take place from September 20th to October 28th, 2018 at the Espai Zero of Fabra i Coats in Barcelona (Spain). The exhibition will be amplified throughout 2019 by travelling through different cultural and production centers of the Spanish state. This edition has the support of Medialab Prado (Madrid), Hirikilabs - Tabakalera International Center of Contemporary Culture (Donostia - San Sebastian) and La Nau Cultural Center of the Universitat de Valencia (Valencia).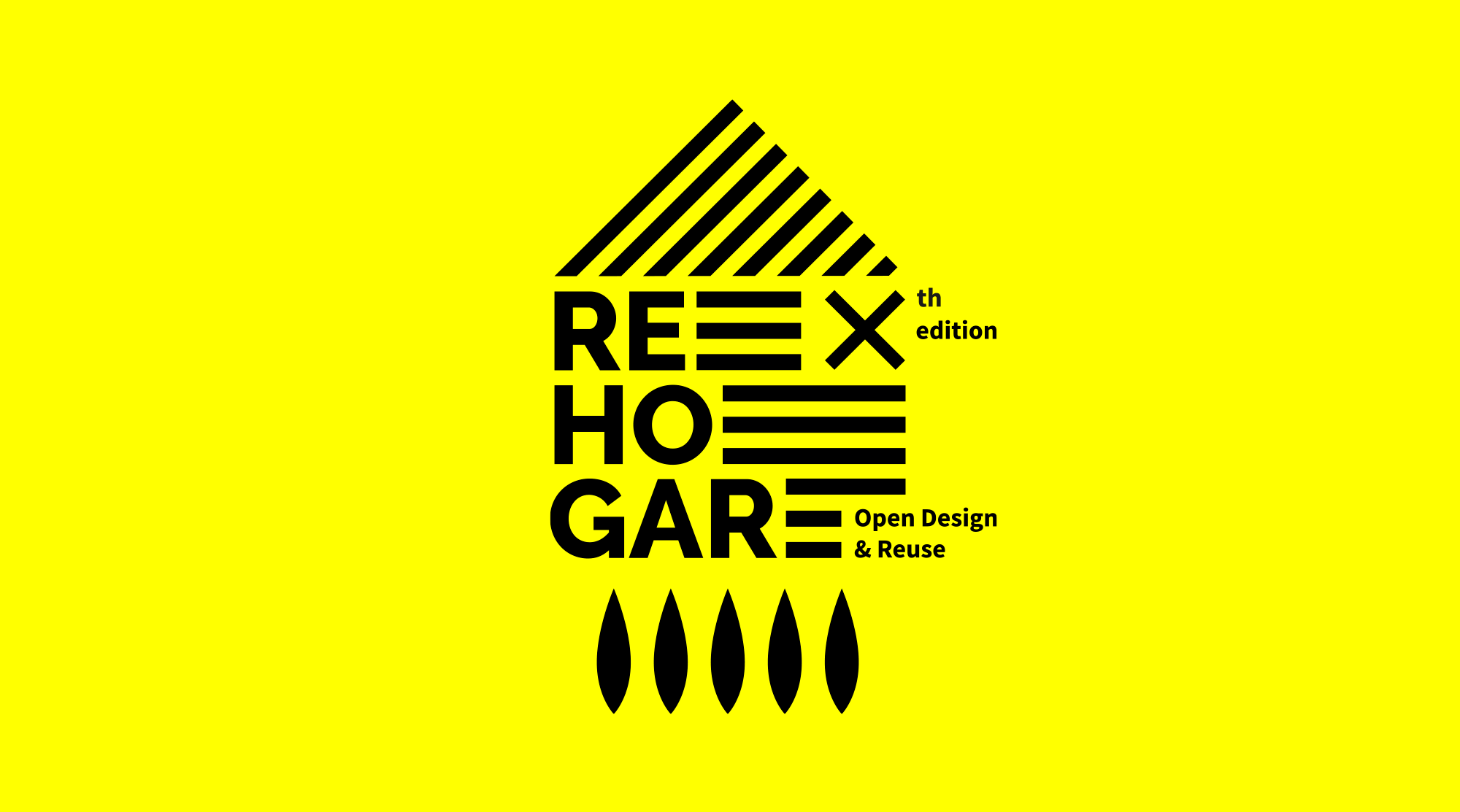 Final course projects by ESDAP's year 2016-2017 students
From 8 to 21 June 2018
As part of Barcelona Design Week 2018 and under the title 'Design as a Catalyst for Social Realities', ESDAP Catalunya (The School of Design and Visual Arts of Catalonia) presents the final course projects of graduates of year 2016-2017, with exhibitions in the Espai by students Carla Flores, Carles Garrido, Behnaz Rezaei and Berta Vallvé. The projects selected all reflect on social issues that use the transformative ability of design to recover and improve the everyday environment, but also give the designer the ability to become a mediator and therefore, expand the dimension of design in a contemporary, critical and collaborative conception.
ESDAP Catalunya was founded in 2010 by order of the Parliament of Catalonia. It is a public institution, responsible for a graduate degree in design, offered at its inter-regional campus, which has seven sites around Catalonia.
exhibition leaflet ESDAP_Catalunya.pdf​
OPENING (Thursday, 7 June 2018)
11:00h Discussion: Design: Dissension, ethics and collective process: Javier Rodrigo, Begoña Roman, Nora Ancarola
12:00h Exhibition opening + Presentation of the publication of ESDAP Catalunya_BDW 2017 + Relatograma Delphine Boghos
14:00 - 16:00 Lunch + Concert Edu Ferrer Quintet [Edu Ferrer (Voice, Saxo), Jan Domenech (Piano), Carla Motis (Guitar), Jan Marçal (Electric Bass), Joan Aleix Mata (Drum)]
17:00 - 19:00 NUUS Fashion catwalk by fashion design students from the 2014-2018 promotion.
flyerBDW_ESDAP_2018_EN.pdf​
__
The Hurt of Hipercor. Barcelona 1987
From 15 December to 11 march 2018
The Hurt of Hipercor. Barcelona 1987 is an exhibition-memorial which is part of the programme for remembering and commemorating the thirtieth anniversary of the Hipercor attack that began in June 2017 with a community event which expressed Barcelona City Council's respect for and solidarity with the victims. On 19 June 1987, at eight minutes past four in the afternoon, a car bomb went off on the first floor of the Hipercor department store car park in Sant Andreu. 21 people were killed and 46 injured in what was the most lethal attack by ETA. It is now 30 years since that indiscriminate terrorist action which hurt Barcelona.
This exhibition-memorial is sponsored by Barcelona City Council's Memory Programmes Commissioner and organised by the Barcelona History Museum (MUHBA).
Curator: Francesc Vall
http://ajuntament.barcelona.cat/museuhistoria/ca/la-ferida-dhipercor-bar...
REHOGAR • Open Design and Reuse
From 14 September to 29 October 2017
Opening: Thursday, 14 September, 19.00
REHOGAR is not what you would consider a normal exhibition. It's a collective invitation to think with one's hands and take active part in a series of processes of transformation.
The exhibition focuses on an open set of practices in design that aim to foment change in our current habits of consumption, that are capable of generating understanding and a distributed economy, or that explore paths towards social and environmental sustainability through the responsible use of resources.
In its ninth edition, REHOGAR pays particular attention to processes of transformation. These are made possible through techniques of reuse and open design methodologies, with the latter meaning design that grows and evolves because it can be improved upon for and with other people. In other words: objects, spaces, platforms, initiatives, and projects that are processes in themselves and that result in the generation of other processes. These processesare grounded inEthics of Care, in being in symbiosis with their surroundings and available resources, and they feature a collective dimension with respect to projection, production, distribution and use.
The exhibition explores a wide range of transformations through a selection of ideaswith malleable and shareable DNA, and reflects the processes, practices and tools that facilitate social transformation in daily life. It is a selection of interdisciplinary experiences that aim to serve as a map to explore spaces, methods, resources and communities that offerevidence, reasons, attitudes, politics, practices, implications and effects that sustain the development of projects that are collaborative, open source, or that focus on social and environmental responsibility, shared optimization of resources and openness towards experimental paths and models.
In parallel with the exhibition there will be a series of activities (workshops, demonstrations, presentations and debates) whose objective is to disseminate and explore the theoretical framework; experience first-hand and put into practice some of the exhibited solutions and ideas; and create spaces for remixing and entertainment that favour the generation and strengthening of collaborative networks.
—
ESDAP EXHIBITION_FABRA i COATS
Narcissism, borders and the poor use of natural resources are issues presented in this exhibition, a selection of final projects by students of ESDAP (School of Design and Visual Arts of Catalonia) who completed their studies during the 2015-2016 academic year.
The selected projects are of interest for their ability to provoke reflection on subjects of a social character, which use the transforming capacity of design to recover and improve everyday surroundings.
ESDAP is a public institution and part of the Department of Education of the Generalitat of Catalonia, which manages an advanced qualification in design at an inter-regional campus.
The projects selected for the exhibition in Espai Zero are:
Alambrada (Barbed Wire Fence), by Yannick Buchs
Fracting: pack de lluita contra el fracking (Fracting: battle against fracking kit), by Gisela Solé
The Mirror Paradox, by Robert Palau
Dates: From 8 to 27 June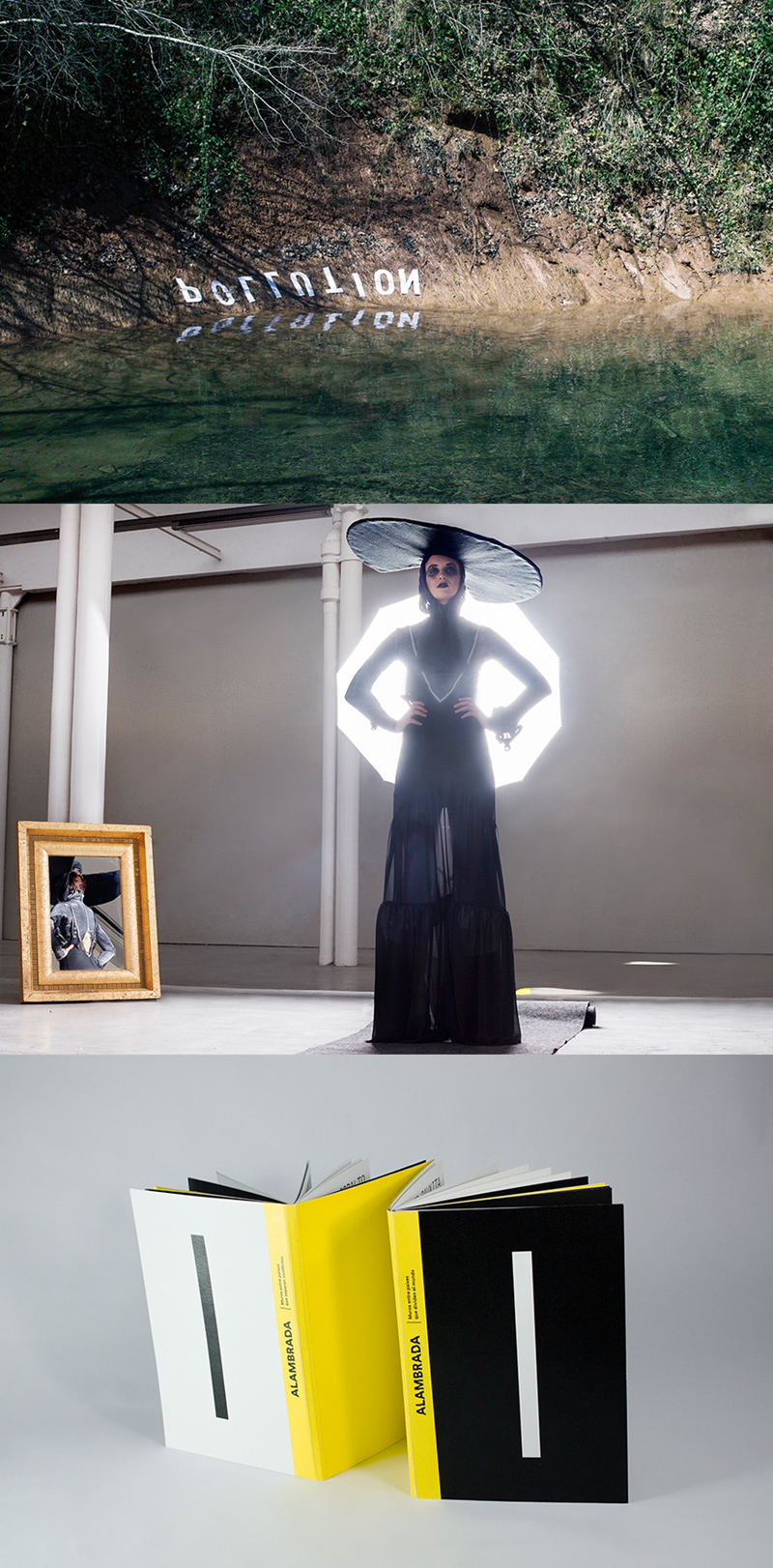 ​