The winners
List of awards in Festival 42 / 2021
What fantasy works and personalities from last season seem most remarkable for the first edition of Festival 42? Far from showing off or posing, the list of the first Festival 42 awards is intended to act as a highlighted recommendation by the festival. We therefore hope that the titles and people chosen by its independent specialist juries will get readers and fans to place their trust both in them and in us in the coming months. To help in this endeavour, the members of the jury have prepared four + two arguments for each category, four objective reasons for their choice and two more personal statements. In summary, the reasons why they want to infect you with their enthusiasm and our excitement about these new awards and the excellent work highlighted by them. We're sure you'll agree.
Award for best original work in Catalan 2021: La Companyia Nòrdica, by Albert Villaró (Columna)
Four reasons:
- The author's mastery of language and skilful style of the novel.
- The poetic images used to convey horror.
- The way he brings Catalonia's landscape, mythology and history to the present.
- The author's mastery of the metaliterary play between fiction and reality.
Two opinions:
- "La Companyia Nòrdica is a worthy tribute to Joan Perucho's works."
-"Villaró's work is an argument in defence of fantasy genres."
Award for best original work in Spanish 2021: Basilisco, by Jon Bilbao (Impedimenta)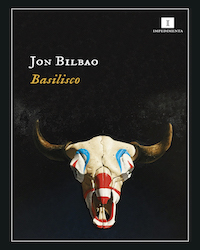 Four reasons:
- His brilliant trademark prose.
- The combination of everyday and primordial horror.
- The ongoing tension and anguish present throughout the text.
- His metanarrative skill.
Two opinions:
- "Bilbao knows how to create Horror with a capital H, with and without supernatural elements. In Basilisco he has combined his love of westerns and other genres, including dysfunctional and bastard pulp, to a level previously unreached around here. I don't know if he's aware of this, but he's a horror author." (Laura Fernández)
- "Basilisco is frontier literature both in subject (it's a western) and in form (it's a set of stand-alone stories that take place in two separate timelines) that expertly leads the reader towards existential anguish." (Cristina Jurado)
Award for best work translated into Catalan 2021:  Exhalation, by Ted Chiang (Mai Més, translation by Ferran Ràfols)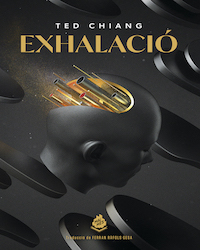 Four reasons:
- The way he depicts today's society and where our desires and beliefs take us.
- His stories' approach to issues that are key to current science.
- The philosophical power of his work in its reflection on possible futures, wonderfully expressed in Catalan by Ferran Ràfols.
- The way he claims the short story genre as key to science fiction.
Two opinions:
- "Chiang is one of the best ambassadors for this genre for people who have not yet fallen in love with science fiction."
- "Exhalation takes you back to those childhood moments when everything was possible, and it makes you believe it still is."
Award for best work translated into Spanish 2021: Slaughterhouse-Five, or The Children's Crusade, by Albert Monteys & Ryan North (Astiberri, translation by Óscar Palmer)
Four reasons:
- The way North and Monteys have adapted Vonnegut's complex novel to comic format without losing anything or giving anything away, while creating something new.
- The way the adaptation shows that some things are so terrible they can only be captured outside realism.
- The way the authors develop the genius idea of ​​memories as a time machine.
- The way the translation and adaptation make it possible to enjoy a classic that has been resurrected and given a new form, turning the past into the present.
Two opinions:
- "This adaptation of Slaughterhouse-Five is the sarcastic anti-war time game that every reader needs." (Daniel Pérez Castrillón)
- "Slaughterhouse-Five is, in these pages, the perfect adaptation of a work that seemed impossible to adapt." (Susana Vallejo)
Award for best classic translated into Catalan 2021: The Illustrated Man, by Ray Bradbury (Males Herbes, translation by Martí Sales)
Four reasons:
- The way he explains everyday life from the unique perspective of science fiction.
- Males Herbes' carefully produced edition and Martí Sales' translation into Catalan.
- The combination of emotions and social problems with top narrative quality.
- The way it plays with fantasy, science fiction and the unusual to the point of breaking the mechanisms of reality and using imagination in its purest state.
Two opinions:
- "Catalan literature needed a classic such as this."
-"The Illustrated Man is many things but, above all, it's a book that creates readers."
Award for the best newcomer in Catalan 2021: Inés Macpherson
Inés Macpherson (Barcelona, 1982).With a degree in Philosophy, she has been working in publishing as a reader, proofreader and editor, and collaborates with La Vanguardia and El Biblionauta. She is the author of the young adult novel El secret de Lucia Morke and a book for children,  Santa Jordina (both published by La Galera). Her work is also featured in anthologies such as Extraordinàries (Males Herbes) and Paper cremat (Apostroph). Since 2003 she has been involved in oral storytelling, specialising in literary stories and her own tales, and she has coordinated this category for Festival 42. 
Four reasons:
- Her indefatigable work to bring this genre to the public, fans or otherwise.
- The way she upholds the art of oral storytelling, leading by example and with quality.
- Her versatility during difficult times, working as an author, prescriber, facilitator, oral storyteller, reader, proofreader and genre activist.
- Her commitment to defending the classics in various formats.
Two opinions:
- "She's a fantasy all-rounder. We need more like her."
-"Macpherson has become Bradbury's main ambassador in Catalonia."
Award for the best newcomer in Spanish 2021: Desirée de Fez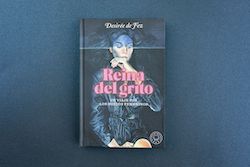 Desirée de Fez (Barcelona, 1977) is a writer, film critic, journalist, script writer and teacher. A columnist for El Periódico de Catalunya, she is also a critic for Fotogramas, and works with Catalunya Radio, Página Dos and Punts de vista. Additionally, she is a member of the International Sitges Film Festival, and director of the podcasts Marea Nocturna and Reinas del Grito. She is the author of books such as Películas clave del cine de terror moderno, Pantalla rasgada (with Jordi Sánchez-Navarro), and others on the films Lo imposible and Un monstruo viene a verme. Her most recent book is the autobiographical Reina del grito, about women's fears (Blackie Books).
Four reasons:
- Because, in her work Reina del grito, she has constructed her own narrative world that turns individual fears into universal ones.
- Her ability to condense the role of horror - both real and fictional - in our lives.
- For the extra achievement of portraying, just like that, a woman's loneliness in a man's world.
- For her work in support of horror cinema, now in the form of literature.
Two opinions:
- "Reina del grito is a literary artifact that is somewhere between a memoir, a film essay and an existential reflection about how horror can act as a shield of sorts. Or about the consequences of the rare and necessary emotional education of those (both men and women) who admit to their fears." (Laura Fernández)
- "De Fez's essay has more literary value than much of the fiction that fills bookstores' shelves." (Susana Vallejo)
Honorary award 2021: Antoni Munné-Jordà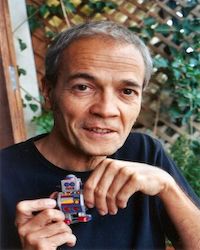 Antoni Munné-Jordà (Barcelona, 1948) is the author of some twenty books, among which his science fiction novel Michelíada (Males Herbes, Ictineu Prize) stands out. Since the early 1980s he has been visibly active as a scholar and as a promoter of science fiction, as well as a compiler, a writer of articles and prologues, and a lecturer, editor and author. He has also been involved in initiatives for the promotion of the genre, such as the SCCFF [the Catalan Society of Science Fiction and Fantasy]. This year, he published L'esfinx del glaç, the translation into Catalan of Jules Verne's An Antarctic Mystery or the Sphinx of the Ice Fields.
Four reasons:
- For his constant and unique work in the study of fantasy classics in Catalan and their dissemination to the public.
- Because he was a decisive driver in the creation of the Catalan Society for Fantasy and Science Fiction (SCCFF).
- For his tireless work, spanning two decades, on Pagès Editors Porpra i plata series, a mainstay of the genre during difficult times.
- Because he's a first-class writer, the author of masterpieces such as Michelíada.
Two opinions:
-"Antoni Munné-Jordà is streetwise."
-"He's the great archaeologist of Catalan science fiction."
Honorary award 2021: Cristina Macía
Cristina Macía (Madrid, 1965) is a writer, translator and the founder of the Celsius 232 Festival in Avilés. She has worked with dozens of publishing companies, focusing above all on science fiction, fantasy, comics and crime novels. She has lived in Asturias since 1995, where she worked for Gijón's Black Week and created Celsius 232. She has published books such as Una casa con encanto [A House with Charm], she has translated the main works of George R. R. Martin and has directed publishing projects such as Alucinadas and Palabaristas.
Four reasons:
- Because she has been erasing the line between fandom and the general public for years, fighting the traditional prejudice against unrealistic genres, from Terry Pratchett to George R. R. Martin.
- For her role in the creation and organisation of Celsius 232, possibly the best new European fantasy festival to emerge in the last decade.
- Because of her role as one of the active organisers of EuroCon 2016 in Barcelona, ​​which has helped many Spanish works become known abroad.
- For her work as a translator, activist, facilitator and disseminator.
Two opinions:
- "Cristina Macía is a committed, tireless and resilient key promoter of the literature of this genre." (Cristina Jurado)
- "Macía is the Spanish-language literary voice of authors who have forever influenced the way we see fantasy genres and, in fact, the reason why many of us got into them in the first place." (Laura Fernández)