Concert "Sant Andreu Dixie Band"
Moll de Bosch i Alsina, 1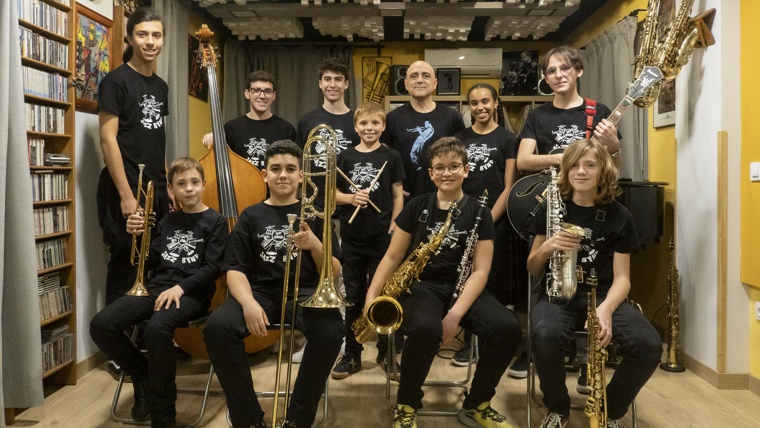 Jazz and Food
Sant Andreu Dixie Band
Catalonia
Music
For all audiences
The youngest and dixie section of the Sant Andreu Jazz Band, adapted to a small-format and with a festive, danceable selection of tunes, will be performing at the Jazz&Food festival with their usual repertoire: dixieland tunes and classic swing era songs, from Benny Goodman to Louis Armstrong, Count Bassie and Duke Ellington. All with the rigorous performance standards and improvisation we have become accustomed to since the band was created.
Eleven young Catalan jazz talents will be playing at the Moll de la Fusta whilst we have a bite to eat: Pere Company (tenor sax, clarinet and vocals), Martí Costalago (trumpet), Pau Garcia (piano), Jordi Herrera (double bass), Luc Martin (trombone), Didac Moya (drums), Anna Ndiaye (piano), Lola Peñaranda (clarinet and tenor sax), Mateu Teixidó (banjo), Nils Theuns (drums) and Sander Theuns (soprano and alto sax) will be providing a musical accompaniment to your aperitif just a stone's throw from the seashore. In the Sant Andreu Dixie Band wind instruments reign supreme, as is customary in hot jazz. 
Get ready to experience a different kind of concert to the rhythm of That's a Plenty, Royal Garden Blues, Did You Call her Today and other, equally legendary songs. The Sant Andreu Dixie Band will be bringing a little piece of the American South to Barcelona!
Moll de Bosch i Alsina, 1
Ciutat Vella
el Barri Gòtic
08039 Barcelona