sat 23 · 12:00

sat 23 · 16:30

sun 24 · 12:00

sun 24 · 16:30

mon 25 · 12:00

mon 25 · 16:30

See all schedules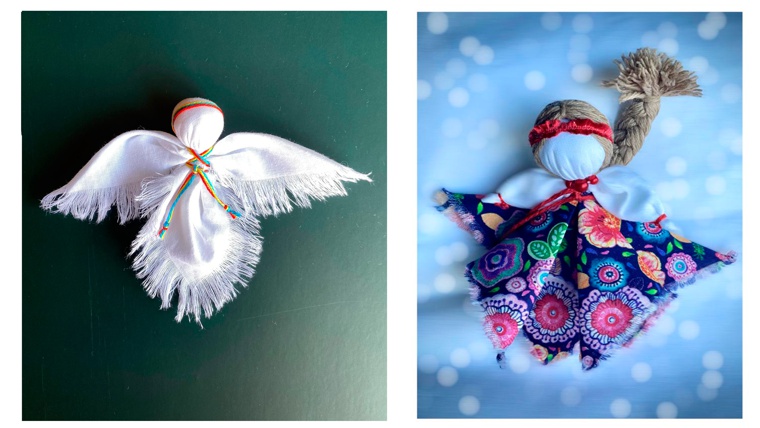 Gespa ombra [Shadow Lawn]
Motanka Workshop
"Motanka" workshop
Ukraine
Workshop
Recommended age: 6 and over.
 In the Slavic tradition, amulet dolls have a profound symbolism: they are the guardians of our living spaces. These dolls are credited with attracting positive energies and protection; and in Ukraine, they strengthen bonds between friends. Motanka are traditional Ukrainian dolls that are handmade by girls and women to give to those who provide them trust and friendship. 
The Motanka is faceless but has a cross that represents the harmony between body and spirit, while protecting friendship in the presence of negative emotions. It is also seamless: the skirt symbolises the earth; the blouse, the union of past, present and future, and the head scarf, the connection with the sky. At the Lada Amulet-Doll Workshop, we will learn aboutthis and other secrets of amulet-dolls and their ancestral connections with Xénia Tym. We will also experience the magic of creating our doll: every detail we give it will be a reflection of our own relationship with Slavic culture and the mother goddess.
The Motanka doll is a symbol of wisdom, shelter and unity. Those who make a doll are designing use their hands to create an amulet that represents the strength and potential of friendship.
Workshop with capacity limited to 25 people per hour. Tickets will be handed out half an hour before the start of each session. Duration of the workshop: 60 minutes.
Carrer de Nàpols, 70
Eixample
el Fort Pienc
08018 Barcelona