Show "Comparsa RAVE Picasso"
La Marina del Prat Vermell – Plaça del Moviment Obrer

Plaça del Moviment Obrer, 1

sat 23 · 11:30

sat 23 · 12:30

sat 23 · 17:00

sat 23 · 18:00

See all schedules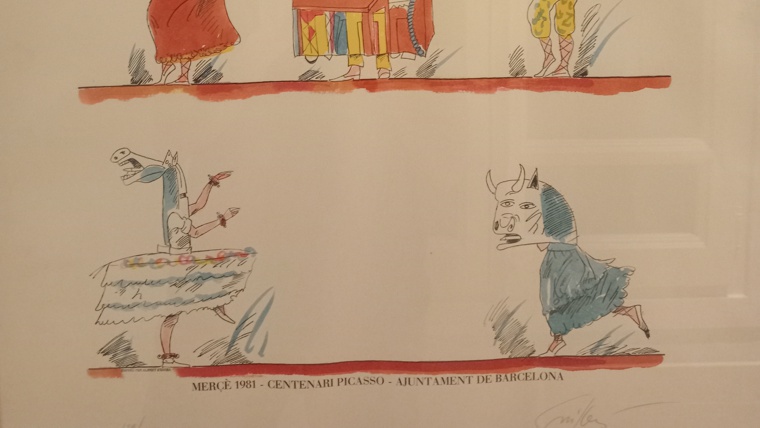 Comparsa RAVE Picasso
Barcelona
Theatre / Dance
Recommended age: 8 and over
Fifty years ago the world lost one of the biggest exponents of 20th century art and culture. We're referring to Pablo Ruiz Picasso, a great artist who established a solid bond with Barcelona. Picasso lived in our city at a time when he was learning and flourished as an artist: He spent his time in Ciutat Vella, in the Ribera neighbourhood and the surrounding area, at a time of cultural eclosion and social and ideological struggles.
The relationship between Barcelona and Picasso culminated with the creation of the museum which bears his name, opened in 1963: seven years later, the painter donated works to the city which until then had been looked after by his family at a home in Passeig de Gràcia, some five thousand pieces from the maestro's formative period.
Now, however, the works have fled the museum and are organising a rave in La Marina, La Trinitat and Sarrià. This will be a musical party, directed and dramatised by Montse Colomé and Jordi Vidal, music by Jordi Fàbregas with some cubist bighead figures and mini-giants designed by another great artist, the illustrator and set designer Joan J. Guillén. The Comparsa Picasso is a set of figures which was created in the 80s and has now been regained using its original appearance, with a new version of its choreographies. Let's celebrate the maestro in all his vitality!
Duration: 25 minutes.
Plaça del Moviment Obrer, 1
Sants-Montjuïc
la Marina de Port
08038 Barcelona