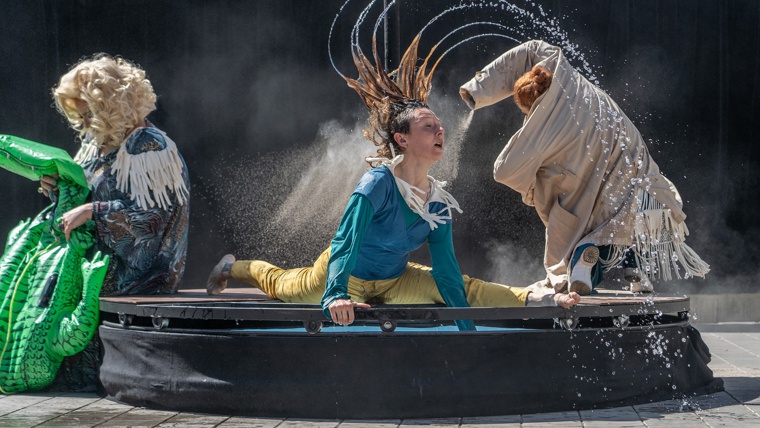 Espai Camí 1
Sirenes [Sirens]
Cia. Mar Gómez
Barcelona
Dance-theatre / circus
Recommended ages: 8  and up
What ever happened to the epic? With irony and a good dose of humour, the Cia. Mar Gómez plunges into the myth of Odysseus, the Greek hero who had to suffer from a host of ordeals to return home after the Trojan War. For example, he had to dodge the Sirens, whose bewitching song attracted sailors to the rocks and caused shipwrecks.
However, the nymphs in this show are contemporary creatures, more luminous than those who wanted to drag Odysseus to the bottom of the sea. Each has different attributes, attitudes and sensibilities; they embody three different ways of seducing and persuading, three strategies to lure someone into the abyss. As for Odysseus, here he's a profoundly human character who is less clever and brave than the legendary king of Ithaca. His connection with the oceans, waves and storms does not go beyond what a mere bather may have...
Sirenes navigates through dance-theatre, circus and music. The only element onstage and the centre of attention is a Chinese pole on a rotating base, which is extraordinarily visually striking and incredibly evocative. There is no doubt: this promises to be an epic experience!
Duration: 40 minutes.
Carrer de Nàpols, 70
Eixample
el Fort Pienc
08018 Barcelona