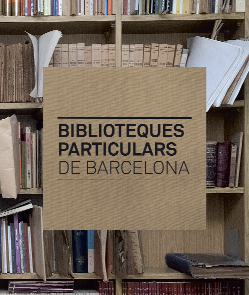 Biblioteques particulars de Barcelona
[Private libraries of Barcelona]
Jaume Subirana. Photography by Víctor P. de Óbanos
Barcelona City Council
Barcelona, 2014
197 pages
Breath, life and future: Dostoyevsky associated these three words with books. In the world today two paradoxical trends are in action: on one hand the progressive digital consumption of culture, and on the other the defence and upholding of the traditional tangible media through which this culture has been transmitted. Strong arguments in the case for books are the design, the typography, the spacing, the type of paper, the scent of the pages and the hoarding presence they still give life to in private libraries. In Biblioteques particulars de Barcelona, Jaume Subirana explores the book collections of thirteen Barcelonians whose professions are all directly involved with the printed word. This is done through thought-provoking interviews, each accompanied by a selection of four books that hold particularly special meanings for their owners, and also by photos of the libraries.
The first is with playwright and scriptwriter Josep Maria Benet i Jornet, who reconstructs a literary journey that started off with Jules Verne. He admits to trying to avoid lending many books out, "because they don't come back" and that "really winds me up". Translator and essayist Simona Škrabec says she discovered the essence of literature on devouring James Joyce's Ulysses, and she hasn't read it again for fear of "spoiling it". She also dedicated a whole year to Camí de Sirga, by Jesús Moncada, and the meticulousness of her reading gave her the confidence to translate it into her mother tongue, Slovenian, years later on. Cartoonist Miguel Gallardo opens the doors to his repository of comics, and highlights a selection by Gluyas Williams of The New Yorker, who had a penchant for plump figures in urban surroundings.
Each interviewee has a different way of inhabiting their library. The Doctor of Romance Philology Ramon Pla i Arxé has the 21,000 volumes in his collection all "catalogued on the computer". The historian Josep Fontana dedicates a room to each theme: as well as the disarray of his work area, there is also a room dedicated to 19th and 20th century Catalan literature and another to "Spanish History, from 1808 to 1864". The composer Salvador Brotons has specialised in compiling sheet music, and the expert in games Oriol Comas i Coma keeps an implausible number of publications relating to his ludic specialisation. The politician Miquel Iceta recommends a little-known gem by Lawrence Durrell, Antrobus Complete –short stories about a diplomat that make him "laugh till I cry" – and the physicist Jorge Wagensberg cannot stand anyone tidying his library, despite recognising that its disorder has obligated him to buy second copies of books he already owns.
Also of note is the impeccable taste of the couple formed by sinologist Dolors Folch and founder of the Empúries publishing house, Xavier Folch, who have almost 3,000 first editions of modern Catalan poetry. The testimony of librarian Teresa Rovira, who died this September aged 95, is one of great value: the family collection was seized by Franco's Nationalists, and it was only possible to retrieve those with a dedication to her father, Antoni Rovira i Virgili, or ones in which he had written his name. It was thanks to this that many years after her first reading of Maria Glòria, by Dolors Monserdà, she was finally able to bring her family's edition home again.