In the heart of the Ciutat Vella district, the Santa Llúcia Christmas fair offers everything necessary to decorate the home at Christmas. This year the fair marks its 232st anniversary.
Where: in front of the Cathedral
When: 30 November to 23 December
As in previous years, the giant tió is back at the Santa Llúcia Fair, where kids will have up to 19 December to enjoy it.
Where: in front of the Cathedral
When: 1 to 19 December
The Solidarity Christmas Walk is back: it covers the city's streets and is collaborating in the food collection organised by Càritas.
Where: sets off from Ciutadella Park (Pg Til·lers)
When: 9 am, 16 December
This fair features stalls of every kind: Christmas decorations, elements and plants, gift items and plenty more.
Where: Plaça de la Sagrada Família
When: 24 November - 23 December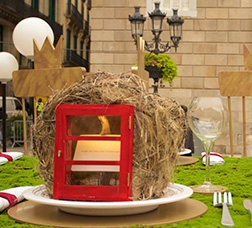 This year's nativity scene, titled "Tots a taula" (Everyone at the table) has been designed by scenographer Sebastià Brosa with a theme of family meals and good Christmas wishes. 
Where: Plaça de Sant Jaume
When: 23 November to 6 January
Barcelona's nativity scene makers association has created a traditional nativity scene featuring crafted wooden figures which represents woodlands in the Pedraforca area.
The city's commercial associations are offering recreational and cultural activities and proposals for everyone this Christmas.
Where: Barcelona Comerç Foundation's member organisations
When: 21 December to 4 January
Want to know if you're taking part in the 2019 Procession?
All you need do is enter here to confirm your place. 
Follow the latest news on the Christmas festivities on Info Barcelona and social media networks.
Here's what the city has to offer in the way of culture over the festive season: theatre, circus, dance, exhibitions, music, film and much more.
 
This Christmas, give toys and games that do not promote sexism. Buying toys is an act of responsibility, as play is a means of transmitting sets of ideas based around respect and equal opportunities.
This year sees nearly 400 sections of the city's streets lit up with Christmas lights from 22 November to 6 January, thanks to collaboration from neighbourhood shopkeepers. Enjoy them!
Where: the city's various streets
When: 22 November to 6 January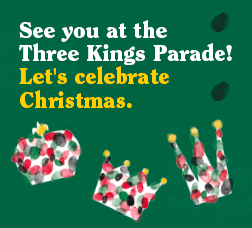 Every year, on 5 January, the Three Kings of the Orient arrive in Barcelona accompanied by their traditional retinue of magical creatures and surprising carriages. Find out all about it!.
Where: Av. Marquès de l'Argentera
When: 5 January, at 6 pm