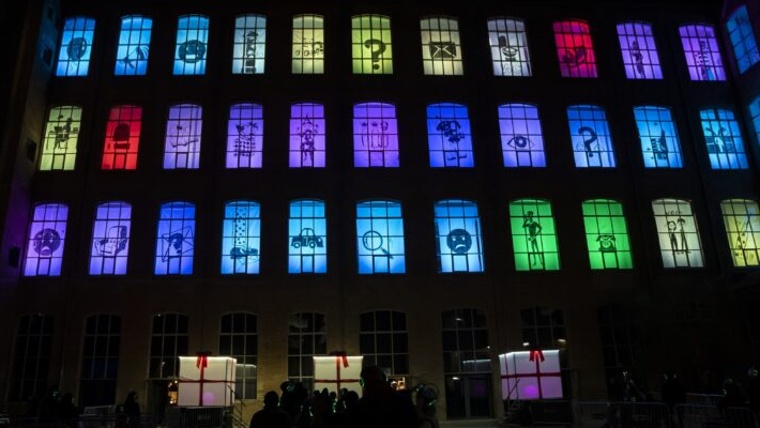 Cal inscripció prèvia. La data per inscriure's s'anunciarà properament a través de les xarxes socials
Twelfth Night. Delve into this unique Christmas display and the experience of touring the toy factory over the Christmas holidays.
Yet another year, the Fabra and Coats complex is turning into a Toy Factory which is inviting everyone to get a behind-the scenes look at how the most exciting time of Christmas is created and to speak with everyone who works there to make our dreams and wishes come true.
The Toy Factory opens its doors from 27 December to 4 January (except 31 December and 1 January) so that families can enjoy as the elves and magic workers show us how the gifts that the Three Kings will hand out on the night of 5 January are created.
This year, in a bid for inclusion and accessibility, there will be several tours using an oralist approach, sign language, audio descriptions, tactile visits and a one for children with ASD.
Admission to the factory is free but requires prior booking.
Els dies previs a l'arribada dels reis d'Orient l'antic recinte fabril de Sant Andreu es transforma en una autèntica Fàbrica de Joguines i ens convida a trepitjar l'escenari de la creació del moment més emocionant del Nadal i a parlar amb totes les persones que hi treballen perquè els nostres somnis i desitjos es puguin fer realitat. Un espectacle nadalenc únic a la ciutat per viure l'experiència de recórrer la fabricació de joguines durant les vacances de Nadal. La Fàbrica de Joguines obrirà les portes el dimarts 27 de desembre i romandrà oberta fins el 4 de gener (exceptuant els dies 31 de desembre i 1 de gener) perquè totes les famílies puguin gaudir amb els follets i els operaris i operàries màgiques que ens ensenyaran com es creen els regals de Reis.
Enguany, l'aposta per la inclusió i l'accessibilitat oferirà diversos passis, mesures per la comunicació oral, llengua de signes, audiodescripció i visita tàctil i també dos passis per famílies amb infants amb TEA.
Recinte de Fabra i Coats
Address:

C Sant Adrià, 20

District:

Sant Andreu

Neighborhood:

Sant Andreu

City:

Barcelona
Where

Recinte de Fabra i Coats
When

From 27/12/2023 to 04/01/2024
Social networks
Facebook:

Twitter:

Instagram: