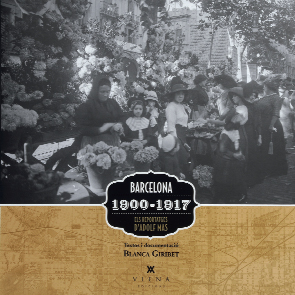 Barcelona 1900. Els reportatges d'Adolf Mas [Barcelona 1900. Photojournalism by Adolf Mas]
Blanca Giribet
Viena Edicions and the Barcelona City Council
Barcelona, 2014
153 pages
"Do you know who Adolf Mas is? There are few in Catalonia who would answer this question in the negative. Adolf Mas is one of the most popular figures in Barcelona and any Catalan locality with a baptismal fountain, episcopal mitre, pallium or altarpiece, or simply a beautiful Gothic window susceptible of being photographed in front of a rural façade at mid-height. He has taken photographs all throughout our land, Catalonia…" El Poble Català, 20 June 1915.
Much time has passed since these lines were written in 1915. At that time Adolf was one of Catalonia's most famous and, undoubtedly, its most international photographer. Born in Solsona in 1860 into a Carlist family, he moved to Barcelona at a young age and soon followed in his father's footsteps as a solicitor.
It was his family's Carlism that led him to become a photographer. In 1897 he accompanied the Duke of Madrid, a Carlist aspirant to the Spanish throne, on a trip around Europe and returned with seventy magnificent photos of scenery and the European aristocracy. This experience helped pave the way for his career as a professional photographer in Barcelona.
Soon after this trip he opened a photography supply shop and began to work as a photojournalist. He became a pioneer, having worked for the first publications to include photographs in news reports about turn-of-the-century Barcelona, a vibrant and constantly changing city.
Adolf was a regular on the modernist and cultural scene, attending intellectual discussions at establishments such as Els Quatre Gats, where he was known for his behind-the-camera sensitivity and enthusiasm. He was also appreciated for his interest in art and well-liked because of his easy-going nature. It was within this circle that he befriended painter Ramon Casas and where two architects, Puig i Cadafalch and Domènech i Montaner, suggested that he take on the daunting task of photographing and cataloguing Catalonia's archaeological and artistic heritage. With his hallmark enthusiasm, he dove in head first and his initial efforts produced 25,000 negatives. He created an easy-to-access archive system and began documenting Catalonia's heritage: fruit of this initiative was the Arxiu Mas, which soon received commissions from all around the world.
The archive, expanded by his son Pelai and managed from 1941 by the Amatller Institute of Hispanic Art, contains 500,000 photographs primarily covering themes related to the artistic heritage of Catalonia and the rest of Spain. Still amongst the most prestigious private photographic archives owing to its historical and documentary value, it continues to receive inquiries from across the globe.
Although the Arxiu Mas photos have enjoyed a ubiquitous presence in books and publications, the more personal facets of Adolf's life have received little attention and his work as a photojournalist is virtually unknown today.
In this book, Blanca Giribet serves up a delightful tour of Barcelona in the early 20th century with Adolf Mas as our guide. The photographer's sensitive eye puts people in the limelight and converts the city into a magnificent stage where drama abounds, capturing events such as the Tragic Week as well as festivity, work and leisure. Knowing faces in portraits join us on a journey where we rediscover the city as it was during one of its brightest moments in history.