Presentation from the Councillor
Welcome to the 12th Dau Barcelona Games Festival, an event which is open to everybody and enriches our city and our community in a unique and fun way.
Dau is synonymous with joy, fun and social interaction through board games. The event has gone from strength to strength, becoming an annual tradition where we can enjoy the art of playing together, sharing laughter, culture, tradition and innovation.
Whether you're passionate about board games or haven't yet had the chance to discover this world, Dau Barcelona offers a space to explore new forms of entertainment that will let your imagination soar. Enthusiasts and professionals will come together to continue developing this phenomenon, already a leading event on a national and international level, and to take it even further.
During Dau, you'll have the chance to take part in a wide range of board games, from classics to the latest creations, as well as special activities for people of all ages and interests. This event offers a unique opportunity to connect with other members of the community and enjoy a fun and memorable day.
We'll be getting together for Dau Barcelona at Fabra i Coats from 18 to 19 November, but the festival takes place all over the city all year round, reaching schools, community centres, libraries, centres for the elderly, streets and squares. These opportunities to teach and learn, to engage with each other and share through play sum up the spirit of Dau we can find all around Barcelona and inside each of us.
We know for sure that Dau Barcelona will be an enriching experience and an occasion for fostering social relations through games. Your participation is essential for the success of this event, as we are all part of the community that brings our city to life. Thank you for your ongoing support for our city's culture. We look forward to sharing this special event with you and celebrating together the fun of Dau.
Yours faithfully,
Xavier Marcé Carol
Presentation from the Curator
It is an immense pleasure and a great responsibility to address you all as the director of the Dau Barcelona Festival. We are once again taking on the commitment to launch this event, which is about to begin its twelfth edition. Thanks to the efforts and dedication of everyone actively involved, it has become one of the most relevant festivals of its kind in Europe. We are determined to continue nurturing this unique opportunity, afforded us by Barcelona City Council, which has once again demonstrated its commitment to the cultural phenomenon of board games.
Dau Barcelona is much more than a mere board-game event. It is a chance to explore the cultural wealth behind the world of games, an opportunity to connect with other board-game enthusiasts and, above all, a chance to enjoy Barcelona, as the international capital of board games and culture. Games allow us to discover new ways of thinking, interacting and learning. They help us to develop social skills and solve problems, as well as transporting us to imaginative worlds. This experience enriches our lives and reminds us that games form a fundamental part of our society. They allow us to share moments and experiences, connect with our families, friends and even strangers. Dau Barcelona is a place where you can learn, share and grow as a player and as a person. Board games become the setting for new friendships and unforgettable experiences.
However, Dau Barcelona is not only an immersion into imaginary worlds and epic adventures, but also a fascinating cultural window. It offers us the chance to explore the historic roots and narratives that inspire many of the games that absorb us today. This event transports us across time and cultural frontiers, offering us the chance to explore other eras and societies through games.
These games often function as magical portals, allowing us to travel to distant worlds, worlds of fantasy or past eras, while we learn about their culture and their history. Dau Barcelona invites us to explore these rich pasts, which bring games to life, while providing us with a deeper understanding of cultural influences and the stories that make these games so fascinating.
In short, Dau Barcelona invites us to discover, to connect with each other and to enjoy a variety of games that enrich our lives and remind us of the importance of play in our society. It is an experience that celebrates diversity, creativity and the community of board-game enthusiasts, and encourages us to continue exploring this wonderful world of games.
With its extensive history, diversity and creativity, Barcelona is the ideal place to undertake this celebration. Our city has a deeply rooted relationship with games and culture, and we are firmly committed to continuing to make Barcelona a world leader in this area.
From 18 to 19 November, Dau Barcelona will be the epicentre of game culture, with a wide range of activities, from classic board games to the newest creations, along with many other surprises. We invite you to join us and explore games, connect with other board-game enthusiasts and celebrate the culture that brings us together.
Your participation is essential for making Barcelona a true international capital of games and culture. I encourage you to join us on this adventure and to share the magic of board games with us. At Dau Barcelona, where games are the vehicle through which we learn, relate to each other and transmit culture, tradition, innovation, communication and imagination, we await you with open arms. Games are the place where we meet to share moments and happiness. Enjoy the game, enjoy Dau Barcelona.
With all my regard,
Oriol Crespo
Curator of Dau Barcelona
The image / Artist
Dau Barcelona offers unconditional support for artists who bring board games to life. The art of board games is much more than pieces on a board: it is the manifestation of the creators' imagination and creativity. From card illustrations to the design of boards and boxes: every line, every visual element and every choice of colour is carefully considered to immerse you into the theme of the game. It goes beyond aesthetics, acting as a communication tool: the illustrations convey information, rules and strategies without the need for words.
The passion that goes into creating games is reflected in every detail. It demonstrates the dedication of designers and artists who work tirelessly to take players into extraordinary worlds.
Next time you sit in front of a board game, take a moment to appreciate the art that surrounds it. Let yourself be carried away by the beauty of the illustrations, admire the artists' creativity. Board games are also a form of art that invites you to explore, imagine and create your own story!
That's why we're so proud to announce that the campaign illustration for this year's Dau was created by a hugely gifted and experienced board game artist, Natàlia Romero, who has given us her own particular vision of the Dau and the world of games, with a spectacular result that is full of detail.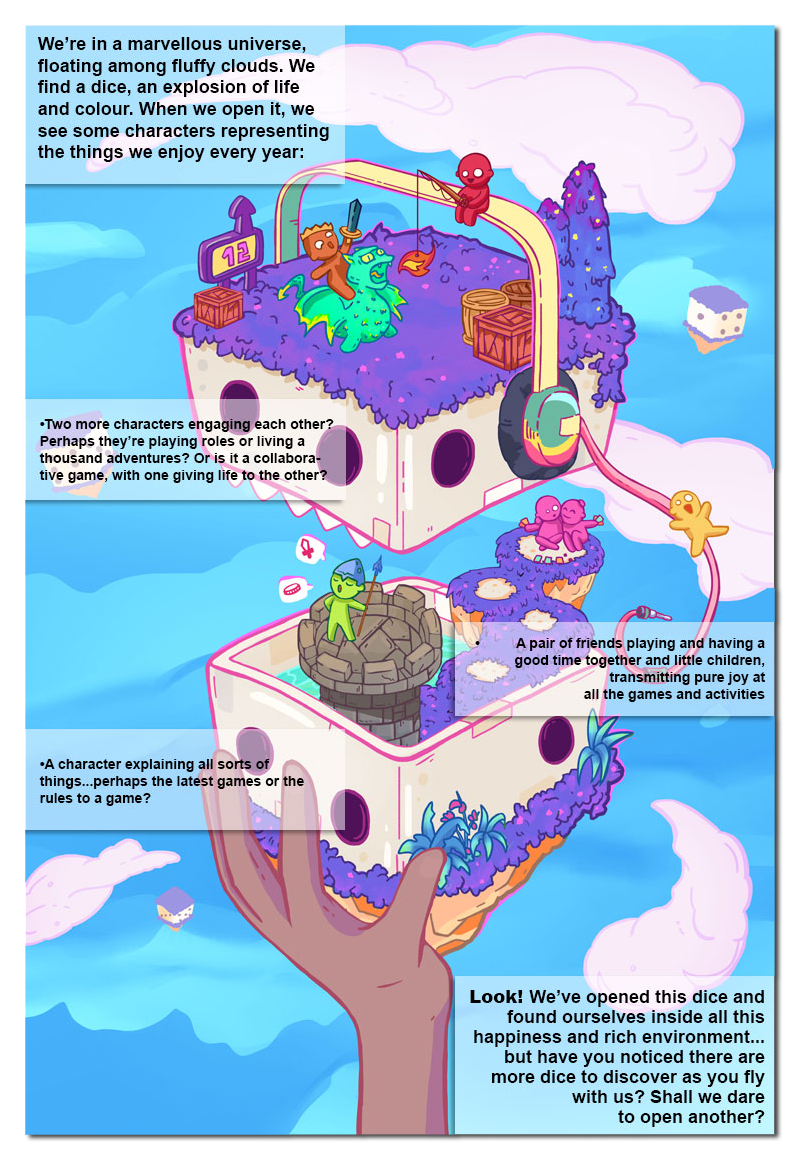 The artist:
Natàlia Romero is a conceptual and a 2D artist with extensive experience in the world of video and board games. She has a highly versatile style and was responsible for the artwork in games such as Cakes, Trepanation, Capitán Flint, Sant Jordi and La Agencia.
This is how she describes her work:
"I've always found my work hugely satisfying, I see it as a path that never ends and always gets better. I like challenges, exploring and analysing, getting new content from it and, consequently, new experiences. Not to mention the feeling from knowing that people interact with your work, your art.
Like any career, it also has its difficulties, frustrating moments that darken everything, but frustration is always there, we just need to be aware that it forms part of the process. It can be a really exciting job, so we experience both good and bad emotions."