The creator of the poster is Barcelona-based illustrator and artist Chamo San.
If you like the poster, you can pick up a copy at the Sala Ciutat (C/ Ciutat, 2) or the Palau de la Virreina (La Rambla, 99), while stocks last. You can also download it from the municipal website Barcelona Posters.
The La Mercè festivities come to life thanks to the contributions of different artistic collectives and the active participation and involvement of all the city's residents. Taking up this idea, illustrator and artist Chamo San (Barcelona, 1987) has created an extraordinarily vertical poster, in the style of a human tower. It culminates with an enxaneta —the person at the top of the tower— where we find partial representations of the different festivities that form part of this large annual festival. It depicts a number of imaginary characters that represent La Mercè, of all ages and sensibilities, as well as some singular figures from Barcelona's cultural scene. The poster seeks to pay tribute to the wealth and cultural diversity of Barcelona's artists and citizens.
Chamo San's work is filled with references to earlier Mercè posters, such as the ones by Sonia Pulido (2018) and America Sanchez (2005). It also includes references to the artist Miguel Gallardo, who created the 2016 poster, and the illustrations of Damià Carulla, which were included in the printed programme for La Mercè in 1985. It likewise pays homage to Marta Tatjer, cultural manager and promoter of the first Mercè in the democratic era, and it does so taking its inspiration from a painting by Francesc Galí.
Among the city's key cultural figures featured in the poster are writer Maria Mercè Marçal, actor Margarita Xirgu, painter Ramon Casas, dancer Enric Castan, writer Teresa Pàmies, Juanito "Pinotxo" from La Boqueria market, artist Ocaña o Bernardo Cortés "Palomino". You'll find some 120 characters in San's work, including three doves, one sparrow, two dragons and a dog.
The poster, drawn in the meticulous, detailed style typical of San, uses a colour scheme and typeface inspired by the aesthetics of the 1970s and, more specifically, by the fanzines printed in black and white on a coloured background.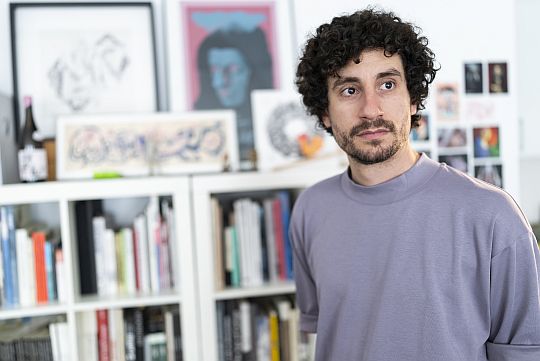 About the artist
Chamo San studied Fine Arts in Barcelona and at the École National Supérieure des Beaux-Arts in Paris Since 2010 he has combined his personal projects and gallery exhibitions with illustration commissions for publishers, magazines and advertising agencies. In 2022 he published Sketched Memories, a selection of drawings from sketchbooks produced between 2011 and 2021 which had previously been displayed in an exhibition. This year he presented "Impasse", a solo exhibition at the N2 Galeria in Barcelona. His work has been exhibited in galleries and group exhibitions in various European countries as well as Mexico and the United States.