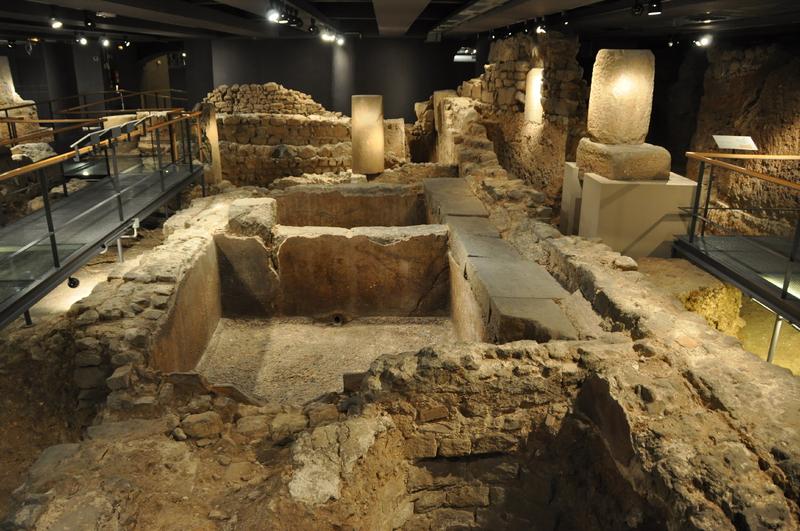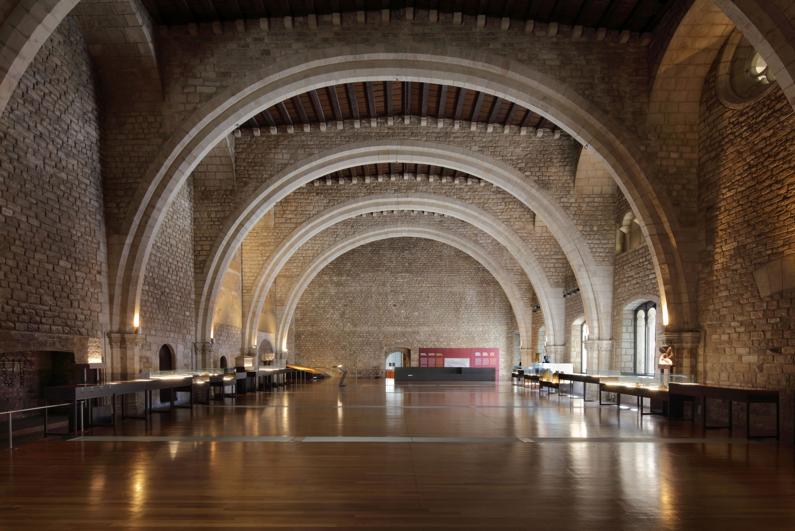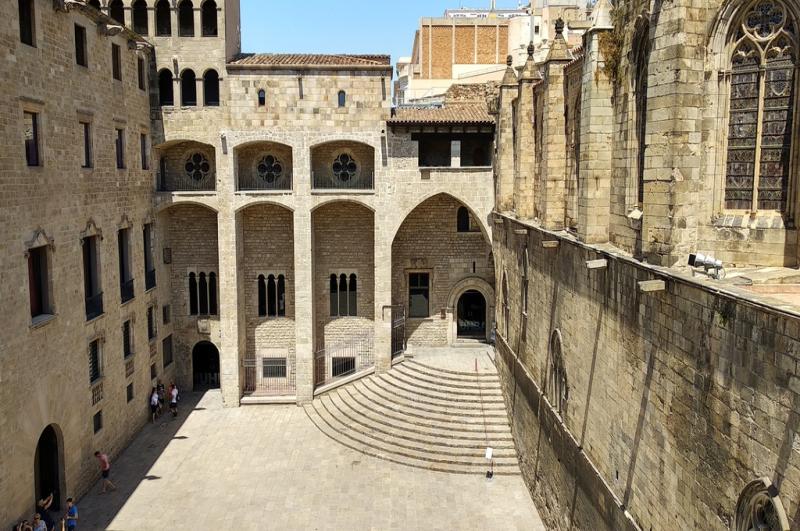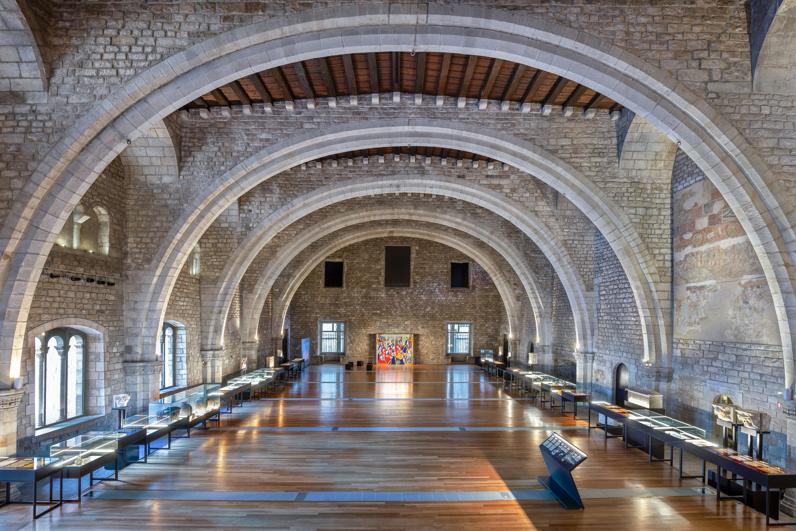 This was the first nucleus of the MUHBA, and opened to the public in 1943. The remains within it range from items from Roman Barcino in the 1st century BC to the Barcelona of the 13th century A.D.and to the early Middle Ages. Visitors to this underground area can walk along the streets of Roman Barcelona, past the city wall; they can look around a laundry from the 2nd century A.D. and see the remains of the city's first Christian community, as well as other spaces. This site also features some important medieval buildings, such as Palau Reial, the Chapel of Santa Àgata and Saló del Tinell, in addition to the Gothic mansion of Casa Padellàs, originally located in another part of the city. The latter building is now used for temporary exhibitions on modern and contemporary Barcelona.
Visiting MUHBA Plaça del Rei
A visit to the Monumental Site of Plaça del Rei involves a journey through an area stretching over 4,000 m2, much of which is located beneath the actual square. In addition to revealing Roman Barcelona's urban structure, the remains also allow the visitor to take a close look at the commercial life of the city, some of its craft production centres, and everyday life of Barcelona's first Christian community.
As well as the underground area, MUHBA Plaça del Rei includes the buildings that make up the old Palau Comtal, later renamed Palau Reial. They are fascinating examples of Romanesque and Gothic architecture, and they were also important sites for the expansion of Barcelona in mediaeval times.
CURRENT EXHIBITIONS
Temporary exhibition 'Barcelona, port mediterrani entre oceans. El testimoni del vaixell Barceloneta I'
Installation, in the antechamber of the Tinell, of the Barceloneta I ship found at the old Rodalies station, restored by the Underwater Archeology Center and the MUHBA and installed through to the Port of Barcelona, ​​a member institution of the Museum Circle .
 
List of points shown on the map
Adreça
Due to maintenance works, until 3/15, the museum will not have adapted access for people with reduced mobility
Plaça del Rei, s/n*
08002 Barcelona
Tel. 93 256 21 00
museuhistoria@bcn.cat
View map temporary access
*Tapineria Street Temporary Access
During the refurbishment works, from August 17 you have a second access available from Tapineria Street.
Tapineria, s/n
08002 Barcelona
Horari de visita
Closed Mondays
Tuesday to Saturday open from 10:00 to 19:00 
Sunday open from 10:00 to 20:00
Closed: 1 January, 1 May, 24 June and 25 December.
For guided groups (not schools) see prices here
Preu
Tickets include access to all MUHBA centres
Standard ticket: 5 €
Groups of over 10 people: 5 €
Entrance without charge: children under 16, holders of targeta rosa gratuïta and Barcelona Card, members of ICOM and Catalan Museologist Association, tourist guides, accredited journalists, assistants for disabled people and secondary school teachers, 'Gaudir +' promotion. Entrance free to all on the first Sunday of the month; all other Sundays free after 15:00.
For guided groups (not schools) see prices here
Accessos
Metro: Jaume I (L4)
Bus: 120, V17 and 45
Barcelona Tourist Bus: south route (red)
Recommendations
We will leave umbrellas or sharp objects at the entrance.

Photographs can be taken, without flash or tripod, inside the exhibition halls.

Food and drinks in the reserved space.

Leave animals outside, unless they are feral dogs.

It is recommended to silence the mobile phone and not to use it in the exhibition halls.

In this museum we work for sustainability, thank you for your collaboration.