Start of the Tabalada (drumming)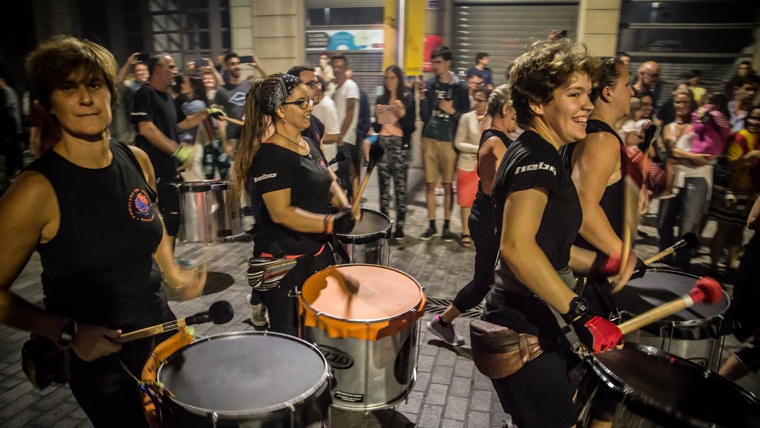 Pg. de Gràcia / Provença to Pg. de Gràcia / Consell de Cent
Start of the Tabalada (drumming)
On the afternoon of 23 September, Passeig de Gràcia will become one of the annual festival's nerve centres. More specifically, the 600-metre stretch between Carrer Provença and Carrer Consell de Cent going uphill and downhill will be the heart of the passacaglia and fire runs until the evening.
The first activity will be La Tabalada, which will summon the percussion players from the groups of devils (both children and adults) and the dragons and fire beasts to the intersection where this centrally-located artery crosses Carrer Provença. An essential part of any fire run in Catalonia, with its powerful booming, La Tabalada drumming announces far and wide that the most diabolical night of the year will begin in just a few hours.
Drummers never let up the relentless beat and the volume: La Tabalada will turn the road that used to join the Old Town and the village of Gràcia into a festive, exciting and ear-splitting festival space!
La Tabalada will dovetail with the first fire run of the evening, the children's, which will take the same route in the other direction: from Consell de Cent to Provença. (See 'Children's Fire Run')
Passeig de Gràcia, 95
Eixample
la Dreta de l'Eixample
08008 Barcelona