Diada Històrica Castellera. Castellers (human tower builders) from Barcelona, Minyons de Terrassa and Colla Jove Xiquets de Valls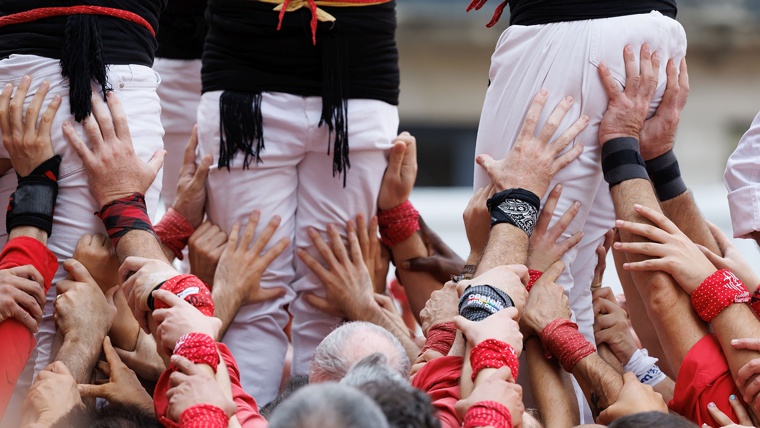 Diada Històrica Castellera. Castellers (human tower builders) of Barcelona, Minyons de Terrassa and Colla Joves Xiquets de Valls
Castells (human towers) are one of the most genuine and unique cultural expressions in Europe. Under the traditional slogan of 'strength, balance, bravery and sense', castells are an outstanding calling card for Catalonia in the world. Participating in a casteller exhibition is a thrilling experience that showcases individual and group effort, solidarity and the integration of people of all ages, conditions and abilities within a single project.
On the occasion of La Mercè, the city of Barcelona adopted the human tower-building tradition from the southern counties and made it an important part of the festival. The Castellers de Barcelona, the hosts of the Diada Històrica Castellera (Historical Human Tower-Building Day), are inviting the most prominent groups on the human tower-building scene to build their best towers: this year they will perform alongside Minyons de Terrassa, a leading group among the more than 60 that currently exist, and the Colla Joves Xiquets de Valls, which boasts 200 years of successes, effort, fun and shared lives.
The Diada històrica castellera is a world-class display, in addition to being a tribute to a tradition and a way of life, a perennially integrative, open culture.
To guarantee safety and improve mobility during human towers meetings, streets have been established as access routes and exit routes for Plaça de Sant Jaume. 
Access: the streets of Ferran, Jaume I and Bisbe. 
Exit: the streets of Call, Paradís, Llibreteria, Ciutat and Plaça de Sant Miquel. 
Please respect the direction indicated in each street and remember the square has a limited capacity.
Pl Sant Jaume, 1
Ciutat Vella
el Barri Gòtic
08002 Barcelona