Human towers gathering: Castellers de Barcelona, Esquerdats de l'Eixample, Jove de Barcelona, Poble-sec, Sagrada Família, Sants, Sarrià and Vila de Gràcia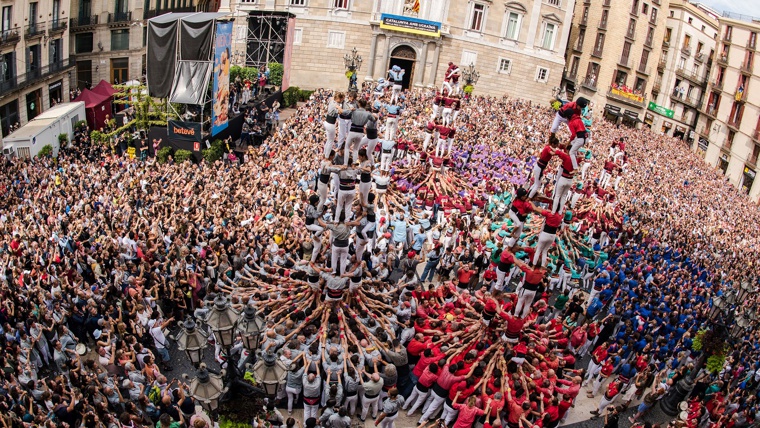 Human towers gathering: Castellers de Barcelona, Esquerdats de l'Eixample, Jove de Barcelona, Poble-sec, Sagrada Família, Sants, Sarrià and Vila de Gràcia
The city's human towers tradition dates back to the middle of the 20th century, when the Colla Castellers de Barcelona were presented. Other groups to appear in the 90s were those from Sants, Vila de Gràcia, Sarrià and Poble-sec, and as from the year 2000 came the Castellers de la Sagrada Família, the Colla Castellera Jove de Barcelona and the Esquerdats de l'Eixample. These are the local groups, all of which will be pulling together in the human towers gathering for La Mercè, always committed to erecting towers of at least six tiers, with four people in each tier.
We'll recognise each group by their shirt: the Castellers de Barcelona (Cross of Sant Jordi and Medal of Honour from the City Council) wear red; the Esquerdats, purple; Sarrià, burgundy, the same as the Colla Jove de Barcelona, who have their name embroidered on the back. The Castellers del Poble-sec wear sky blue shirts while the Castellers de la Sagrada Família wear green, their shield showing an enxaneta (the child that crowns the tower once erected) above the Sagrada Família. The Castellers de Sants wear grey shirts, paying homage to the people from the old textile factories in the district, while the Castellers de la Vila de Gràcia wear navy blue.
The Diada Castellera is spirit and local colour. An unmissable event for the local festival.
To guarantee safety and improve mobility during human towers meetings, streets have been established as access routes and exit routes for Plaça de Sant Jaume. 
Access: the streets of Ferran, Jaume I and Bisbe. 
Exit: the streets of Call, Paradís, Llibreteria, Ciutat and Plaça de Sant Miquel. 
Please respect the direction indicated in each street and remember the square has a limited capacity.
Pl Sant Jaume, 1
Ciutat Vella
el Barri Gòtic
08002 Barcelona