Day and time
See all schedules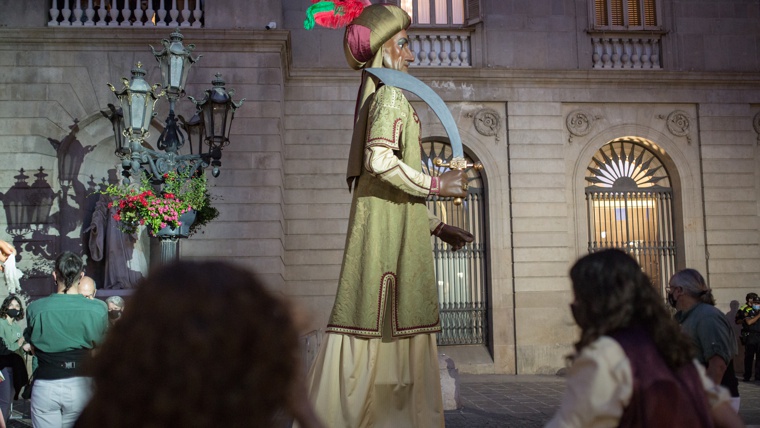 Plaça de Sant Jaume is chock-a-block full. The opening speech has ended and fire works are now leaping up from the City Hall's roof terrace to announce to everyone that the La Mercè Festivities have now begun.
The first notes of the of Opening Ceremony's melody, performed by Els Ministrils del Camí Ral, are drawing out all the giants, beasts and other festival figures from the City Hall for the Communal Procession. What's more, also taking part are Perot Rocaguinarda's "trabucaires" [period-costume, blunderbuss-wielding groups] and a group of "devils" made up from the city's various groups.
Halfway through the song, several Barcelona-based groups promoting traditional and popular Catalan dances will be going up on stage to dance. That will be followed by dancing throughout the Communal Procession, a show that ought to be seen from the front row. You'll see solemn dances, animated dances, battle dances and fast-paced dances, all of which will stir your emotions.
The festival will end with a Closing Ceremony danced together by members of the public and festival figures and, once again, the magic melody of the Opening Ceremony, when the party kicks off with magnificent fire works.
Fellow Barcelona citizens, happy Festa Major!
List of points shown on the map
Pl Sant Jaume, 1
Ciutat Vella
el Barri Gòtic
08002 Barcelona