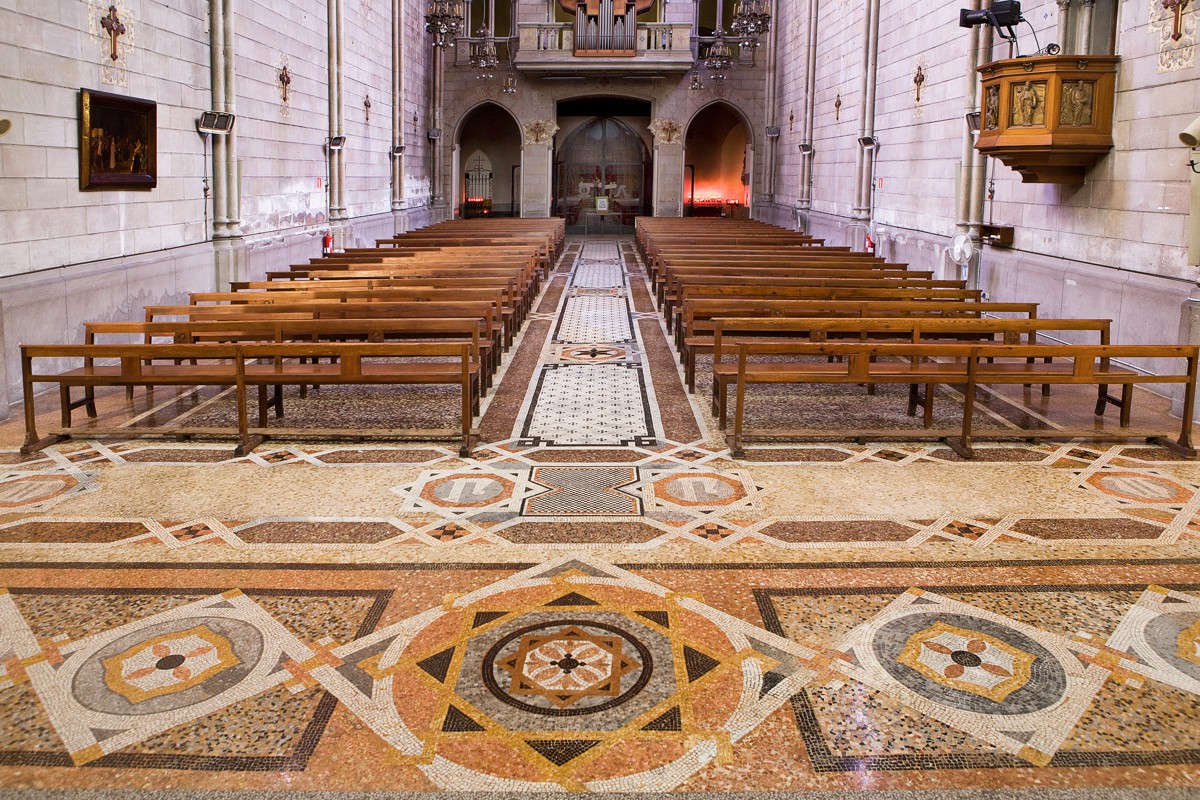 The mosaic decorating the floor of this church has little to do with Gaudí's Modernista period. It is made of marble and stoneware tiles of various colours in geometric shapes: there are floral motifs and representations of the Greek letters Alpha and Omega, symbols of the beginning and end according to the Apocalypse.
Designed by the architect Joan Torras Guardiola (1827- 1910), from Sant Andreu himself, this church was com­pleted in 1881 in the Gothic style. The mosaic floor, created by the marble worker Luigi Pellerin, was designed by Antoni Gaudí (1852-1926), a pupil of Torras Guardiola at the Pro­vincial School of Architecture. Initially, this place of worship was the chapel of the convent school of the Congregation of the Religious of Jesus and Mary. When they relocated to Sant Gervasi, the nuns sold the building to the Brothers of Christian Schools, the Marists, who used it for their novitiate and a school for boys. Burned during the Tragic Week of 1909, the Marists sold all the property, and the chapel was used as a warehouse for grain and pulses until 1923, when the bishopric of Barcelona bought the place of worship. In 1924, on the feast day of Sant Pacià, the new church ten­ure was granted, depending on the Parish of Sant Andreu. Sant Pacià eventually became a parish in 1930. In 1936, the local revolutionary committee of Sant Andreu seized the parish church premises and the place of worship became a soup kitchen until the end of the war. Under several layers of paint, we can still see the acronyms of the CNT (National Labour Confederation) and FAI (Iberian Anarchist Federa­tion). Murals by Eudald Serrasolses and the Risen Christ, carved by the sculptor Juan Maria Medina Ayllón, were unveiled in 1985 in the Capella del Santíssim (a chapel). Gaudí's mosaics were restored in 1988 by Lluís Bru. The Parish Church of Sant Pacià was the second place of wor­ship to be burned during Tragic Week in 1909. After burning the Parish Church of Sant Andreu, the rebels stormed this place of worship the next day, ransacked it, and finally burned it. During the Spanish Civil War, the church was confiscated by the local revolutionary committee of Sant Andreu and it became a soup kitchen called Menjadors Durruti
Gaudí, the disciple
The mosaic decorates the church's central corridor and transept. Sant Andreu's municipal architect Joan Torras Guardiola designed the church in 1879. At the time it was the chapel of the convent of the Congregació de Josep i Maria nuns, hence the letters J and M in the mosaic. Antoni Gaudí had been his disciple and the architect commissioned him with designing the mosaic.
Translator of
:
Address:

C Monges, 27

District:

Sant Andreu

Neighborhood:

Sant Andreu

City:

Barcelona