Parc dels Auditoris
Pl Fòrum, 1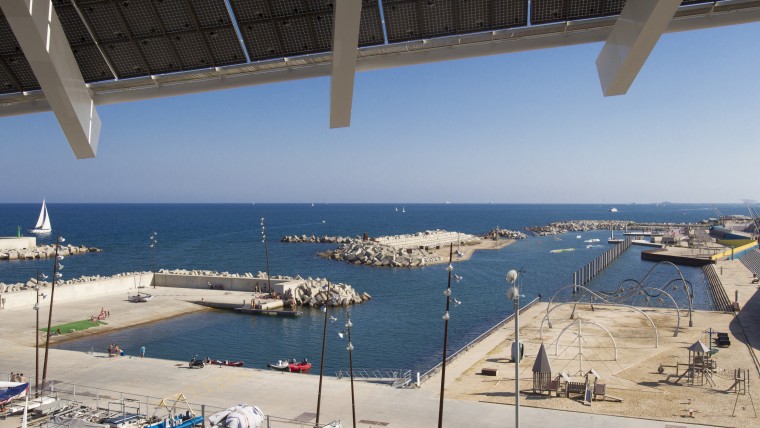 It is a large multipurpose space with outdoor auditoriums, between the Fòrum building esplanade and the sea.
This park is a large multipurpose space, with open-air auditoriums that regularly play host to a large variety of events and places for taking a stroll, that is directly linked to an area for bathing.
It extends from the Fòrum building esplanade to Sant Adrià de Besòs and the sea. The various parts of the park are connected by diagonal ramps, with a design inspired by airport conveyor belts, allowing a gentle movement between levels.
History
Parc dels Auditoris is part of the redevelopment carried out on the Besòs seafront for the 2004 Barcelona Universal Forum of Cultures. The main aim of that event was to promote reflection and dialogue on cultural diversity, sustainable development and peace but the new urban development also enabled a large part of the seafront between the municipal boundaries of Barcelona and Sant Adrià de Besòs to be reclaimed for the public.

Biodiversity
The vegetation consists mainly of reeds and grasses hidden behind dunes, on the backs of which they grow. The most common trees are mulberries and junipers. There are also several Indian laurel trees.
Art and Architecture
As you go further in from Plaça del Fòrum, you come across terraces that climb up the slope on the left. This is the Auditori del Mar, popularly known as the auditori petit, or small auditorium, with a seating capacity for 3,500 people. An immense esplanade spreads out at the other end of the park where another terrace rises up, much larger than the first. This is the Gran Auditori, or large auditorium, with a seating capacity for 8,500 people.
Standing behind the end closest to the sea is one of the symbols of the 2004 Barcelona Forum: an enormous 4,000 m2 photovoltaic pergola made up of 2,688 solar panels.
The park is directly linked to the Fòrum bathing area. This is a new sand-free beach concept, with two supervised, shallow areas. There are stairs and ramps to get to it.
Landscaping and Design
Five large, artificial dunes determine the layout of the park and its different parts. The dunes are covered in vegetation and, to a large extent, by pink-hued, crescent-shaped concrete pieces which pave the surface of the park's paths, giving a highly ornamental continuity to the area between the horizontal and sloping planes.
Address:

Pl Fòrum, 1
Districte:

Sant Martí
Neighborhood:

el Besòs i el Maresme
City:

Barcelona
Others
Sections of this equipment